This atmospheric Chinese procedural proves to be an immersive tempest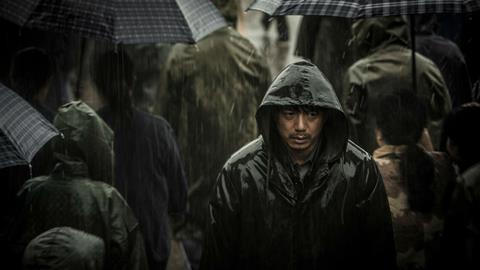 Dir/scr. Dong Yue. China, 2017, 120 mins.
Living up to its name, The Looming Storm may come to the screen drenched by a constant downpour — visibly, and via the torrent of troubles plaguing its characters — but adhering to expectation never dampens this shrewd Chinese murder mystery. Indeed, as first-time writer/director Dong Yue stays true to his cinematography background by soaking his film in gorgeously murky, misty imagery, and producer Xiao Qiancao becomes involved in another statement-laden, investigation-focused thriller after Black Coal, Thin Ice, this polished noir benefits greatly from splashing its various elements around in just the right manner.
Patient probing and urgent chases sit comfortably side by side here
In competition in its premiere screening at the Tokyo Film Festival, The Looming Storm isn't a predictable feature, though; rather, it's a quietly immersive tempest of a film that knows which way the weather is blowing, and how to use the conditions to its advantage. As a result, it's also a confident and captivating effort that should find a healthy festival run on the horizon. Enjoy Pictures have picked up global distribution rights.
Alas, while clear skies might beckon for the film's broader prospects, its protagonist isn't gifted such a sunny outlook. Infused with intensity and complexity by White Deer Plain and The Dead End's Duan Yihong, the character of Yu Guowei has the demeanour of someone caught in the wet, desperate to get out and willing to slip over to do so. In fact, in his introductory scene, he's thoroughly gloomy as he applies for the identification that will allow him to leave the country for Hong Kong. Giving his name when asked, he also shares its meaning, serving up a savage statement about ranking among the ignored and unwanted in a nation thundering forward in the pursuit of progress.
Though first seen getting out of prison in 2008, the bulk of Guowei's story plays out in 1997. When a woman is found dead on the grassy outskirts of the remote factory where he's a diligent security guard, he proves eager to do his own digging, dragging his assistant Xiao Liu (Zheng Wei) into his unofficial detecting efforts. Guided by Chief Zhang (Du Yuan), local law enforcement believes that the mutilated body is connected to other victims, which only fuels Guowei's fervor. The leap from being asked if anyone has been absent from their duties to taking matters into his own hands is short, especially after he keeps crossing paths with a raincoat-wearing man h believes to be the killer.
So it is that showers keep falling and Guowei keeps obsessively toiling, including with prostitute Yanzi (Jiang Yiyun), who nurses her own hopes of trading in her current line of work for something different. Of course, love, luck and happy endings aren' The Ltooming Storm's remit, as its final chapter particularly hammers home. Instead, Dong proves determined to whip up a swell of bleak intrigue and biting commentary that's as grey and penetrating as the film's ceaselessly streaming precipitation.
As shot with ample time for sodden sights and stagnating industrial sites, it's impossible not to get drawn into the drama that eventuates, though the feature could never be accused of moving too swiftly. Still, patient probing and urgent chases sit comfortably side by side here, in an ambitious, impassioned, intelligent and effective take on the slow yet suitably twisty police procedural.
Production company: Century Pictures
International distribution: Enjoy Pictures, nathan.hao@lemontreemedia.cn
Producer: Xiao Qiancao
Executive producer: Luo Yan
Cinematographer: Cai Tao
Editor: Cheung Ka-fai
Production designer: Liu Qiang
Cast: Duan Yihong, Jiang Yiyan, Du Yuan, Zheng Wei