Dir: Antoine Fuqua. US. 2016. 132mins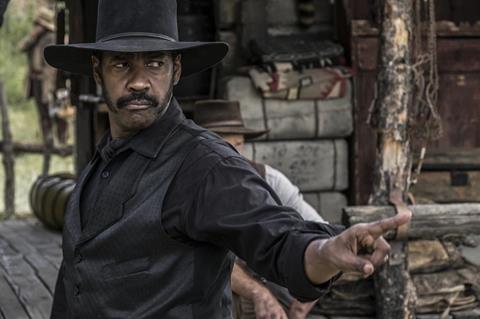 Its rousing finale notwithstanding, this sluggish remake of The Magnificent Seven fails to capitalise on a strong cast and the source material's inherently crowd-pleasing battle between good and evil. Denzel Washington is oddly muted as the leader of a ragtag group of gunmen hired to protect a city from a ruthless industrialist, while director Antoine Fuqua shows little feel for the flinty, widescreen grandeur of the Western genre.
Hawke and D'Onofrio chew the scenery, but even they pale in comparison to Sarsgaard's theatrical turn as the villain
After performing the unusual double act of closing Venice and opening the Toronto Film Festival, The Magnificent Seven will unspool across much of the globe on September 23. Audience familiarity with the 1960 John Sturges picture, which was itself a remake of Akira Kurosawa's Seven Samurai, will help grosses, as will an ensemble featuring Washington, Chris Pratt and Ethan Hawke. With little competition from other action movies in the marketplace, Fuqua's film should nab respectable grosses, although mild word-of-mouth may limit its earning potential.
Set in 1879, The Magnificent Seven stars Washington as Sam Chisolm, a steely bounty hunter who prefers the more highfalutin terminology "warrant officer." Hired by Emma (Haley Bennett), one of the citizens of Rose Creek, a town traumatised by the violent businessman Bartholomew Bogue (Peter Sarsgaard), Chisolm puts together a team of desperadoes to kill Bogue and his heavily-armed men.
Part of the fun in a large ensemble film such as this is the rounding up of characters who will work together to vanquish the bad guys. But as with other elements of Nic Pizzolatto and Richard Wenk's screenplay, the setup doesn't provide the expected spark, the story refusing to come to life as we meet each of these ornery individuals.
Pratt plays a cocky hired gun, but outside of his skill with card tricks, he's a blandly swaggering sidekick. The same anonymity infects several of Chisolm's gang, including an expert with blades (Lee Byung-hun) and a Bible-spouting recluse (Vincent D'Onofrio). Hawke fares slightly better since his colourfully named character, Goodnight Robicheaux, at least has some depth: he's a brilliant sharpshooter who is afraid to fire his gun after surviving the horrors of the Civil War. But because the roles are underwritten and the players struggle to establish a rapport, The Magnificent Seven never lets the audience feel like its along for the ride with a dynamic group of death-or-glory hombres.
This is Washington's third film with Fuqua — their first, Training Day, won him a Best Actor Oscar — but his usual effortless command of the screen is rarely evident. It's not that Washington has lost his charisma or quiet confidence — it's that Chisolm is meant to be a stoic figure whose ulterior motive for taking on this assignment involves more than just money. Unfortunately, the character is given so little dimension that Chisolm becomes the dull centre of this Magnificent Seven.
Fuqua tries to make his film inclusive, populating the remake with prominent Mexican, Native American and female characters. And the very presence of Chisolm gives the story an unspoken political edge: this is a black man living in an America which is less than 15 years removed from a bitter war over slavery. A richer, smarter film would make the case that this melting pot of heroes coming together to defeat evil is actually a metaphor for a nation slowly learning to put aside its racial and gender inequality for the greater good. But this notion — as well as some lip service to the futility of revenge — is buried under Fuqua's generally uninspired treatment of Western tropes such as the tense standoff and the majesty of the untamed landscape.
Hawke and D'Onofrio chew the scenery, but even they pale in comparison to Sarsgaard's theatrical turn as the villain. Aiming to make Bogue loathsome, Sarsgaard misses the target, ending up closer to camp and therefore never delivering an antagonist whose cruelty provokes moral outrage.
When The Magnificent Seven reveals its epic final shootout, which pits the entire town of Rose Creek against Bogue and his men, Fuqua and editor John Refoua manage to produce a sustained, exciting action sequence in which not all of our heroes will survive. Ironically, it's through kinetic movement and selfless bravery that we finally get some glimpse into characters who have been ciphers for the previous two hours. Even then, though, The Magnificent Seven disappoints: just think how much more resonant the climax would have been if the audience had really connected with these people throughout the film.
Production companies: Metro-Goldwyn-Mayer Pictures, Columbia Pictures, LStar Capital, Village Roadshow Pictures, Pin High, Escape Artists
Worldwide distribution: Sony Pictures, www.sonypictures.com
Producers: Roger Birnbaum, Todd Black
Executive producers: Walter Mirisch, Antoine Fuqua, Bruce Berman, Ben Waisbren
Screenplay: Nic Pizzolatto and Richard Wenk
Cinematography: Mauro Fiore
Production design: Derek R. Hill
Editor: John Refoua
Music: James Horner and Simon Franglen
Website: www.facebook.com/Mag7Movie
Main Cast: Denzel Washington, Chris Pratt, Ethan Hawke, Vincent D'Onofrio, Byung-Hun Lee, Manuel Garcia-Rulfo, Martin Sensmeier, Haley Bennett, Peter Sarsgaard, Luke Grimes, Matt Bomer