Start the year with a reassuringly familiar Liam Neeson shoot-'em-up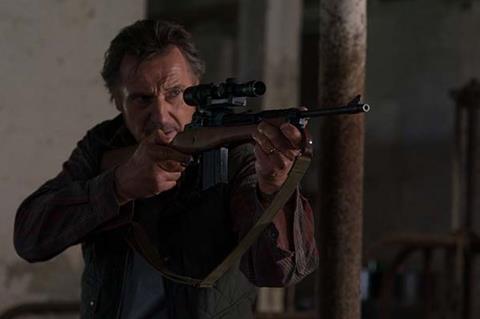 Dir: Robert Lorenz. US. 2020. 108mins.
Liam Neeson is very much in stoic-action-hero mode for The Marksman, a familiar star vehicle which finds him displaying a little more grizzled warmth than his recent string of shoot-'em-ups. The setup couldn't be more predictable — a widowed older man must protect a boy who is being chased by dangerous criminals — and director Robert Lorenz dutifully hits every expected story beat. But although Neeson has a nice rapport with young costar Jacob Perez, there's no escaping the formulaic storyline featuring uncomplicated good guys and abundantly villainous bad guys.
The Marksman's gruff, noble protagonist has a noticeably Eastwood-ian air
Heading to US theatres on January 15 through Open Road Films, The Marksman targets those who have kept up with Neeson's action offerings, even though his latest (Honest Thief and Cold Pursuit) haven't been particularly well-received. Older male audiences will probably be most intrigued, but COVID restrictions may keep many from seeing the picture until it arrives on VOD.
Jim (Neeson) is a rancher living alone in Arizona grieving his beloved wife, who died a year ago after a long, painful battle with cancer. Behind on his house payments and facing eviction, Jim seeks solace at the bottom of a bottle, his only other comfort being his sympathetic border-agent stepdaughter Sarah (Katheryn Winnick).
But Jim soon discovers an unlikely new lease on life when he encounters Rosa (Teresa Ruiz) and her 11 year-old son Miguel (Perez), who are fleeing Mexico on foot to evade Mauricio (Juan Pablo Raba) and his band of cartel hitmen. After a shootout with the assassins leaves Rosa dead, Jim reluctantly agrees to honour her dying wish: he will transport Miguel to Chicago so he can reunite with family before the cartel gets its hands on him.
The Marksman's gruff, noble protagonist has a noticeably Eastwood-ian air, which makes sense considering Lorenz (Trouble With The Curve) has often produced the venerable actor-director's work. (The film's Clint influences are made explicit during one scene in which Jim and Miguel watch his 1968 Western Hang 'Em High.) And certainly the character is no stretch for Neeson, who since Taken has specialised in playing skilled, ageing warriors out of step with modern life. (Conveniently, Jim is a former Marine — his sharpshooting talents will come in handy over the course of the film.) No matter how much Jim doesn't want to get involved in Miguel's troubles, we know he'll do the right thing to ensure safe passage for this imperilled immigrant.
Lorenz, who cowrote the screenplay, offers scant surprises as he sends Jim and Miguel on this road trip across America. Initially, they don't get along, but rest assured they'll eventually find common ground despite the age difference and cultural barriers. Neeson gives the material a light touch, portraying Jim as a melancholy loner who finds a renewed sense of family through this journey. His character arc is telegraphed early on, but Neeson locates the poignancy in a man who thought he had nothing left to offer anyone. Meanwhile, Perez impresses as a wary tween who has experienced significant trauma in his young life. The Marksman derives its modest charms from Jim and Miguel's budding rapport, and undemanding viewers may simply appreciate the earnest father-son relationship that develops.
What's harder to forgive is the film's uninspired plotting. The Marksman establishes that Jim doesn't own a smartphone — he doesn't want people calling him — which becomes an easy way for the script to throw obstacles along their path. (As a rule of thumb, it's ill-advised to circle your final destination on a paper map, just in case the people pursuing you gain access to that map and then realise where you're headed.) Raba is appropriately evil, but occasionally the cartel's ability to always find Jim and Miguel borders on miraculous. And although Winnick provides the right amount of daughterly concern as Sarah, she's quickly sidelined by a story that relegates her character to answering random calls from Jim on the road — offering him encouragement or warning, depending on the situation.
Neeson's brand of B-movie action lives or dies on the caliber of its set pieces, but unfortunately Lorenz lacks Eastwood's talent for lean, riveting suspense sequences in between. Those repelled by graphic violence won't have anything to fear from The Marksman's tame shootouts and showdowns, although in truth this languid film is relatively bloodless in more ways than one.
Production companies: Sculptor Media, Zero Gravity Management, Stonehouse Motion Pictures
International sales: Voltage Pictures, office@voltagepictures.com
Producers: Tai Duncan, Mark Williams, Warren Goz, Eric Gold, Robert Lorenz
Screenplay: Chris Charles, Danny Kravitz, Robert Lorenz
Production design: Charisse Cardenas
Editing: Luis Carballar
Cinematography: Mark Patten
Music: Sean Callery
Main cast: Liam Neeson, Katheryn Winnick, Juan Pablo Raba