South Korea has another international hit on its hands with this crime-based noir thriller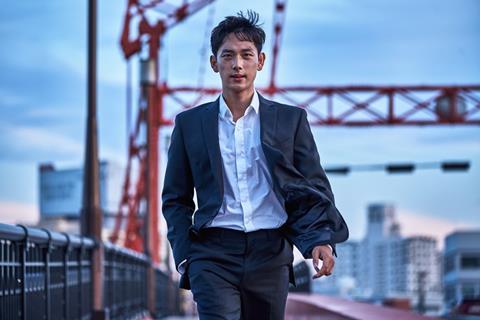 Dir/scr: Byun Sung-hyun. South Korea. 2017. 120mins.
Although it could possibly be deemed a case of style over substance, Byun Sung-hyun's The Merciless is an accomplished and well-structured South Korean noir thriller about the friendship between two prisoners which boasts an abundance of terrific cinematography and exquisite mise-en-scène to more than satisfy fans of the genre.
The film's dazzling camerawork is impressive
Sold widely internationally, it was released on May 17 in Korea prior to its launch in Cannes in the midnight slot. While its 376,704 admissions ($2.9m) on the opening weekend were underwhelming, this may have been hampered by a domestic controversy over some ill-advised tweeting by the director. Overseas, however, should more than compensate and The Merciless should play well in the 85 territories to which it has pre-sold.
The narrative follows Jae-ho (Sol Kyung-gu), a criminal with high aspirations to climb up the chain of command in a crime organisation. In jail, he meets charismatic young inmate Hyun-su (Yim Si-wan) with apparently similar ambitions. There he attempts to earn Jae-ho's trust by saving his life in a knife attack when a hit on Jae-ho is ordered from outside the prison walls.
Once they are released, they work together in securing their positions within the organisation, but it is unclear until later where their loyalties really lie. Jae-ho is waiting for the right moment to take out his boss, Chairman Ko (Lee Kyoung-young) once he learns who was behnd the attempted prison hit, while Hyun-su is part of an uncover operation to take down the criminal enterprise, which has ties to the Russian mafia.
This operation is headed by a tenacious but forceful Chief Cheon (Jeon Hye-jin) hell-bent on putting Ko and his associates behind bars with little consideration for her team, and she sees an opportunity to do so when a shipment of cocaine from Russia is expected to arrive.
Weaving between different timelines in and out of prison over a period of several years, The Merciless provides a narrative with sufficient backstory, while also connecting it to the events leading to the ultimate showdown without becoming overly convoluted.
Tonally, the film works well. Blending a mix of Ryoo Seung-wan's Veteran and Park Hoon-jung's slick noir feature New World, the film's bouts of humour and colourful aesthetic juxtaposed with its darker themes and violence might seem at odds, but it works. Added into the mix are touches of Tarantino and Hong Kong noir films from the 1980s, including Infernal Affairs.
The film's dazzling camerawork is impressive, being kinetic without leaving viewers nauseous. Indeed, the overall production values are superb with vibrant colours helping differentiate the numerous timeframes.
The Merciless may fall short when it comes to breaking new ground, with Byun's impressive and daring aesthetic not quite matched by a fresh new narrative. Certainly, though, Byun, who previously helmed the romantic-comedy Whatcha Wearin'? is a name to watch,.
Sol Kyung-gu (Oasis) brings a good deal of charisma and an infectious laugh to the role as Jae-ho which helps boost the film's energy in the same way as Hwang Jung-min managed in Veteran. Yim Si-wan (The Attorney) is competent as the younger Hyun-su.
Production Company: CJ Entertainment, Pollux Barunson Inc.
International Sales: CJ Entertainment filmsales@cj.net)
Producers: Michelle Kwon, Simon Lee, Park Ji-sung, An Eun-mi, Yi Jin-hee
Executive Producers: Miky Lee, Jeong Tae-sung
Screenplay: Byun Sung-hyun, Kim Min-soo
Cinematography: Cho Hyoung-rae
Production Design: Han Ah-rum
Editing: Kim Sang-bum, Kim Jae-bum
Music: Kim Hong-jip, Lee Jin-hee
Main Cast: Sul Kyung-gu, Yim Si-wan, Kim Hie-won, Jeon Hye-jin, Lee Kyoung-young