Colin Firth and Rachel Weisz star in the second of two concurrent features about the sailor Donald Crowhurst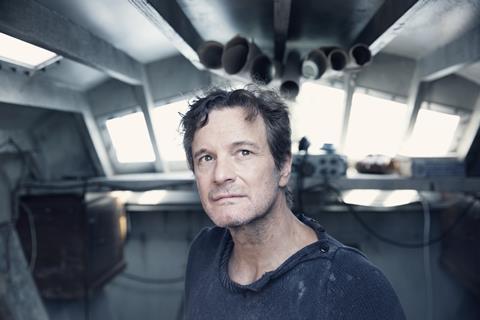 Dir James Marsh. UK. 2017. 102 mins.
The fascinating, troubling story of Donald Crowhurst - who disappeared in 1968 while competing in a round-the-world yacht contest - has attracted much movie interest over the years. A decade after Louise Osmond and Jerry Rothwell's documentary Deep Water examined the case in detail, two dramatic films on the subject have appeared in one season – unusually, both from the same distributor (StudioCanal). While Simon Rumley's intense, personal Crowhurst is likely to sail under commercial radar but attract critical plaudits, this more expensive, star-driven take is positioned as the mainstream version. It's absorbing enough and benefits from fine performances, but its almost wistful finale is less memorable than the more horrific final act of Crowhurst.
The film turns on its eventual, radical mood shift, as a latterday Ealing comedy segues into something like the demented final reel of Aguirre, Wrath of God.
The Mercy's budget runs to an impressive recreation of the 'Teignmouth Electron' - Crowhurst's sleek, self-designed, 'uncapsizeable' catamaran. Launched before it was properly seaworthy, the yacht turns out to be unsuited to the stresses of ocean travel – prompting its captain to dawdle in the South Atlantic while transmitting misleading reports of an imaginary circumnavigation, his mind diverging from sanity as his actual course diverges from the progress he claims.
As directed by James Marsh – whose career has ranged intriguingly from awards bid biopics such as The Theory of Everything to austerely challenging documentaries like Wisconsin Death Trip and collaborating regularly with Steven Soderbergh on The Informant!, Contagion and Side Effects – The Mercy is put together far more sturdily than the 'Teignmouth Electron'. Colin Firth plays Crowhurst with a comic edge in the early stretches, but becomes a more human, tragic figure as he voyages into his own personal heart of darkness (the title refers to the enigmatic final passage scrawled in his log-book). Rachel Weisz is well matched as Crowhurst's loyal but worried wife Clare, though the film doesn't give equal time to her troubles until a late-in-the-day speech directed at the horde of aggressive reporters who cluster outside her door like a lynch mob.
The film turns on its eventual, radical mood shift, as a latterday Ealing comedy segues into something like the demented final reel of Aguirre, Wrath of God. The Mercy opens with celebrity yachtsman Sir Francis Chichester (Simon McBurney) announcing the competition, offering prizes for contestants who sail around the world without ever putting ashore – while family man/dreamer Crowhurst struggles to raise interest in his latest invention and hits on entering the challenge to publicise his business, blithely dismissing naysayers who point out that he's barely sailed outside British coastal waters.
For all the world like Dick Van Dyke's Caractacus Potts from Chitty Chitty Bang Bang, Firth's Crowhurst is first seen as an ingenious fellow who pluckily puts together his impractical venture with the support of his doting, plummy-voiced family. Later, with the family home due to be forfeited if he fails to finish the race, the Crowhursts' economic desperation emerges as Clare, the wife of a possible national hero, has to apply for benefits.
David Thewlis and Ken Stott play the yachtsman's wily press agent and long-suffering sponsor with winning, eccentric verve which soft-pedals any criticism of Crowhurst's enablers. Even the indictment of the ghoulish press is standard – though, in setting a challenge Crowhurst wasn't alone in failing, then playing up a plucky underdog story rather than insisting on stricter entry qualifications, the newspapers might be considered complicit in what happened to him.
When The Mercy gets out on the water, it concentrates on more immediate perils and discomforts – with an impressive sequence as Firth scales his mast and clings perilously to it far above an unsteady sea, and a minute examination of the way water washes over everything aboard and turns a larkish adventure into a miserable ordeal.
The later stretches, which are forced to become oblique and symbolic in the absence of any hard evidence about what really happened to the sailor, showcase some of Firth's best screen work. It remains to be seen whether any film version of this story can slot comfortably into the profitable 'likeable, gallant British loser' biopic genre – after all, Eddie the Eagle would have been considerably less charming if it ended with the skier breaking his neck.
Production companies: Blueprint Pictures, BBC Films
International sales: StudioCanal laurence.lascary@canal-plus.com
Producers: Graham Broadbent, Scott Z. Burns, Peter Czernin, Nicolas Mauvernay, Jacques Perrin
Executive producers: Dan MacRae, Diarmuid McKeown, Jonny Persey
Screenplay: Scott Z. Burns
Cinematography: Eric Gautier
Production Design: Jon Henson
Editor: Jinx Godfrey, Joan Sobel
Music: Jóhann Jóhannsson
Main Cast: Colin Firth, Rachel Weisz, David Thewlis, Ken Stott, Simon McBurney, Mark Gatiss