George Clooney delivers a contemplative film about a global catastrophe for Netflix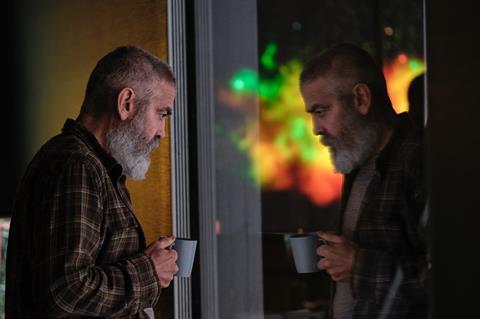 Dir: George Clooney. US. 2020. 118mins.
Examining a post-apocalypse through the eyes of a few souls left to carry on the human race, The Midnight Sky is an uneven but ultimately thoughtful and moving survival story. Directed by George Clooney, who plays a dying scientist in the Arctic trying to make contact with a team of returning astronauts who are unaware that Earth has been devastated, this sci-fi drama can't help but recall several other similar films — everything from Gravity to The Road — and the script's themes can sometimes be rather pedestrian. And yet, The Midnight Sky ends up striking the right balance between grim and hopeful, arguing that humanity is equally capable of destroying and renewing itself.
In our pandemic times, will this plot hit too close to home?
This Netflix release will receive a brief US theatrical release starting December 11 before launching on the streaming platform December 23. Clooney's star power will be a draw, as will a supporting cast that includes Felicity Jones and David Oyelowo. What's uncertain, however, is how viewers will respond to a contemplative film about a deadly global catastrophe. In our pandemic times, will that plot hit too close to home?
Set in early 2049, The Midnight Sky stars Clooney as Augustine, the only person left at an Arctic base after everyone else has evacuated. It has been three weeks since a cataclysmic occurrence, only referred to as 'The Event', and while the viewer receives only vague clues, it's clear that the surface of the Earth has suddenly and irreversibly become inhospitable. Suffering from an unnamed terminal illness, Augustine wants to spend his remaining time trying to warn a spaceship, led by Adewole (Oyelowo) and Sully (Jones), which is on its way back to Earth after a mission to a remote planet. While futilely trying to hail the craft, Augustine discovers there's one other person left at the base — a mute girl named Iris (Caoilinn Springall).
Clooney works from Lily Brooks-Dalton's debut novel Good Morning, Midnight, telling a story that explores the connection between life and death. The ailing Augustine must become a surrogate father for this vibrant young girl, while Sully is pregnant with Adewole's child, excited that their mission to this new world has proved fruitful — the planet can sustain life — but ignorant of what has happened back home. As a director, Clooney tends to overstate his films' central ideas, and that's certainly true here, but the muted tone helps mitigate the obviousness of the points he is making.
The Midnight Sky is divided between its two storylines: Augustine and Iris go on an arduous journey across the Arctic to find a more powerful satellite that can communicate with the returning spaceship, and Adewole's crew endure their own harrowing voyage as they try to make it back to Earth. The script, written by Mark L. Smith, a co-writer of The Revenant, has to contend with the fact that neither thread is particularly original. (Augustine's adventures with the child harken back to plenty of other post-apocalyptic survival dramas, while the astronauts' ordeals are reminiscent of those in Gravity and The Martian.) It's really the juxtaposition of the two narratives — and their complementary recognition of the characters' humanity in the face of long odds — that gives The Midnight Sky its modest resonance.
Despite some predictable beats — including a twist that's easy to guess as soon as one particular peripheral player is introduced — the film goes a long way on the quiet sincerity of its empathetic cast. Clooney is suitably haunted as a once-ambitious scientist who has come to realise that he let life pass him by, and Jones is touching as an expectant mother who's ready to start the next chapter, only to discover that the world she knew is gone forever.
The Midnight Sky exudes a realistic air, preferring a workaday sci-fi that's fitting for the story's dire scenario. There are no rousing speeches about the resilience of the human spirit, nor are there fashionably pessimistic proclamations about our self-destructive tendencies. What's most affecting about The Midnight Sky is simply its characters' gradual acceptance of their fate. As Augustine, Sully, Adewole and the others come to terms with what cannot be undone, the film builds in power, and Clooney resists easy uplift, although he does allow himself a few corny moments near the finale. That's to be expected from a filmmaker who often wears his heart on his sleeve, but the mawkishness is redeemed by his ultimate point: at the end of the world, we'll need to hang onto the people around us.
Production companies: Smokehouse, Anonymous Content
Worldwide distribution: Netflix
Producers: Grant Heslov, George Clooney, Keith Redmon, Bard Dorros, Cliff Roberts
Screenplay: Mark L. Smith, based on the book Good Morning, Midnight by Lily Brooks-Dalton
Production design: Jim Bissell
Editing: Stephen Mirrione
Cinematography: Martin Ruhe
Music: Alexandre Desplat
Main cast: George Clooney, Felicity Jones, David Oyelowo, Tiffany Boone, Demian Bichir, Kyle Chandler, Caoilinn Springall