The first-ever entry from Nigeria competes in the International Feature Oscar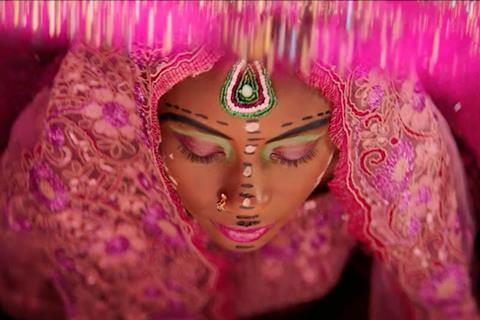 Dir/scr: Desmond Ovbiagele. Nigeria. 2020. 136 minutes
A tragic, romantic and political tale of two sisters told against a torrid backdrop of sub-Saharan conflict, The Milkmaid is, belatedly, the first Nigerian production to compete for the International Feature Oscar — last year's submission Lionheart was disqualified on language rules. Inspired by headline-grabbing regional incidents involving hardcore-Islamist movement Boko Haram and built around an empathetic performance from newcomer Anthonieta Kalunta as the eponymous farm-worker, this is mainly told in Hausu with some Fulani and Arabic.
Gambo Usman Kona's sheer screen-presence and compellingly nuanced portrayal mark him out as a name to watch
Heavily and sometimes confusingly reliant on flashbacks, writer-director-producer Desmond Ovbiagele's independently-funded successor to his 2014 debut Render to Caesar chronicles the travails of hapless, twentyish Aisha (Kalunta). She lives quietly with her mother and sister Zainab (Maryam Booth) in a village in an unidentified West African country, until the siblings are kidnapped by a never-named Islamist group obviously intended to represent Boko Haram.
With polygamy the norm in the ultra-patriarchal organisation, both sisters eventually find themselves — after various ups and downs — married to the same man, mid-ranking chief Dangana (Gambo Usman Kona). This arrangement sparks considerable jealousy on the part of Zainab, who has been radicalised into a fundamentalist firebrand by her experiences to a degree that shocks the milder-mannered Aisha. Violent complications ensue.
In the Oscar race, The Milkmaid's faces two critically-esteemed African rivals co-produced with European funds: Côte d'Ivoire's Night of the Kings and Lesotho's This is Not a Burial, It's a Resurrection. Buoyed by a fine supporting performance from Kona, the picture may nevertheless attract some support because of its topical, female-focused subject-matter — regrettably, none of the main behind-the-camera duties are handled by women apart from Obijie Oru's fine costume-design — and also in acknowledgement of Nigeria's gigantic film-making industry.
The so-called "Nollywood" is usually ranked alongside Hollywood and Bollywood among the the world's top three in terms of size. But its products have only rarely enjoyed significant exposure beyond the region and the teeming diaspora of what is easily Africa's most populous nation. Festivals seeking to broaden their geographical representation could benefit from checking The Milkmaid out, noting that the slickly-assembled picture is — with its near-incessant, conventional score by Michael "Truth" Ogunlade — hardly tailored for art-house denizens.
Seemingly crafted primarily with domestic distribution in mind, it fell foul of Nigeria's National Film and Video Censors Board ahead of its November release. Cuts reportedly totalling 24 minutes were demanded because of sensitivities regarding references to Islam; the full 136-minute version may only be screened abroad. This is somewhat ironic, given that the languidly-paced film could actually benefit from a trim strictly on grounds of pacing.
Despite The Milkmaid landing Best Film and four other prizes at December's African Movie Academy Awards — one more than This Is Not A Burial — editor Chuka Ejorh wasn't enominated, and Obviagele's screenplay was likewise excluded — these crucial aspects are handled in a functional-at-best manner, with Obviagele not yet sufficiently skilled direction-wise to compensate. It's an unfortunate outcome, given the premise's considerable potential and several notable contributions in other departments.
Yinka Edward's widescreen cinematography amply showcases the glorious landscapes of the north-eastern Taraba province — a mainly-rural area where Kona has, per production notes, already appeared in several local features. His sheer screen-presence and compellingly nuanced portrayal of the conflicted Dangana — an imposing individual whose forbidding exterior conceals a reflective soul — marks him out as a name to watch, regardless of The Milkmaid's Oscar fate.
Production companies: KOK, Mighty Man Entertainment
International sales: Mighty Man Entertainment, info@milkmaidmovie.com
Producer: Desmond Ovbiagele
Screnplay: Desmond Ovbiagele
Production design: Pat Nebo
Editing: Chuka Ejorh
Cinematography: Yinka Edward
Music: Michael "Truth" Ogunlade
Main cast: Anthonieta Kalunta, Maryam Booth, Gambo Usman Kona, Patience Okpala