The fallout from a vicious holiday rape continues to haunt a couple on their return to Germany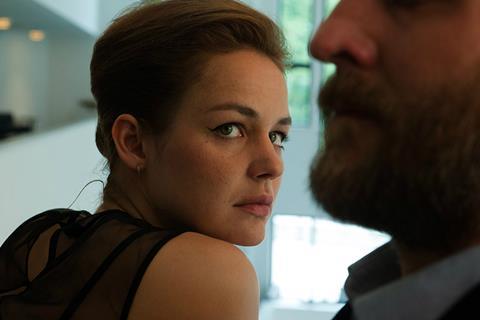 Dir/scr. Sven Taddicken. Germany. 2018. 97 mins
Enmeshed in the fallout of a holiday gone awry, The Most Beautiful Couple is a flinty rape-revenge thriller, a fraught portrait of a fraying relationship and a multi-faceted examination of the differing imprints left by violent trauma. A few glaringly straightforward touches aside, the combination proves convincingly fleshed out, perceptive and — for the most part — gripping, with writer/director Sven Taddicken (Original Bliss) ramping up the tension and intensity in his Toronto-premiering fifth feature.
The Most Beautiful Couple is at its most compelling when it's watching the leads grapple with their turmoil in their conflicting ways
As well as recognition on home turf, thanks to excellent work by German actors Maximilian Brückner (TV's Arctic Circle) and Luise Heyer (Netflix's Dark), festival programmers elsewhere should also take notice. Taddicken may occasionally revel in the obvious — the title is matched by obvious soundtrack choices such as The Proclaimers' 'I'm Gonna Be (500 Miles)', Haddaway's 'What Is Love?' and Radiohead's 'Karma Police', for example, However he always ensures that the focuses on the critical truth that no matter the coping strategy deployed, physical scars heal much quicker than emotional and mental ones.
That idea couldn't be further from Malte (Brückner) and Liv's (Heyer) minds when they're having sex in the beachside shallows on their Mallorca vacation, and glowing with the bliss that a refreshing romantic getaway brings. Alas, their amorous tumble in the waves has an audience in menacing teenager Sascha (Leonard Kunz) and his deadbeat pals, who follow the married pair home, push their way into their villa and demand an up-close-and-personal replay — and then, when one isn't forthcoming, rape Liv in front of a pinned-down Malte.
It's an unsurprisingly unpleasant scene, often framed in medium shots that capture all of the players while simultaneously conveying a sense of confinement. Tonally as well as visually, it establishes the approach that will serve Taddicken well across the movie. When the central duo is next seen two years later, their veneer of normalcy can't hide the strain infecting their marriage, despite Liv announcing to her therapist that she's cured. They're still trapped by their experience, which cinematographer Daniela Knapp (The Silent Mountain) consistently reinforces by boxing them into their surroundings.
The mood firmly established, The Most Beautiful Couple then thrusts Sascha back into Malte and Liv's Cologne-based lives, all thanks to a chance run-in at the local kebab shop. Spying their aggressor with his girlfriend Jenny (Jasna Fritzi Bauer), Malte is driven to follow him, track down where he lives and try to settle the score, all before telling Liv. The bulk of the film then charts the couple's complex reactions — from shock to willing ignorance to angry vengeance and more — to knowing that their attacker is enjoying his regular existence just a few train stations away.
The Most Beautiful Couple is at its most compelling when it's watching Malte and Liv grapple with their turmoil in their conflicting ways. She thinks that she can forgive and forget, he knows that he has to strike back, and much of the unease emanates from these contrasting extremes — with the resulting drama heightened but never histrionic.
Production companies: One Two Films, Arsam International
International sales: Beta Cinema, beta@betacinema.com
Producers: Sol Bondy, Jamila Wenske, Ilann Girard
Production design: Juliane Friedrich
Editing: Andreas Wodraschke
Cinematography: Daniela Knapp
Music: Eric Neveux
Main cast: Maximilian Brückner, Luise Heyer, Leonard Kunz, Jasna Fritzi Bauer.