Dir. Nicolas Winding Refn. US, Fr, Denmark. 2016. 117mins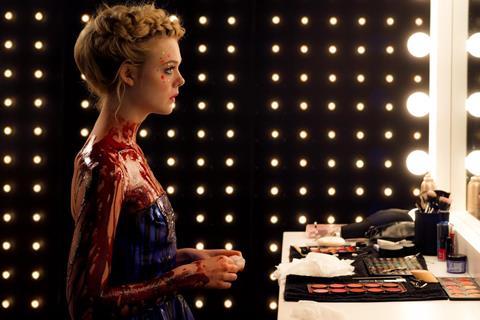 The fashion industry is a particularly easy subject for satire. Even so, Nicolas Winding Refn's lurid evisceration of the Los Angeles modelling community misses its target more often than it hits it. The film follows wholesome, corn-fed sixteen-year-old orphan Jesse (Elle Fanning), an aspiring model with flaxen locks and the kind of wide-eyed innocence that makes her both vulnerable and powerful. Newly arrived in LA, she is fresh meat - and that term is used advisedly - to feed the voracious machine of magazine advertorials, catwalk shows and slightly dubious fetish shoots.
The extreme tone of the ending - it's part fairytale, part bloodbath - is likely to alienate as many viewers as it amuses
Refn's gifts as a visual stylist are employed to arresting effect - there's a luxuriant use of colour which evokes the work of fashion photographer Guy Bourdin. But peel back the glossy, overly groomed surface and there is not a lot of substance underneath. The main selling point will be the cast, but despite a grisly, no-holds-barred final act, this film is not extreme enough to attract genre fans, nor is it smart enough to engage with an arthouse audience. Moments of black comedy are a redeeming feature, however there are not quite enough of them to generate much in the way of word of mouth.
Jesse arrives in LA with of wardrobe of shapeless frocks that look like something that an Amish woman would wear to do her housework. However, she has something special - a quality that makes fashion designers (Alessandro Nivola, hamming shamelessly) experience moments of blissful transport, and fellow models glare at her hungrily. She is befriended by makeup artist Ruby (Jena Malone, with a smile that shows a few too many teeth), who takes her to parties with aerial S&M shows and ominous techno music, which features repeatedly on the score. There she meets veteran models Gigi (Bella Heathcote) and Sarah (Abbey Lee), who eye her with undisguised loathing. "I hear your parents are dead," says Gigi sweetly, when Jesse fails to be sufficiently impressed by Gigi's surgical enhancements.
Snapped up by a modelling agency headed by an underused Christina Hendricks, and photographed by a hotshot snapper who styles her with bits of cut out bacofoil and nothing else, Jesse seems to be on the fast track to success.
Touching on similar territory to Fruit Chan's Dumplings, the film skewers society's obsession with youth and beauty, and its pursuit at all costs. But Refn employs a lot of rather obvious imagery. The film is full of mirrors - entire conversations play out through reflections - just in case we had forgotten that the fashion industry is superficial and obsessed with appearances.
Other scenes seem to have been added for shock value alone. Malone's character moonlights as a mortuary makeup artist - a character detail which is included purely to facilitate a particularly ill-judged sexual encounter with the corpse of an attractive woman. The extreme tone of the ending - it's part fairytale, part bloodbath - is likely to alienate as many viewers as it amuses.
Production companies: Space Rocket Nation, Gaumont, Wild Bunch
International sales: Wild Bunch sales@wildbunch.eu; Gaumont
Producers: Lene Borglum, Sidonie Dumas, Vincent Maraval, Nicolas Winding Refn
Screenplay: Mary Laws, Polly Stenham, Nicolas Winding Refn
Cinematography: Natasha Braier
Editor: Matthew Newman
Production design: Elliott Hostetter
Music: Cliff Martinez
Main cast: Elle Fanning, Jena Malone, Abbey Lee, Bella Heathcote, Christina Hendricks, Keanu Reeves