This frenetic Japanese animation is likely to beguile and bemuse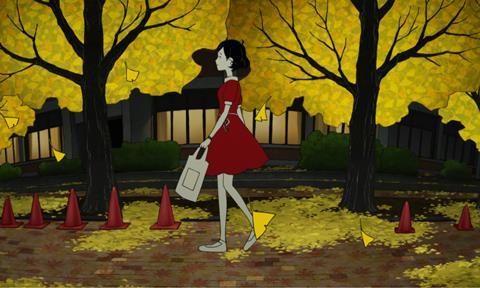 Dir: Masaaki Yuasa. Japan. 2017. 93mins.
Winning and confusing in equal measure, this Japanese animated feature is likely to attract devout admirers but also baffle a significant number of viewers. Set over the course of a single night in a fantastical Kyoto, albeit with a deliberate use of elastic time - we see watches moving slowly for young people and speeding for the elderly - it crams in an enormous amount of story as two characters, apparently predestined to get together, careen through different settings and clutches of similarly interlinked supporting characters.
Like its characters, the film is restless and relentless
Directed by Masaaki Yuasa (best known for TV projects like Kaiba, The Tatami Galaxy and Ping Pong) and based on a novel by Tomohiko Mori, it's mostly exhilarating and so packed with inventive detail that fans will need repeat viewings to pick up on incidental felicities and easter eggs.
The night begins at a wedding, at which the Girl With Black Hair (voiced by Kana Hanazawa), a college student, determines to stick to her policy of always moving forward — sometimes impersonating a railway engine — while her reticent admirer, Sanpai (Gen Hoshino), is conducting a campaign to win her over by contriving many coincidental meetings. Sanpai's eclectic group of friends include Don Underpants (Ryuji Akiyama), who has vowed not to change his underwear until he finds a girl he has been smitten with since a chance encounter a year before.
During the wedding The Girl, who has a remarkable capacity for alcohol, strikes off into the night and meets an array of strange characters, including a sleazy collector of erotic woodcut prints, the impish God of second-hand books and a guerilla theatre troupe who disrupt a student festival with a strange serialised rock opera. And in his attempts to intersect with The Girl, which involves securing her favourite childhood book as a gift, Sanpai gets into numerous outlandish situations, including having his pants repeatedly stolen, a book auction involving ordeal by spicy food and an epidemic of a common cold the Girl is uniquely immune to.
Like its characters, the film is restless and relentless with some stretches that work less well than others. A late detour into territory covered by Pixar's Inside Out, set inside the Sanpai's head, is confusing rather than enlightening, and the mix of childish and adult humour makes for disorienting changes of mood. Yet there are wonderful flights of weird fantasy; a vision of the world connected by used books is startling, and the bursts of ridiculous rock opera (which turn out to be part of Don Underpants' plan for romantic success) are genuinely witty.
The animation is distinctive, slightly evoking the living-world look of the Fleischer Brothers' Popeye or Betty Boop cartoons, with malleable, flowing characters who distort themselves as they move towards their destiny — or handy punchlines for their running jokes — and wavering night-time backdrops which see ordinary settings (a used book fair, a student festival) made magical thanks to everyone being happily drunk.
Production company/international sales: Fuji Creative, yoko.takigawa@fujicreative.co.jp
Producers: Noriko Ozaki, Junnosuke Ito
Executive producers: Kenji Shimizu, Keiji Ota, Masaaki Yuasa, Daiji Horiuchi, Akihiro Arai
Screenplay: Makoto Ueda, based on the novel by Tomohiko Mori
Cinematographer: Batiste Perron
Editor: Akari Saito
Music: Michiru Oshima
Main voice Cast: Kana Hanazawa, Gen Hoshino, Ryuji Akiyama