Robert Eggers' gore-soaked assault on Scandinavian legend goes full-out gonzo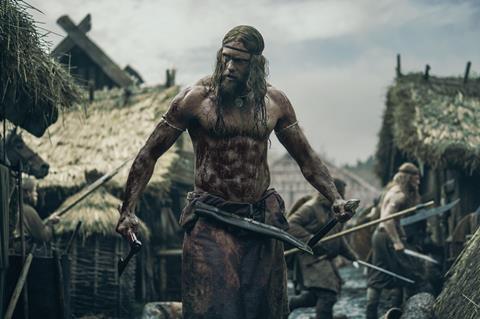 Dir. Robert Eggers. US. 2021. 138 mins.
About as subtle as a Norse raid, Robert Eggers' take-no-prisoners assault on Scandinavian legend could prove a 'Peak Viking' water mark in the audio-visual industry's ongoing obsession with six-packed pillaging Norsemen. Owing more to the rangy hysteria of the American writer-director's The Lighthouse (2019) than the restrained fear of The Witch (2015), Eggers' opus goes full-out gonzo in a story billed as the template for Shakespeare's Hamlet but familiar as an elemental legend with wide-ranging roots in common folklore.
There are other times, though, where the film falls apart under the weight of Eggers' more-is-never-enough approach.
Adorned with occult trappings, shot insanely in a way that befits a piece about madness, The Northman is essentially the boilerplate story of a young prince who comes back to avenge his father, murdered at the hands of his own brother. Eggers and Icelandic co-writer Sjon add significant Scandinavian topsail and obsessive attention to detail on that yarn across 138 minutes, but even Bjork's supernatural seer can't stave off the numbing effects of such extreme violence. Gore-soaked - dripping with it, in fact - The Northman is coy when it comes to sex (pillagers always wear their pants, at least for full-frontals) to obtain its R rating. The appeal will lie, then, with audiences who feel TV's Vikings aren't quite vicious enough, Eggers fans, and the cinematically curious, who will come away dazed, and sometimes dazzled.
Ethan Hawke, as the soon-to-be-murdered Danish scion Aurvandil, Nicole Kidman, as his wife Gudrun, Claes Bang as the usurper Fjolnir and Anya Taylor-Joy as Olga, a young slave, support Alexander Skarsgard, who produced, in the titular role. He is Amleth, first seen as a child on his father's return from battle in opening scenes reminiscent of John Boorman's Excalibur, although it soon becomes clear that very many scenes are familiar here and it is Eggers' signature on them that will count in the end. Such as, for example, a kingly initiation ceremony - but one in which father and son, howling like dogs, lap up some psychedelic drugs and, amongst other things, see a tree on which a puppet version of the royal family is hanging.
Such 'tender' moments are quickly over, though, when Aurvandil is stabbed and decapitated by Fjolnir. Amleth sails away, eventually joining some all-out berserker Viking raiders in wolf skins who jog around a fire half-naked before going rabid, howling and chewing at their victims in the 'Land of Rus'. Amleth - for it is he under the wolf head! - is vicious and desensitised through his trauma and, also, now equipped with a cans-of-Carlsberg-firm six pack. Bjork enters the fray with a prophecy; Amleth discovers Fjolnir has lost the crown and fled to Iceland with his mother, and all bets are off as he gets himself captured as a slave and snakes into their lives (with Olga in tow) to wreak revenge.
The legend of Amleth is said to be derived from the Roman story of Brutus, but parts of it have floated around the ether and come back in various guises. Eggers, securing himself in Iceland with Sjon's assistance, picks and chooses from Amleth's story too. Why take the crew to Iceland if you can't feature a volcano at a key moment - or a chaste sex scene in a hot spring?
Parts of The Northman are intensely impressive. Returning DoP Jarin Blaschke sets his stall early with close-up tracking shots of Aurvandil's return - the intimacy and perspective as the King enters the castle gates gives the film a precipitous feel, as if this meticulously realised world is tilting. Then it glides back down again. This tight approach also works well in scenes of mayhem and madness - on a village raid, or in a storm at sea, where editor Louise Ford stitches coherence into the bloody frenzy.
There are other times, though, where the film falls apart under the weight of Eggers' more-is-never-enough approach. Too many shots, too many cuts, too much growly bass on the soundtrack, too many distractions fiddling between black-and-white and colour and tinting, too blunt a narrative and characterisation to sustain the running time. And that is long before the hurling/hockey match that ends in a storm of nose-crunching head-nutting, or Olga putting mushrooms in everyone's soup and Kidman in full Lady Macbeth mode careening out of a wardrobe in a blood lust (one of the film's best scenes).
The Northman ends up in the so-called 'Gates of Hell' for a sequence which takes itself incredibly seriously yet brings to mind memories of Harry Hamlin in Clash Of The Titans — precisely not what Eggers is aiming for. Perhaps that is a hysterical reaction to being bashed and battered in blood for the previous two hours, or a response to the stream of plot elongations that have brought the film to this point (Amleth passes on multiple opportunities to slay Fjolnir in several contrivances.) The Northman is often bloody smart entertainment, although, essentially, it is also the good time that doesn't realise that the fun has stopped.
Production companies: Perfect World Pictures, New Regency
International distribution: Universal
Producers: Mark Huffam, Lars Knudsen, Arnon Milchan, Alexander Skarsgard
Screenplay: Robert Eggers, Sjon
Cinematography: Jarin Blaschke
Production design: Craig Lathrop
Editing: Louise Ford
Music: Robin Carolan, Sebastian Gainsborough
Main cast: Alexander Skarsgard, Claes Bang, Anya Taylor-Joy, Nicole Kidman, Ethan Hawke, Bjork, Willem Dafoe, Gustav Lindh