This Portugese labour relations drama - with songs - is an adventurous, energetic piece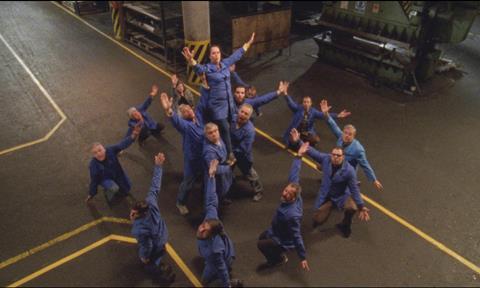 Dir: Pedro Pinho. Portugal. 2017.177 mins
In these commercially hard-nosed times, it might seem pure recklessness to make a three-hour self-reflexive labour relations drama – with songs. But, given the somewhat marginal status of Portugal's cinema and that nation's beleaguered economy, you could say that adventurous Portuguese film-makers have nothing to lose. Hence projects like Miguel Gomes's 2015 Arabian Nights trilogy and now Pedro Pinho's The Nothing Factory (A Fábrica da Nada), two very different but essentially kindred approaches to that burgeoning form, the 'crisis film'.
The film gets more unpredictable as it goes along
An energetic ensemble piece from documentarist Pinho, making his fiction debut, The Nothing Factory echoes certain 60s-70s French screen examinations of labour issues (Godard's Tout va bien being the most celebrated) but it's very much its own thing, intelligent and inventive if somewhat ragged round the edges. Theatrical prospects are slim, but serious-minded festivals and events will latch onto this picture as a stimulating discussion piece that couldn't be more of its moment.
The film centres on a lift factory in the Lisbon area, whose owners start sneakily removing the equipment to sell it off, leaving the workforce to fear the worst. Sure enough, a soft-soaping management delegation comes to offer reassurance before piling on the veiled threats. Arguments break out among the perplexed, largely male staff, but the workers decide to stay put, even if it means twiddling their thumbs on the silent factory floor (a sequence that provides some hauntingly eloquent images). Seeing off unwanted visits from suits and police, they find themselves considering the option of running the factory themselves, now that management has absconded entirely.
Hovering on the sidelines is a mysterious, wild-haired man who expresses an interest in the factory early on. He seems at once a social theorist, commenting in voice-over on the present cracks in the capitalist system, and an activist affiliated to a pan-European group of left-wing thinkers, whose lengthy dinner-table debate offers a somewhat intractable longueur at around the two-hour mark. In fact, he's played by Italian film-maker Daniele Incalcaterra, whose own work includes the documentary FaSinPat (Fabrica Sin Patrón) (Factory Without a Boss) – presumably covering exactly the same theme as Pinho's film.
Incalcaterra's presence as surrogate director introduces a Brechtian dimension into a film that's ostensibly in a familiar realist mould – its energetic, natural ensemble acting style closer to the sprawling tableau of Abdellatif Kechiche's Couscous than to Loach or the Dardennes. Much of the action takes place at the factory, with intimate detours into the home life of worker Zé (musician and cartoonist José Smith Vargas) and his partner Carla (Portuguese TV regular Carla Galvão); we also meet Zé's elderly father, who eventually suggests that armed rebellion is the answer and offers the necessary hardware.
The film gets more unpredictable as it goes along. Only late in the day do we learn that Zé sings in an agit-prop punk band (Smith Vargas contributes much of the film's music). And the wild card moment comes when the workers burst into an impromptu song-and-dance number; the result isn't quite Jacques Demy, but it brings an incongruous and welcome burst of ebullience. Some ostriches also put in a memorable out-of-nowhere appearance.
Even in its straighter stretches, The Nothing Factory skews away from by-the-book realism with some elegantly composed images. Smith Vargas and Galvão both show affecting toughness as the couple who bring the drama an accessible intimacy, but as an ensemble piece with something of a community theatre feel (the film is partly inspired by a Dutch play), The Nothing Factory boasts robustly natural acting all round. The film ends on an ambivalent 'what-next?' note and a dedication to the workers of Portugal's Fataleva company who took over and successfully ran a lift factory for four decades.
Production company: Terratreme Filmes
International sales: Memento Films International, sales@memento-sales.com, sata@memento-films.com
Producers: João Matos, Susana Nobre, Leonor Noivo, Luisa Homem, Tiago Hespanha, Pedro Pinho, João Gusmao, Joana Bravo
Screenplay: Pedro Pinho, Leonor Noivo, Luisa Homem, from an original idea by Jorge Silva Melo, based on a play by Judith Herzberg
Cinematography: Vasco Viana, Vasco Saltão, João Vagos, Andreia Bertini
Production design: Luísa Homem
Editor: Claudia Oliveira, Edgar Feldman, Luísa Homem
Music: José Smith Vargas, Pedro Rodrigues
Main cast: José Smith Vargas, Carla Galvão, Njamy Sebastião, J. Bichana Martins, Daniele Incalcaterra, Hermínio Amaro