Callum Turner leads an all-star feature about an aimless young man who strikes up an affair with his father's mistress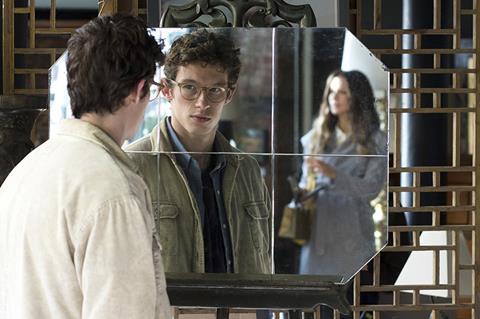 Dir: Marc Webb. US. 2017. 88mins
Straining to exude a literary air of urbane sophistication, The Only Living Boy In New York becomes instead a rather undistinguished coming-of-age tale with a provocative premise it can't quite execute. Director Marc Webb's drama about an aimless young man who begins sleeping with his father's mistress has its share of nice, small moments, not to mention a cast headed by Callum Turner and Kate Beckinsale that's attuned to the story's novella-like intimacy. And yet, the whole endeavour ends up feeling fussy and clever rather than incisive and nuanced — especially when a late twist seriously jeopardises plausibility.
The film mistakes terse, showy dialogue for real insight into these struggling souls
Only Living Boy arrives in US theatres on August 11, catering to adult audiences familiar with Beckinsale and co-stars Pierce Brosnan, Jeff Bridges and Cynthia Nixon. The film's elite New York environs, mixed with adultery and family dysfunction, could appeal, although muted reviews may not help.
Turner plays Thomas, a college graduate who doesn't know what he wants out of life. Smitten with his platonic friend Mimi (Kiersey Clemons), who doesn't share his romantic feelings, Thomas has always been distant from his successful, judgmental publisher father (Brosnan). His complicated feelings only become thornier when he discovers his dad has been sleeping with Johanna (Beckinsale), a freelance editor behind his beloved mother's (Nixon) back.
Written by Allan Loeb, Only Living Boy establishes Thomas' alienation from his privileged upbringing and then surprises us when his angry confrontation of Johanna results in a spark between them, leading to a clandestine sexual relationship. Webb (Gifted) intentionally rushes this seemingly mismatched pair into bed, letting their decision feel impetuous and mysterious — perhaps even to themselves.
Beckinsale skilfully navigates Johanna's mercurial whims, portraying her as a sensitive, intelligent woman who's a bit adrift and craving new experiences, such as romancing this naïve younger man. For his part, rising star Turner (Queen & Country, Assassin's Creed) does a decent job of playing Thomas as restless and resentful, the simmering contempt he feels toward Johanna unexpectedly morphing into lust. Is he sleeping with her only because she's alluring — or is it some twisted act of vengeance against his father for betraying his mother? Or, perhaps, does Thomas see an opportunity to compete with him in the world of men?
The multiple interpretations of characters' actions give Only Living Boy a teasing ambiguity, but eventually it becomes clear that Webb and Loeb simply don't have much new to say about commitment, growing up or the generational divide. More lamentable, they dress up their shop-worn revelations with literary pretensions, with key elements of the film narrated by W.F. Gerald (Bridges), Thomas' cryptic, professorial new neighbour who also happens to be a reclusive author. Several of Only Living Boy's characters are involved in the profession — Thomas had dreamed of being an author, until his dad discouraged him — but the movie mistakes terse, showy dialogue for real insight into these struggling souls.
As Thomas' wise, loopy sage, Bridges somewhat dials down the Zen dude-ism which seems to have been central to his onscreen persona since The Big Lebowski. Still, the Oscar-winner seems to be operating on his own plane, which becomes distracting. Nixon is enormously sympathetic as Thomas' frail mother, who doesn't know about her husband's affair but, quite possibly, might become unhinged if she found out. Brosnan projects his usual bulletproof charm, which the actor wields like a weapon for a character who is secretly a heel. As for Clemons, she's trapped playing Thomas' enchanting unrequited love — once he falls for Johanna, though, Only Living Boy is at a loss for what to do with her.
As complications arise and Johanna must decide between her two lovers, Only Living Boy tries to deliver a narrative wallop, introducing an unexpected plot element which is meant to reframe everything we know about these characters. It's the sort of device that might work better in a novel, where an author has hundreds of pages to flesh out his protagonists and milieu, but Only Living Boy proves too slight and too shallow to justify the audacious twist. Rather than enriching the viewer's experience, the filmmakers cheapen it with a gimmick.
Production companies: Amazon Studios, Bona Fide Productions, Big Indie Pictures
International sales: FilmNation, www.filmnation.com
Producers: Albert Berger, Ron Yerxa
Executive producers: Jeff Bridges, Mari Jo Winkler-Ioffreda, John Fogel
Screenplay: Allan Loeb
Cinematography: Stuart Dryburgh
Production design: David Gropman
Editor: Tim Streeto
Music: Rob Simonsen
Website: www.onlylivingboyinnewyorkmovie.com
Main Cast: Callum Turner, Kate Beckinsale, Pierce Brosnan, Cynthia Nixon, Kiersey Clemons, Jeff Bridges