A burnt-out yoga teacher searches for new enlightenment in this Chile-set wellness satire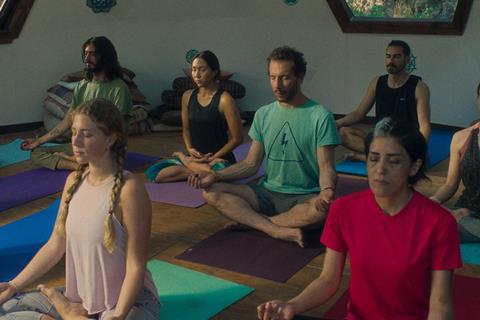 Dir/scr: Martin Rejtman. Argentina/Chile/Portugal/Germany. 2023. 93mins.
A deft, witty and thoughtful X-ray of a western society where endless mind and body health solutions don't seem to be improving things much, Argentinian Martin Rejtman's charming yet incisive The Practice is just what the doctor ordered. Premiering in San Sebastian's Official Section, this downbeat, absurdist comedy about the cult of wellness is populated by a sizable cast of engaging neurotics and features all of Rejtman's stylistic calling cards – the stripped-back approach; the implausible plotlines that somehow convince; the great jokes; and the entertainingly hung-up characters who, in this case, are two yoga teachers and their circle.
A downbeat, absurdist comedy about the cult of wellness
The absurd world that Rejtman depicts is more our own than we would like to believe. An Argentinian living in Chile, mildly depressive Gustavo (Esteban Bigliardi, superbly deadpan) teaches yoga and is recently separated from his wife, Chilean Vanesa (Manuela Oyarzun), who also teaches the practice Vanesa has kept the apartment, so Gustavo is staying with his sister Macarena (Maria Siebald) and her husband Felipe (Elvis Fuentes) – who join his mother (Mirta Busnelli) in criticising his every move. One early scene has an earthquake tremor causing a folding screen to fall onto Gustavo's German client Steffi (Celine Wempe) while she sleeps, leading to memory loss and creating potential legal issues that only add to Gustavo's woes.
Though they are separated, Gustavo and Vanesa continue to attend sessions run by a therapist (Catalina Saavedra) who seems to lack all empathy. These sessions comically worsen matters between the couple, and end with the therapist doling out tablets to Gustavo. Damaging his knee is the last straw, and our super-agitated, physically damaged yoga instructor, now also carrying a cocktail of drugs in his system, heads off to a rural retreat in search of some inner peace.
When we move away from Gustavo to Vanesa's relationship with biker Rodrigo (Gabriel Canas), things feel sketchier and less sure footed. And though the multiple micro-stories that make up the plot are neatly woven together, some of them don't really work – the rambling story of Gustavo's attempt to get rid of the fallen folding screen, for example, to the former boyfriend of an ex-student, Laura (Camila Hirane) – who incidentally seems the closest of any character to being psychologically healthy.
Though perhaps the funniest moment is the visual gag that brings it to an unexpected close, The Practice is rooted in its spiky dialogues. Running jokes are set up and taken as far as they can go, characters repeat phrases in different contexts for increasing comic effect and the timings are right on the beat.
But beneath the clean, efficiently shot surface, Rejtman is making deeper points, and the title suggests that his characters are all in a sense busy practicing for lives that they're scared to actually live. Even when they're sitting round a campfire singing, they seem to be doing it rather gloomily and inauthentically, without quite knowing why. Barely a smile is raised by throughout the whole film: these people are going about their daily lives in a flat, affectless and stonefaced manner. In a society in which happiness is seen as another goal to be achieved, Rejtman seems to be saying, simple human joy will the first casualty.
Production companies: Un Puma, Quijote Films, Rosa Filmes, Pandora Film Produktion
International sales: Visit Films info@visitfilms.com
Producers: Jeronimo Quevedo, Victoria Marotta, Giancarlo Nasi, Joaquim Sapinho, Marta Alves, Christoph Friedel, Claudia Steffen
Cinematography: Hugo Azevedo
Editing: Federico Rotstein
Music: Santiago Motorizado
Main cast: Esteban Bigliardi, Mirta Busnelli, Manuela Oyarzún, Camila Hirane, Gabriel Canas, Amparo Noguera, Catalina Saavedra, María Siebald, Elvis Fuentes, Celine Wempe