Sienna Miller stars as a Hollywood actress undergoing a personal crisis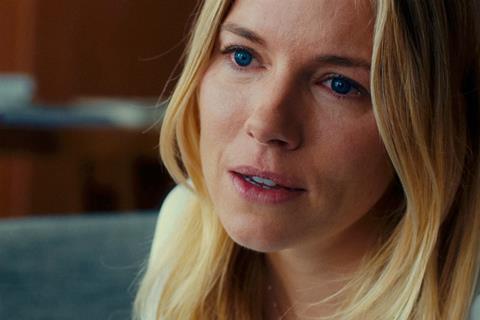 Dir: James Toback. 2017. US. 71 mins.
You hesitate to accuse any film of taking itself too seriously, but with Bosch, Dostoevsky and Shostakovich in the mix, plus themes including murder, self-knowledge, Alzheimer's and the possibility that becoming a writer might just be the answer to it all… well, The Private Life of a Modern Woman can't easily be accused of flippancy.
A decidedly old-fashioned movie of feelings and ideas
Returning to fiction after his speculative doc on film-making Seduced and Abandoned, veteran US writer-director James Toback re-enters to the philosophical chamber mode of 1997's Two Girls and a Guy. A concise, somewhat theatrical film built largely on a number of talky intimate encounters, Private Life is a hit-and-miss piece with some fine performances, much self-indulgence, sometimes excruciatingly literary dialogue, and a strong, emotionally nuanced central turn from Sienna Miller that holds it all together when dramatic coherence falters.
A decidedly old-fashioned movie of feelings and ideas, this won't raise Toback's ever-wavering profile, but at least it proves him game for a challenge and unashamed to look, let's say, studenty in his earnestness – which feels somehow commendable for a director of his vintage.
Miller plays Vera, a Hollywood actress who's been staying away from the screen while going through some sort of existential crisis. The film, shot largely in hot colours in her chic Manhattan apartment, begins with her waking from a nightmare – in faded-denim shades of blue – of the previous day's events, when an altercation with a druggy ex ended in his death.
If she starts the day in a state of anguish, she won't lack for company. After a visit from her new man, a literary scholar who offers to read part of his just-completed thesis, mouthy friend Franklin (Toback himself) arrives to offer her an impromptu therapy session ("You know what that empty bottle says to me? That you have a void in your soul"), as well as holding forth angstily about himself.
After dumping the ex's corpse in an out-of-town lake, she gets a visit from affable but devious detective McCutcheon (Alec Baldwin, perfectly pitched), who displays the omniscient canniness of the sleuth in Crime and Punishment (given that Vera has a picture of Dostoevsky on her wall, she might have been wiser to McCutcheon's ploys).
Later Vera dines with her mother (Colleen Camp) and elderly grandfather, who has dementia – the opportunity for a finely judged, immensely affecting show-stealer of a turn from Charles Grodin, carrying a welcome charge of tenderness and dignity. After a bizarre non sequitur of a cameo from financier Carl Ichan as himself, it's time for Vera to sit down again and scribble the third-person narration that Miller intermittently delivers throughout in voice-over, before the inevitable, somewhat bathetic moment of truth.
With surface similarities to the Tolstoy-inspired video dramas of Bernard Rose (Ivansxtc), the film is nothing if not authentically Dostoevskian; after all, so many of his works are largely about people just dropping round and gabbing. But Toback has little new to offer in terms of representing anything specific to the lives of modern women, or even modern female movie stars.
The film's economical design chic and vivid palette fend off the visual limitations that such a low-key piece might have suffered. Editor Aaron Yates juggles flashback inserts deftly, although some flashy split-screen work at the start is distractingly portentous, especially when cut to the sombre chords of Shostakovich's Seventh Symphony. A solemn soundtrack that also includes Bach and Brahms is leavened by the Cleftones' doo-wop ballad 'Please Say You Want Me', accompanying Vera's dance with her granddad - a moment when, mercifully, the psychobabble pauses and the real feelings rush in.
Production companies: Michael Mailer Films, Haymarket Annex II, Funding Group of Kingston, AMPM Enterprises
International sales: CAA rsutherland@caa.com
Producers: Michael Mailer, Jennifer Gelfer, Martin Tuchman, Alan Helene, Valda Witt
Executive producers: Angela Cecio, Joshua Blum, Alessandro Penazzi
Screenplay: James Toback
Cinematography: Larry McConkey
Production designer: Rick Butler
Editor: Aaron Yanes
Main cast: Sienna Miller, Alec Baldwin, Charles Grodin, Colleen Camp, James Toback