Ryan Murphy razzle-dazzles Netflix with this Broadway adaptation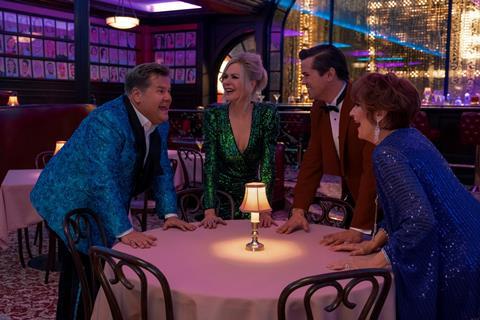 Dir. Ryan Murphy. US. 2020. 131 mins.
A confetti canon of campy cheer, Ryan Murphy's adaptation of Broadway musical The Prom is a paean to love, tolerance and the pursuit of primary colours. With such good-humoured hoofing from Meryl Streep, James Corden, Andrew Rannells and Nicole Kidman, it seems churlish to note an over-long running time, or the fact that all the songs in this glitter ball aren't quite equal. Viewers will have to hop on board a bus full of musical theatre stars as it leaves New York for Indiana to ensure a gay girl goes to the ball, and sit tight in their sequinned seats.
The Prom's spiritual animal is Cher
This film is well inside Ryan Murphy's Glee wheelhouse, based on a true story and set partially in a school where the PTA, led by Kerry Washington, has opted to cancel the annual Prom rather than allow lesbian student Emma Nolan (newcomer Jo Ellen Pellman) attend with her girlfriend Alyssa (Arianna DeBose). But where the film works best - in fact, truly dazzles – is the array of Broadway stars who, stung by the failure of their current show, adopt Emma's cause in the hopes of earning some good publicity for their "celebrity activism".
Led by a supremely game Meryl Streep as legendary stage star Dee Dee Allen, and a charming James Corden as her gay BFF Barry Glickman (the Franklin D. Roosevelt to her Eleanor in their Broadway flop Eleanor!), The Prom never knowingly holds back as the spangled gang travels to Indiana. Nicole Kidman as a tipsy Fosse showgirl is more relaxed and clearly having more fun than she has onscreen of late, while Andrew Rannells delights as a former child star turned barman. Of course, the combined charisma of these four film stars completely outshines the newcomers in the Indiana school gym, which is perhaps to be expected. Armed with razzle-dazzle jazz hands, and channelling the-show-must-go-on spirit, they attack a lopsided screenplay with considerable cheer: these actors are stars for a reason, and they don't dial it in for Murphy. (Corden even gets a laugh delivering the line "I'm as gay as a bucket of wigs," which says as much about his buy-in as it does about the dialogue).
Set for family-friendly Christmas play globally on Netflix, this musical does shake a little sparkle over the end of a flat year, even if it's clearly never destined for the same adaptation Hall of Fame as Chicago or A Chorus Line. Its core message of inclusivity and tolerance is more than welcome, even if it's more fun to watch the self-absorbed Broadway stars learn their lessons than the PTA come to heel. Some characters get very extended play: a romance between Streep's Broadway legend and Keegan-Michael Keys' high-school principal is sweet, but when Corden's character reconciles with his mother (Tracey Ullman), the sideshow drama threatens to overwhelm the Prom itself.
The Prom starts out with a big musical number on a Broadway soundstage as the first night of Eleanor! ends in ignominy, called out by callous critics. It was Barry's shot at the big time, but Dee Dee has had her ups and downs over a long, double Tony-winning career in which self-absorption has become a way of life. Several martinis later, the gang hits on a plan to become celebrity activists in order to rehabilitate their careers, and Emma's cancelled prom – trending on Twitter - seems to them to provide the ideal opportunity for a new stage.
Of course, everything won't go to plan, as the locals are considerably less impressed with this busload of Broadway veterans than they are with themselves. As they drain the hotel room minibar and form a fast friendship with Emma, they learn about the concept of self-sacrifice so this sweet girl can get her dance with her closeted love.
In comparison to the high drama of the visitors, the locals do seem quite anodyne, their religious concerns given short shrift outside of campy lyrics ("bigotry is not big of me…and it's not big of you!"). After some vaguely religious-themed pantomime bullying by Kerry Washington, for no reason that's particularly evident, they're perfectly happy to enter into the end-game revelry.
Casey Nicholaw gives The Prom the full musical choreography treatment, whether that be on Broadway, in the gym hall, or the local mall (there's not much in the way of venues in Indiana, as the visitors discover when they have to play half-time at a demolition derby). Costume designer Lou Eyrich never met a shiny spangle she couldn't incorporate into a pantsuit – The Prom's spiritual animal is Cher. Overall, it's as cheesy and just as hard to resist as a Mamma Mia! with smoother production values, spottier songs, and a LGBTQ+ heart. The fact that Meryl Streep connects the two is a delight: at 71, this is an actress who still knows how to have a good time in her craft, and the viewer can feel the joy in it.
Production companies: Dramatic Forces, Storykey Entertainment
International distribution: Netflix
Producers: Adam Anders, Alexis Martin Woodall, Bob Martin, Ryan Murphy, Dori Berenstein
Screenplay: Bob Martin, Chad Beguelin, from the musical by Bob Martin, Chad Beguelin and Matthew Sklar, based on an original concept by Jack Viertel
Cinematography: Matthew Libatique
Production design: Jamie Walker McCall
Editing: Peggy Tachdjian, Danielle Wang
Music: Matthew Sklar, David Klotz
Main cast: Meryl Streep, James Corden, Nicole Kidman, Andrew Rannells, Jo Ellen Pellman, Keegan-Michael Key, Arianna De Bose, Kerry Washington, Tracey Ullman, Mary Kay Place