Penelope Cruz reunites with director Fernando Trueba in a silly sequel to 1998's The Girl Of Your Dreams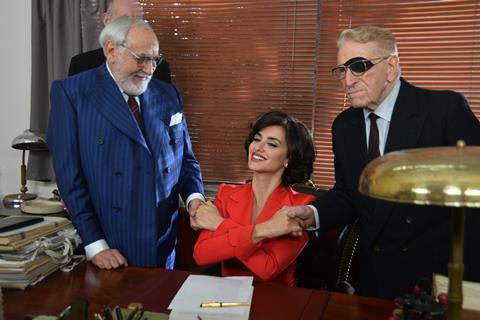 Dir/scr: Fernando Trueba. Spain, 2016. 128 mins
The Queen of Spain, writer/director Fernando Trueba's follow-up to his 1998 effort The Girl Of Your Dreams, revisits the film-within-a-film concept, reuniting an ensemble cast which, it is to be hoped, had more fun off-screen than is apparent on. Checking in on the same characters 16 years after he introduced Andalusian actress Macadena Granada (Penelope Cruz) to the world fails to offer anything more than a broad farce that breezily flirts with the intersection of Hollywood and Spain in the tense political climate of the 1950s.
Audiences needn't be familiar with its predecessor to know where this undemanding and unmemorable effort is heading
Still, a jaunty-enough movie-making narrative and a raft of stars — both Spanish and American, from Cruz to Mandy Patinkin and Cary Elwes — could boost The Queen of Spain's international prospects after its Berlinale berth, where it may eventually work best on VOD platforms. The festival screening, as a gala presentation, follows the film's November 2016 release in its homeland, where it scraped $1.2m in theatres.
Audiences needn't be familiar with its predecessor to know where this undemanding and unmemorable effort is heading; thinly sketched film industry characters collide on set, attempt to navigate the politics of both their country and their profession — and squabble, scheme and have affairs on the side. A resistance-oriented subplot sees a presumed-dead face from the past reemerge, only to be incarcerated by Franco's regime.
Two homecomings spark the obvious events that follow: the return of local actress turned global sensation Macarena Granada (Penélope Cruz) to make the titular movie about Queen Isabella the First of Castille; and the re-appearance of the director, Blas Fontiveros (Antonio Resines), who helped bring her to fame. With the current project's elderly helmer (Clive Revill) literally sleeping through the job, blacklisted American writer (Patinkin) stands in, overly theatrical leading man (Elwes) sets his sights on a Spanish wannabe (Jorge Sanz), and Macarena lusts after a grip (Chino Darín). It's chaotic scenario to begin with, and that's before the core group, which also includes a put-upon art director (Santiago Segura) and fading veteran star (Rosa Maria Sarda), starts plotting to rescue Fontiveros after he's arrested and placed in a labour camp.
There's plenty of weighty subject matter in the difficulties of creating art under strict control — the feature within a feature is only made possible due to Franco's approval, for example, which weighs heavily upon Macarena's conscience — but The Queen of Spain is happy to simply pay lip service to its historical realities, all in the name of amiable amusement. Alas, what results is awkward, as well as only mildly diverting rather than involving, inciting a few forced smiles rather than hearty laughs.
Given the lightness of the material, the on-screen talent does their best — some, like Cruz, trying to add depth; others, such as Elwes, happily ham it up. In fact, in the attention-grabbing stakes, they're easily dwarfed by Juan Pedro de Gaspar's handsome production design. It might be fitting that a film about a film made under a censor-heavy regime is better to look at than engage with, but it also says much about the slight and stretched The Queen of Spain.
Production company: Fernando Trueba PC
International sales: Myriad Pictures, info@myriadpictures.com
Producers: Cristina Huete, Anne Deluz
Executive producer: Kirk D'Amico
Cinematographer: José Luis Alcaine
Editor: Marta Velasco
Music: Zbigniew Preisner
Production design: Juan Pedro de Gaspar
Main cast: Penélope Cruz, Chino Darín, Mandy Patinkin, Cary Elwes, Clive Revill, Antonio Resines, Santiago Segura, Ana Belén, Loles León, Jorge Sanz