Dir/scr Midi Z. 2016. Taiwan/Myanmar/France/Germany. 108 mins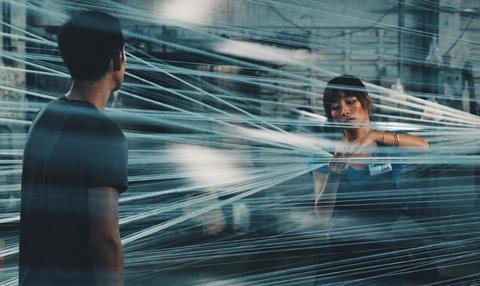 The first drama from writer/director Midi Z since his Oscar contender Ice Poison (2014), The Road To Mandalay resumes his focus on the plight of Burmese citizens seeking to escape the poverty and conflict in their home country. A deceptively gentle account of the romance between two illegal immigrants in Thailand slowly builds into a moving portrait of the hardships they face and the impossible obstacles to their pursuit of happiness.
Midi Z's control of mood, pace and performance builds an engrossing drama
Simplicity proves to be the greatest strength of a film that grows more involving as it unfolds and will consolidate Midi Z's status as one of the rising stars of Asian cinema. A busy festival life should follow Mandalay's world premiere at Venice.
In Ice Poison, drugs were the choice of a young couple seeking to escape their harsh life in Burma. In The Road To Mandalay, Lianqing (Wu Ke-Xi) chooses flight, crossing illegally into Thailand in pursuit of a better life. The journey brings her into contact with fellow migrant Guo (Kai Ko) who gallantly volunteers to hide in the stifling boot of a lorry so that she can enjoy the comparative comfort of the front seat. He has taken an instant shine to her and will continue to pursue her in Bangkok in what initially feels like a very one-sided romance.
Midi Z's unhurried, unfussy style encourages the viewer to surrender to the gentler rhythm of his storytelling. The camera is often fixed and content to observe the flow of the action as Lianqing settles into her new life and tries to find a job. Her illegal status and lack of identity papers makes her an easy prey for exploitation as she works long gruelling hours as a dish washer for little pay. Lianqing could easily be the main character in a social realist drama from Ken Loach or the Dardenne Brothers. Midi Z regular Wu Ke-Xi plays her with a steely, implacable determination. This is an ambitious woman who will grasp at any opportunity that may come her way.
Guo is her constantly devoted suitor and bashful benefactor who encourages her to find better paid factory work and who accompanies her on a trip to acquire fake documents. She warms to him but it becomes apparent that they have a very different idea of the future. He wants to earn enough money to return home and open a shop in Burma. She has bigger plans. " Have you thought of getting married?" he tentatively enquires. "No I haven't," comes the blunt reply.
The Road To Mandalay grows in intensity as Lianqing begins work in a textile factory. We start to develop a much stronger picture of a Thailand in which life is cheap, illegal workers are expendable and every little advance up the ladder requires generous bribes to corrupt officials. It's hardly surprising that Guo wants to return home.
Midi Z constantly reveals an eye for a striking image as Lainqing is seen caught behind a criss-cross of white fibres that she is trying to untangle or an agitated Guo is captured feverishly stoking a furnace as tiny sparks circle around him. Most startling of all is a scene in a hotel when Lianqing is terrorised by a large iguana.
Midi Z's control of mood, pace and performance builds an engrossing drama that works on the intimate level of a moving human tragedy whilst also providing an insight into the much bigger picture of the problems and heartaches facing the people of Burma.
Production companies: Fine Time Entertainment International, CMC Entertainment, Star Ritz International Entertainment, Seashore Image Productions, Flash Forward Entertainment, Myanmar Montage Films, House On Fire
International sales: UDI sales@urbandistrib.biz
Producers: Patrick Mao Huang, Midi Z
Cinematography:Tom Fan
Editor: Matthieu Laclon
Prod des: Akekarat Homloar
Music: Lim Giong
Main cast: Kai Ko, Wu Ke-Xi, Wang Shin-Hong, Zhao De-Fu, Zheng Meng-Lan