Shaggy dog story part-set in China's Chongqing is a slow-burn charmer from Denmark's Mads Brügger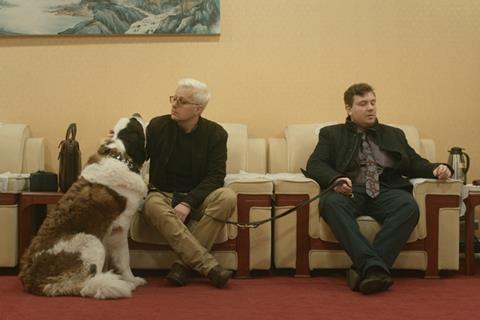 Dir Mads Brügger. Denmark. 2018. 100 mins
One man's slobbering hound is another man's exciting business opportunity in The Saint Bernard Syndicate, a droll move into fictional comedy from satirical documentary maker Mads Brügger (The Ambassador, Kim Jong-Il's Comedy Club, etc). The cast, dry wit and slow-burn visual gags will readily endear this lugubrious odd-couple tale to Danish audiences but they provide enough warm amusement to allow it to travel following the platform of a world premiere at Tribeca. The Danish release is set for May 10.
The Saint Bernard Syndicate provides a constant stream of wry amusement and warm smiles
Suggesting affinities with the worlds of Aki Kaurismaki, Bent Hamer, and even Jacques Tati, The Saint Bernard Syndicate begins at a school reunion where Frederik (Frederik Cilius) is desperately seeking investors for his sure-fire, get-rich-quick scheme. His plan is to tap into the growing demand for luxury goods among China's middle-classes. His luxury item is the Saint Bernard dog which he aims to breed in China and market as " the panda of the West". All he needs is a wealthy backer.
Rasmus (Rasmus Bruun) is a former classmate who now works as a salesman in a mattress store. A seemingly routine visit to the doctor brings the devastating news that he has ALS (amyotrophic lateral sclerosis). In a reckless mood, he agrees to finance Frederik and accompany him to China.
Brugger quickly lays down the hallmarks of this relationship, establishing Frederik and Rasmus as a latter-day Laurel and Hardy. Frederik is tubby and blustering, convinced that he is a lot more savvy than he actually is. There are time when he barely tolerates the whey-faced Rasmus, who often appears to be a gormless fool but may be smarter than he looks. The easy chemistry between the Danish comedians convinces us that there is always the possibility that a friendship may blossom between the two as they are obliged to rely on each other in a foreign land.
Accompanied by Frederik's father's trusty St. Bernard called Dollar (adorable, of course), the duo arrive in the twinkling metropolis of Chongqing where, inevitably, nothing goes according to plan.
The Saint Bernard Syndicate is very much a comedy of embarrassment with a grinning, clueless Rasmus in the tradition of an Alan Partridge or a David Brent with his capacity for cringe-inducing comments or inappropriate behaviour that leaves you squirming in your seat. Burger observes proceedings in the manner of a poker-faced mockumentary with the camera seeming to eavesdrop on conversations or gently follow the flow of unfolding disaster, especially during a chaotic product launch. In other instances the camera is static as the visual humour blossoms by moving in and out of frame. It is those moments that feel most Tatiesque. There is a feeling of improvisation at work in the dialogue and reactions but whilst the film may meander it never becomes self-indulgent.
Without building up a great head of steam, The Saint Bernard Syndicate provides a constant stream of wry amusement and warm smiles, even pulling off some poignant scenes as the reality of Rasmus' diagnosis becomes apparent.
Cinematographer Jonas Berlin captures a beguiling vision of Chongqing from its neon lights to a fairytale castle and adds to the visual appeal and atmosphere of a likeable film that slowly and surely wins the viewer's affections.
Production company: Meta Film
International sales: Level K lauren@levelk.dk
Producers: Emilie Lebech Kaae, Jakob Kirstein Høgel
Screenplay: Lærke Sanderhoff
Editing: Rasmus Stensgaard Madsen
Cinematography: Jonas Berlin
Main cast: Frederik Cilius, Rasmus Bruun, Boyang Li, Lee Liheng