Philippe Garell's intimate drama fields a revelatory performance from Oulaya Amamra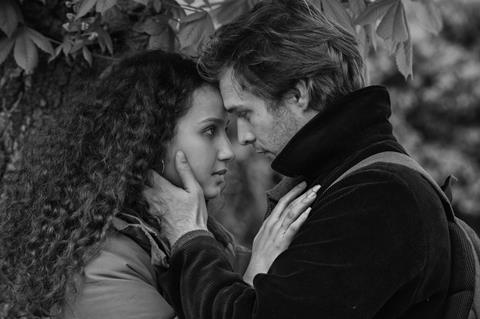 Dir. Philippe Garrel. France. 2019. 110 mins.
Just because a film breaks most of the usual narrative rules doesn't mean that it is not profoundly classical. That has been the case over the last few decades with the films of veteran writer-director Philippe Garrel, and his new work The Salt of Tears fits his characteristic mould of economically told intimate dramas.
One of the most finely tuned and richly achieved of Garrel's recent works, yet, as ever, a nice proposition
Once again, this new film could be classified as a filmic version of that French literary genre the conte – essentially definable as a concise but intellectually resonant narrative focusing on emotions and morals, as in Eric Rohmer's various series of screen contes. Garrel's vision, though as spare, is considerably more pessimistic than Rohmer's. He is one of those film-makers who starkly divide audiences, but those in the 'for' camp are likely to find Garrel's The Salt of Tears one of the most finely tuned and richly achieved of his recent works – although its no-frills execution will make it, as ever, a niche proposition even for the usual Francophile markets.
This story centres on Luc, played by screen newcomer Logann Antuofermo. He is first seen arriving in Paris at Gare du Nord, then waiting for a bus in the suburb of Montreuil, where he and a young woman, Djémila (Oulaya Amamra), catch each other's eye and get talking. The tentative looks and silences between them, and the more than eloquent flickers of interest on her face, suggest that they are made for each other. But things don't turn out as expected, and the next thing we know, Luc – in Paris to pass an entrance exam to study cabinet-making at the prestigious Ecole Boulle – has returned home to the provinces.
There, he's reunited with his doting father (André Wilms), in whose footsteps he is following as a joiner. He also runs into former sweetheart Geneviève (Louise Chevillotte, returning from Garrel's Lover For A Day), and without further ado – and in Garrel's films, lovers really don't bother with further ado – they're having a slippery bathroom interlude. Geneviève is clear that Luc is the man for her, but he keeps his options open with Djémila, in a way that proves devastating for the latter. Then it's Geneviève's turn to suffer, as Luc returns to Paris.
But before long, along comes Betsy (Souheila Yacoub), her first night out with Luc marked by some loopy bacchanalian dancing at a nightclub, choreographed with dizzy disdain for realism by Caroline Marcadé – followed by an abrupt out-of-nowhere encounter with some racist thugs, the film's only overt reference to current political realities. But Betsy's own uncompromisingly free-spirited attitudes prove testing for Luc.
The intricacies and ironies of the story are conveyed in typically Garrelian fashion, with the minimum of visual fuss, although the film is austerely beautiful. Renato Berta's black and photography makes the most of seemingly mundane exteriors, and of interiors glowing with daylight from outside. Faces also communicate volumes, from the weathered features of veteran Wilms – reserved but winningly warm in one of Garrel's recurring 'wise patriarch' roles – to Amamra as Djémila, whose face crackles with youthful energy, hope and (in a crucial sequence) crushing disappointment.
Amamra is the film's absolute revelation: having set the screen alight as the rebellious young heroine in Houda Benyamina's Divines, she is a much quieter presence here, yet exudes a rich complexity of unspoken emotion. Antuofermo is also extremely watchable as an ostensibly likeable protagonist, seemingly in the traditional mould of amorous French male leads, but who proves a feckless and possibly hollow figure – although the film is too scrupulously detached to be judgmental about him.
That aspect is partly the result of a pared-to-the-bone script co-written by Garrel with revered French screenwriting veterans Jean-Claude Carrière and Arlette Langmann (who also collaborated on Lover For A Day). The script is laced, in a faintly enigmatic touch, by sporadic lines of voice-over, as if from an off-screen novelist, almost underlining the literary nature of a fable which might be making itself up as it goes along. The final line will either strike viewers as flatly throwaway, or as a chill sting of well-earned and unforgiving philosophical insight.
Production company: Rectangle Productions, Close-Up Films
International sales: Wild Bunch, ediederix@wildbunch.eu
Producers: Edouard Weil, Laurine Pelassy
Screenplay: Jean-Claude Carrière, Arlette Langmann, Philippe Garrel
Cinematography: Renato Berta
Editor: François Gédigier
Production design: Manu de Chauvigny
Music: Jean-Louis Aubert
Main cast: Logann Antuofermo, Oulaya Amamra, André Wilms, Louise Chevillotte, Souheila Yacoub