Dirs: Chris Renaud, Yarrow Cheney. US. 2016. 91 mins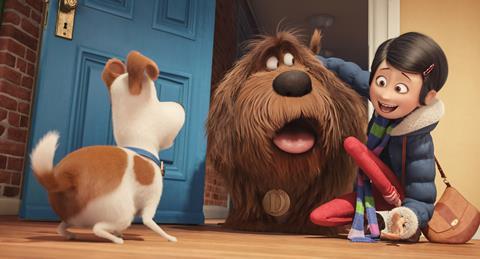 Although Disney already marked their animal animation territory with Zootropolis earlier this year, it turns out that there is plenty of room for another picture featuring our furry friends. The latest film from Chris Renaud (Despicable Me) and his team is a madcap caper full of densely-packed sight gags, dizzying action set pieces and a healthy side-helping of Renaud trademark silliness. While it lacks the equivalent of the small, yellow USP of the Despicable Me series, this should still generate healthy returns from family audiences for Universal. The likeable central characters could potentially sustain at least one of the almost inevitable sequels which will follow.
A jaunty score from Alexandre Desplat keeps up the pace of this slick, and frequently very funny comedy.
The film lifts the lid on the exploits of the pets of New York while their owners are away at work. As such, there is very little thematic overlap between this world and the human-free society of Zootropolis. Pets has more in common with Bolt, and in particular, Toy Story: the co-dependent relationship between pet and owner mirrors the latter's dynamic between toy and child.
The top dog in this tale is Max (voiced by Louis C.K.), a scrappy little terrier who spends his days bursting with love for his owner Katie (Ellie Kemper) when she is there and pining for her when she is not. But one day Katie brings home a rival – a big, shaggy rescue mutt called Duke (Eric Stonestreet). Max is not about to give up his basket, his ball and crucially, his share of Katie to this slobbering usurper; the battle lines are drawn in hotly contested kibble.
A Greek chorus composed of other neighbourhood pets is introduced during a playful montage. Chloe (Lake Bell), the obese cat upstairs, battles with the temptation of an entire roast chicken in the fridge; a dachshund customises a Magimix to give back massages; a slow-witted pug wages a one-dog war against squirrels. And Gidget (Jenny Slate), a primped pomeranian, watches soap operas and yearns for Max. Gidget's arc is perhaps the most satisfying of all the animals' – she goes from a nervy, yappy bundle of fluff and hysteria to a diminutive badass determined to rescue the dog of her dreams.
The feud between Max and Duke lands both of them in trouble, first at the mercy of a ragtag bunch of malevolent alley cats; then in the clutches of dog catchers before they are rescued – at a cost – by a band of anti-human revolutionaries lead by a bunny. Former magician's rabbit Snowball (exuberantly voiced by Kevin Hart) is dangerously cute and quite possibly insane. In his underground lair in the city's sewer system, he and other pet rejects plot the downfall of humanity. It doesn't take long before Max and Duke's true allegiances are revealed and implicated in the death of one of Snowball's cohorts – it's an accident of Loony Tunes-levels of extravagant violence.But Snowball doesn't see the funny side.
A jaunty score from Alexandre Desplat keeps up the pace of this slick, and frequently very funny comedy. The jokes range from perceptive riffs on animal behaviour clichés (the hamster which is permanently lost in the heating pipes; the cat who can't help biting the thing she loves) to sly one-liners to movie references. The best of these is a sausage-fueled fantasy sequence which looks like a Busby Berkeley routine crafted entirely from pork products.
While the trajectory of the story holds few surprises and the plot does owe a lot to other films, the quality of execution is high. The animation is a touch lurid but the action is crisp and the timing is impeccable. There is enough here to appeal to most sections of the audience, be they young or old; dog people or cat fanciers.
Production companies: Illumination Entertainment, Universal Pictures International
Worldwide distributuin: Universal Pictures International
Producers: Chris Meledandri
Screenplay:Brian Lynch, Ken Daurio, Cinco Paul
Editor: Ken Schretzmann
Production design: Eric Guillon
Music: Alexandre Desplat
Voice cast: Louis C.K., Eric Stonestreet, Jenny Slate, Kevin Hart, Ellie Kemper, Lake Bell, Albert Brooks,Hannibal Buress, Steve Coogan