Ricardo Darin plays the newly elected Argentine president in Santiago Mitre's character drama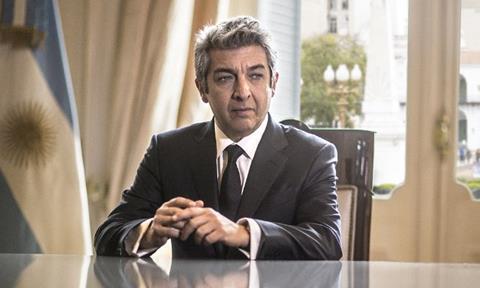 Dir. Santiago Mitre. Argentina/France/Spain. 2017. 114mins
A recently elected president faces challenges both political and personal in The Summit, a character drama that struggles to weave a tapestry of layered anxiety for its protagonist. Unfortunately, none of the threads is sufficiently compelling on its own, and although Ricardo Darín supplies the necessary world-weary gravitas as Argentina's untested leader, director Santiago Mitre fails to bring this ambitious endeavour to life.
In fits and starts, The Summit achieves its dizzying objective.
Premiering in Un Certain Regard, The Summit hopes to capitalise on Darín's international appeal, as well as a plot that promises global political intrigue. But lukewarm notices may keep the film from scaling commercial heights.
As The Summit begins, Latin American presidents are convening in Chile to discuss forming an OPEC-like oil collective. Among them are new Argentinian president Hernán Blanco (Darín), who's facing tough criticism back home that he has yet to establish himself as a forceful leader. This summit could be Blanco's opportunity, but the meetings come just as his adult daughter Marina (Dolores Fonzi) experiences what appears to be an emotional meltdown — a delicate situation that threatens his family's stability and, maybe, even his effectiveness on the world stage.
Mitre, whose 2015 thriller Paulina screened in Critics' Week, wants to illustrate how a politician's family and professional responsibilities are intertwined, with one aspect of a president's life informing the other. To that end, The Summit cross-pollinates the boardroom thriller with the political drama and the character study, the filmmaker boldly shifting between tones to suggest the chaotic headspace of a president navigating through several crises.
In fits and starts, The Summit achieves its dizzying objective. It can be appealing to watch Blanco segue from tense public debates with fellow presidents to surreal conversations with his daughter as she undergoes hypnosis to unlock a traumatic memory. But Mitre doesn't have enough time for his different subplots, and consequently each feels underdeveloped and rushed.
Despite Blanco's protestations that Marina's unearthed memories are invented, Mitre and cowriter Mariano Llinás drop hints that maybe there's more going on than he's willing (or able) to admit. Darín lets Blanco's inscrutability become a lingering mystery in The Summit as this new president slowly starts to learn how to survive in the cutthroat world of global politics. It's a pity, then, that the character's ultimate decisions on how to deal with his daughter and the feuding presidents aren't quite so deliciously revealing as Mitre cleearly hoped..
As Blanco's anguished daughter, Paulina star Fonzi isn't playing a character as much as she's asked to humanise a psychotic break. It's a gimmicky part — mostly just a plot device — and the actress does her best, although it's hard to be invested in her melodramatic dilemma.
When The Summit turns its attention to the high-stakes oil agreement, Paulina García brings some zest to the thankless role of the seasoned Chilean president who's trying to keep this summit barrelling forward, despite the contentiousness between some of the leaders — particularly that of Brazil's brusque president, played with pompous, cartoonish gusto by Leonardo Franco. And Christian Slater delivers a crucial cameo as an American government advisor who approaches Blanco with a counterproposal to the oil agreement that might better serve Argentina's needs and will, of course, exponentially benefit US interests. Slater is all smug superiority, practically embodying American arrogance and self-centeredness with his every sardonic smile and patronising remark.
Production companies: K&S Films, La Unión de los Rios, Mod Producciones, Maneki Films, Arte France Cinéma, Telefe, Memento Films, ICAA, INCAA, World Cinema Support, CNC – French Institute, Arte France, Movistar +, Alejandro Weinstein, IRSA
International sales: Film Factory Entertainment, info@filmfactory.es
Producers: Hugo Sigman, Fernando Bovaira, Matías Mosteirin, Didar Domehri, Simón De Santiago, Fernando Brom, Agustina Llambi Campbell, Leticia Cristi, Axel Kuschevatzky
Executive producers: Micky Buyé, Javier Braier
Screenplay: Santiago Mitre, Mariano Llinás
Cinematography: Javier Juliá
Production design: Sebastián Orgambide, Micaela Saiegh
Editor: Nicolás Goldbart
Music: Alberto Iglesias
Main Cast: Ricardo Darín, Dolores Fonzi, Érica Rivas, Elena Anaya, Daniel Giménez Cacho, Alfredo Castro, Gerardo Romano, Leonardo Franco, Paulina García, Christian Slater