Barry Levinson casts Ben Foster as Harry Haft, a boxer traumatised by his experiences in a Nazi death camp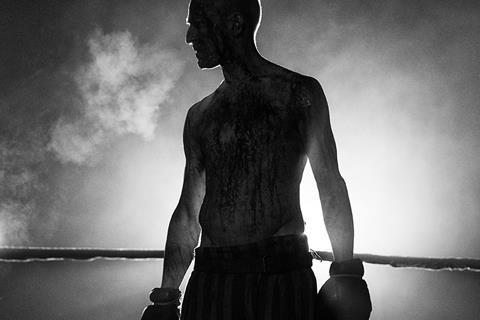 Dir: Barry Levinson. US/Canada/Hungary. 2021. 129 mins.
Telling the true story of Harry Haft, a Polish Jew who survived Auschwitz but was haunted by the experience for the rest of his life, director Barry Levinson has crafted an earnest, sometimes stolid biopic which is nonetheless hard to shake. Much like its subject, The Survivor isn't easily embraced. Ben Foster plays Haft with a bulldog intensity befitting a man who made his name as a boxer — a skill he learned in the concentration camps when he fought other Jews in the ring to stay alive. There's no shortage of familiar elements here, and yet one can't deny the empathy Levinson brings to the material, connecting Haft's odyssey to those of other Jewish characters he has chronicled in earlier films.
There's a clear melancholy rippling through this story, building to a bittersweet finale
Adapted from a book written by Haft's son Alan, which drew from his father's recollections, this Toronto Gala premiere contains elements of the Holocaust drama and the sports film, although ultimately it doesn't fit neatly into either genre. Most likely, audiences will be courted on the strength of Foster's typically uncompromising, emotionally nuanced work; he is joined in the cast by Vicky Krieps, Billy Magnussen and Peter Sarsgaard.
The picture jumps between three timeframes, focusing on Haft's (Foster) imprisonment in Auschwitz, his boxing career in New York in the late 1940s and, intriguingly, an initially unexplained sojourn in Georgia in the early 1960s. In the death camps, Haft catches the eye of Nazi officer Schneider (Magnussen), who selects him to box other Jews in the ring — whichever man wins the bout gets to live. In New York, Haft tries to parlay his boxing skill into notoriety so that he can make contact with Leah (Dar Zuzovsky), a woman he loved back in Belchatow before they were both taken away by the German army. He hopes she's still alive and now safely in America, but in the meantime he begins a tentative courtship with Miriam (Krieps), who works to restore displaced families.
In films such as Avalon, Levinson has movingly dramatised the struggles of Jewish immigrants making a new home in the US, and in The Survivor he has found a person whose ordeal was especially anguished. Although Haft escaped Auschwitz, he feels conflicted about what he had to do, and the flashbacks (filmed in stark black-and-white) emphasise his desperate circumstances. When Haft opens up about his past to a journalist (Sarsgaard), he wants to unburden himself, but he only provokes the anger of his fellow Jews, who consider it unconscionable that he fought fellow prisoners, dooming his combatants to death so that he could live.
What consistently hampers The Survivor is how well-trod its story strands are. No matter the brutality of the Holocaust segments they still feel familiar, while Haft's training in New York resembles plenty of other boxing pictures. That said, Danny DeVito, who starred in Levinson's Tin Men, is quite affecting as a no-nonsense trainer who secretly instructs Haft, despite working for ring rival Rocky Marciano.
But The Survivor eventually proves not to be a sports drama — Haft's bout with the popular Marciano is merely to garner publicity so that Leah might see his name in the papers — and the film shifts to a love story between Haft and Miriam. Krieps' delicate but strong-willed demeanour is a superb counterpoint to Foster's gruff, wounded performance. Miriam cares for this man, but she also understands the trauma he is carrying around with him, and the pursuit of their fragile relationship is quietly touching.
Losing 60 pounds for the Auschwitz sequences and wearing heavy makeup that profoundly changes his facial features for Haft's later years, Foster forcefully displays the character's inner tumult in nearly every scene. Levinson sometimes resorts to cliches to visualise his protagonist's turmoil — seemingly random incidents in the 1940s segment trigger feverish flashbacks — but Foster's tortured portrayal is unflinching.
George Steel's unfussy cinematography and Miljen 'Kreka' Kljakovic's handsome production design add to The Survivor's respectful tone — even if the general lack of electricity makes the results seem unnecessarily staid. Likewise the supporting performances, especially Magnussen as the hateful Nazi, feel tasteful as opposed to incisive. But there's a clear melancholy rippling through this story, building to a bittersweet finale in Georgia that complicates the notion of what being a survivor means. Levinson is so awed by Harry Haft's ordeal that he sometimes struggles to bring it to life — but its inherent tragedy still packs a punch.
Production companies: Bron Studios, New Mandate Films
US sales: Bron, Linda.Jin@bronreleasing.com

International sales: Endeavor Content, ecfilmsalesinfo@endeavorcontent.com
Producers: Matti Leshem, Aaron L. Gilbert, Barry Levinson, Jason Sosnoff, Scott Pardo
Screenplay: Justine Juel Gillmer, based on the book by Alan Scott Haft
Production design: Miljen 'Kreka' Kljakovic
Editing: Douglas Crise
Cinematography: George Steel
Music: Hans Zimmer
Main cast: Ben Foster, Vicky Krieps, Billy Magnussen, Peter Sarsgaard, Dar Zuzovsky, John Leguizamo, Danny DeVito