Dir/prod: Eyad Zahra. US. 2009. 83 mins.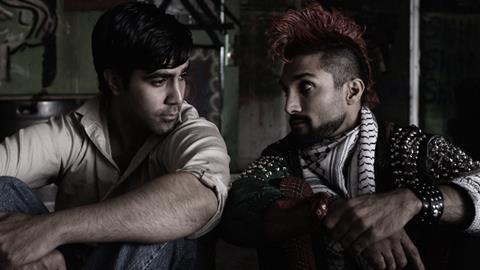 Peering into a unique subculture with irreverence and thoughtfulness, The Taqwacores displays a lively gusto in its handling of potentially strident material. Director Eyad Zahra's light-hearted drama about a group of young Muslim men and women living together in Buffalo, New York is rough around the edges, but its warmth and sense of humour hold the slender story together.
The Taqwacores may have a no-name cast, but its selling point is its highly-distinct milieu: the Muslim punk movement in America. Targeting college audiences and punk aficionados should help lift this rambunctious film's chances in the marketplace.
Shy, sweet college student Yusef (Bobby Naderi) moves into a rundown house filled with fellow Muslims who are much more outgoing than he is. Over the course of a year, Yusef bonds with this diverse collection of personalities while immersing himself in Taqwacore, a Muslim variation of punk's anarchic power.
Based on the novel by Michael Muhammad Knight, The Taqwacores eschews a tight narrative for a rambling, invigorating examination of how Muslim-American youths form ad-hoc families which reflect both their own culture and the one into which they're tentatively trying to integrate.
On a basic level, the film's skill at populating its story with fresh, unconventional Muslim characters is a real treat. But more interestingly, Zahra's use of bawdy behaviour and loud Western music helps undercut the screenplay's occasionally didactic dialogue to humanise the constant tension that Muslims feel while living in a country that's still hostile to them in many ways.
Naderi is appealing, if a little milquetoast, as quiet Yusef, but Dominic Rains excels as Jehangir, the house's unspoken leader and a fervent music fan who, like the film itself, seeks to reconcile Islam's conservative bent with punk's anti-authoritarian stance.
To sign up for Screen's weekly Reviews Newsletter with all the week's new releases, international openings and full festival reviews delivered free to your mailbox every Friday, please click HERE
Production company
Rumanni Filmworks
Worldwide sales
Visit Films
(1) 718 312 8210
Screenplay
Michael Muhammad Knight
Eyad Zahra
(based on the novel by Michael Muhammad Knight)
Cinematography
JP Perry
Production design
Marwan Kamel
Editor
Josh Rosenfield
Music
Omar Fadel
(featuring music by The Kominas)
Main cast:
Bobby Naderi
Noureen DeWulf
Dominic Rains
Nav Mann
Volkan Eryaman
Ian Tran
Tony Yalda
Rasika Mathur
Anne Leighton
John Charles Meyer