Dir/scr. Veiko Ounpuu. Estonia, Sweden, Finland. 2009. 114mins.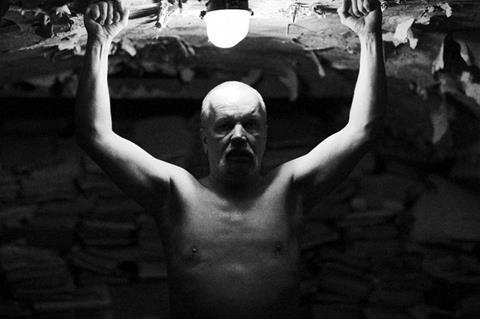 Veiko Oonpuu's bold, contemporary update of the stations-of-the-cross genre more than lives up to the promise of his 2007 debut, Autumn Ball. Nods to filmmakers Bergman, Fellini, Bunuel, and Tarkovski aside, with a wink at such cultural icons as Bosch, Flaubert, and Blake, his imprimatur is on every frame of this delicious black-and-white prestige product.
Temptation bowed at Sundance before arriving in Rotterdam and further festival berths seem assured. Careful promotion could even lead to arthouse slots in more sophisticated cities worldwide. An up-and-down tempo drives this film's visuals and soundtrack, so that languor is never an issue, and its division into individual chapters helps its accessibility.
As universal as its theme is, The Temptation of St Tony is also grounded in a specifically Estonian geographic and political landscape. (The near-naked protagonist wraps himself in the Estonian flag at one point for protection against the cold.)
Mid-level factory manager Tony (rubber-faced Everyman Eelmaa, giving a remarkable performance) suffers an existential crisis following the death of his father. Questioning the value of being ethical versus achieving worldly success, and probing what is real rather than illusory, he bounces back and forth between sacred encounters (a "priest" and phantom labourers from the afterlife) and much more profane, in fact carnal, episodes (an over-the-top strip club where people eat like animals and become violent; snotty society events).
Oonpuu is at ease with magical realism and surrealism, both of which he wisely uses sparingly to chart Tony's impending breakdown. Pressure from his boss to fire his staff, his wife's infidelity, and a doomed love affair (literally tortured) expedite the stripping away of his last defenses.
In spite of a firm directorial hand, Ounpuu is a collaborative artist. He fuses Taniel's stunning cinematography (many of the exteriors feel primeval), a haunting soundscape, and Krigul's diverse original score into a substantial vision of man's metaphysical dilemma, one that provides Eelmaa a conduit in which to play out his magic.
To sign up for Screen's weekly Reviews Newsletter with all the week's new releases, international openings and full festival reviews delivered free to your mailbox every Friday, please click HERE
Production companies
Homeless Bob Production
ATMO
Bronson Club
International sales
LevelK
+ 45 2010 8580
Producers
Katrin Kissa
Kristina Aberg
Jesse Fryckman
Tero Kaukomaa
Cinematography
Mart Taniel
Editor
Thomas Lagerman
Production design
Markku Patila
Jaagup Roomet
Music
Ulo Krigul
Sound design
Janne Laine
Main cast
Taavi Eelmaa
Ravshana Kurkova
Tiina Tauraite
Sten Ljunggren
Denis Lavant