Practical effects shine in this tale of a bullied kid taking supernatural revenge against his tormentors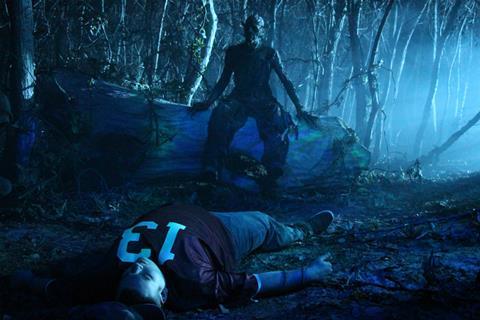 Dir Todd Tucker. US. 2017. 80 mins.
The wave of '80s nostalgia washing over the horror movie at the moment, epitomised on the big screen by the remake of It and the small by Stranger Things, is evident in this little fable. Set in 1981, it uses the classic 'turning worm' or 'deal with the devil' premise (as seen in Carrie, Christine, Trick or Treat or 976-EVIL) as a bullied outsider high school kid summons supernatural resources to strike back at his tormentors, then finds he is in more danger from his diabolical allies.
Director Todd Tucker has a background in practical effects, and this is the main draw here
Tim (Caleb Thomas) is a withdrawn kid, obsessed with monsters and works in his basement to create creatures and illusions for Halloween. His nurse mother Linda (Sarah Lancaster) is struggling since the departure of her sulky husband (Christian Kane), and Tim still resents her for this loss. He's also annoyed that she protects him from the louts who hang out in the parking lot of the local convenience store – understanding that this will only make the beating he is bound to receive worse.
While Linda works a long shift on Hallows Eve, Tim is jumped by Brian (JT Neal) and battered bloody. In his basement, he prays to his made-up monster demons and the glassy-eyed Trickster – no relation to the similarly-named fiend of Brainscan (1994) – whips up a set of illusions. Tim lures Brian, his girlfriend April (Annie Read) and dumb sidekicks Chuck (Niko Papastefanou) and Spaz (Mccabe Gregg) to the house, where they wander into their own personal traps and are undone by their basic lusts for food, dreams and sex.
There's a ritual-like nature to the plots of films like these, with set-piece effects and deliberately one-note villains. Thomas is believable as a whiny loser whose artistic talents are only appreciated by his long-suffering mother, but shows some grit when he has to stand up against his own demons. Elsewhere in the cast, familiar faces include Eric Roberts as an intolerant neighbour, Juliet Landau (also an associate producer) as Linda's supervisor and John Carpenter regular Peter Jason as the head of the asylum.
Director Todd Tucker (Monster Mutt), who also plays the older version of the protagonist in a contemporary-set coda, has a background in practical effects, and this is the main draw here. Elaborate puppets are aptly used, as the jester-like Trickster (Doug Jones) vivifies antique dolls, giant spiders and a mutant alien pumpkinhead to terrorise the unwary.
The particular charm of this approach pays off with vintage creepiness and the long-ish epilogue, set in an asylum designed to evoke John Carpenter's Halloween, opens out the mythology of the film and suggests the stirrings of a Hallow's Eve franchise.
Production companies: Illusion Industries, Quixotic Productions
Contact: Illusion Industries admin@illusionindustries.com
Producers: Ronald L. Halvas, Tom Harrison, Brett Stimely, Todd Tucker, David Guc
Executive producers: Russell Clifford, Donna Loyd
Screenplay: Zack Ward, story by Todd Tucker, Ronald L. Halvas
Cinematography: Paul Marschall
Production Design: Mel Huffman
Editor: Steve Ansell, Stephen R.Myers
Music: Jeffrey Alan Jones, Chris Walden
Main Cast: Caleb Thomas, Sarah Lancaster, Annie Read, JT Neal, Mcabe Gregg, Niko Papastefanou, Doug Jones, Eric Roberts, Christian Kane, Juliet Landau