A young tobacconist befriends Sigmund Freud in late 1930s Vienna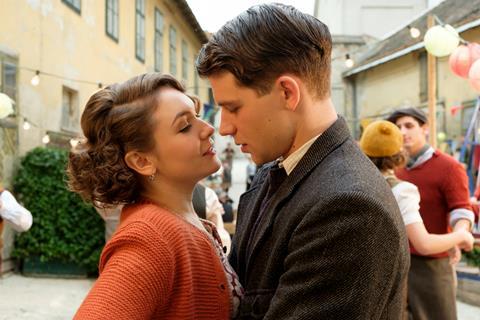 Dir: Nikolaus Leytner. Austria-Germany. 2018. 113mins
A coming-of-age narrative set against the backdrop of impending war, The Tobacconist walks the line between the personal and the political with varying degrees of confidence. This story of a young country boy who takes a job in a Viennese tobacconist in 1937 is at its best when it distills the growing fascist threat through his journey to manhood. Attempts to mine deeper psychological territory through his dreams — which he begins to register after befriending shop customer Sigmund Freud — are less successful.
That it plays out during such a turbulent time in Austrian history brings additional texture
That it's adapted from the well-received 2017 novel by Austrian writer Robert Seethaler has the potential to help this solid effort break out of the domestic audience to which it should obviously appeal; the book is a bestseller in Germany, where the film is slated for a November release. A strong cast, headed by the charming, charismatic Simon Morze and including Bruno Ganz as Freud himself, may secure further festival berths; international interest will correlate with the subject matter and execution.
Seventeen-year-old Franz (Simon Morze) lives a sheltered life in a small lakeside cottage with his mother, Margarete (Regina Fritsch). When we first meet him, he is sitting on the bottom of the lake as a thunderstorm surges overhead - the first instance of a running theme of submersion, both literal and emotional, that will be overplayed throughout the film.
Indeed, Franz has a habit of hiding himself from the world, either underwater or beneath his bed covers. When Margarete's lover and benefactor dies, the financial implications force her to send Franz to Vienna, to work in a tobacconist shop run by an old flame, Otto (Johannes Kirsch). Initially reluctant, the boy strikes a rapport with Otto and gets to know the regular customers, in particular, cigar enthusiast Sigmund Freud (Ganz). Their friendship blossoms when Franz seeks Freud's advice after falling for Anezka (Emma Drogunova), who works as a dancer at a local cabaret. While Franz is smitten, Anezka keeps herself at a deliberate remove, frustrating and beguiling the teenager in equal measure.
Freud aside, this is a fairly straightforward boy-to-man narrative, but that it plays out during such a turbulent time in Austrian history brings additional texture. As time passes, and the Nazi party gains more of a foothold, life in Vienna begins to change in small but noticeable ways. Locals begin to don swastika armbands, "Heil Hitler" becomes the standard greeting, tensions boil over into altercations and Otto's shop is targeted because of his refusal to ban Jewish customers.
While Franz's fascination with Anezka is his primary focus — teenage hormones stop for nothing — he can't help but be drawn into local events, although he remains firmly on the sidelines until Otto is arrested and Freud targeted. And it's here, in this exploration of how war shapes lives even away from the battlefield, that the film is at its strongest.
This idea plays out both in the conflict between Franz's adolescent impulses and his growing sense of responsibility, and the experiences of his hard-working mother at the hands of the Nazi officers who now populate their lakeside idyll. Franz's two visits to the cabaret, where he first witnesses a comedy routine lambasting Hitler to the roars of the locals and, later, sees an anti-Jew routine which thrills the Nazi officers in the audience, are a neat visual shorthand of the change being wrought on ordinary people.
It's unfortunate, then, that writer/director Nikolaus Leytner and co-writer Klaus Richter felt the need to delve so literally into Franz's troubled psychology, his dreams being daubed on screen in watery greens and greys. These images of boats without oars, drowning men and looming rocks are both obvious — we don't need Freud's laboured analysis to understand their meaning — and unnecessarily melodramatic given the horrifying real-world events at play. Rather than bringing extra depth to the drama, they tend to drown it out.
Production companies: epo-film, Glory Film, Tobis Film
International sales: Beta Cinema, beta@betacinema.com
Producers: Dieter Pochlatko, Jakob Pochlatko, Ralf Zimmermann
Screenplay: Nikolaus Leytner and Klaus Richter, from the novel by Robert Seethaler
Production design: Bertram Reiter
Editor: Bettina Mazakarini
Cinematography: Hermann Dunzendorfer
Music: Matthias Weber
Main cast: Simon Morze, Bruno Ganz, Johannes Krisch, Emma Drogunova, Regina Fritsch