Japanese maestro Hirokazu Kore-Eda opens Venice 2019 with a French curio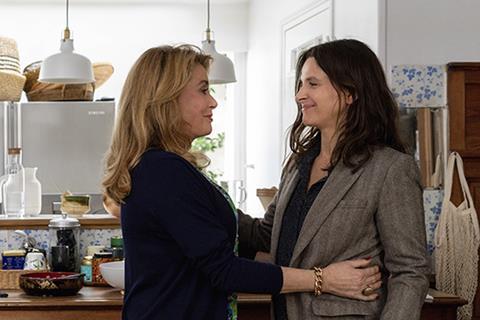 Dir/scr: Hirokazu Kore-eda. France/Japan. 2019. 107mins
Feted auteurs can seem smaller and more ordinary when they take the risky step of making a film in a language, setting and culture that is not their own. Japanese director Hirokazu Kore-eda's follow-up to his luminous 2018 Palme d'Or winner Shoplifters is no exception to the rule. But that feeling lends The Truth a very curious flavour, because it is still a very European film of charm and wit that hits the occasional emotional high note, and sees Catherine Deneuve embracing her tastiest role since Potiche with verve and gusto.
Kore-eda captures the shifting tensions and alliances between grandmother, daughter and grand-daughter
Without Kore-eda's name on the credits, you'd never connect him to this autumnal, Paris-set tale with its enjoyable but rather glib storyline about actors, acting, and that elusive thing we call 'the truth'. This is despite the fact that he wrote the script himself, working it up from a theatrical project he started and then abandoned. Whether distributors and audiences will perceive this as being a problem remains to be seen. Opening Venice in Competition, the film could easily be marketed purely on the strength of the double act that pits Deneuve against Juliette Binoche, and may well reach out to filmgoers who have never heard of the director of such finely-crafted gems as Maborosi, Nobody Knows and Like Father, Like Son.
Deneuve plays Fabienne, a piece-of-work elderly actress who uses and abuses those who care about her and plays fast and loose with the facts in a just-published book of memoirs. She pretends, for example, that she was an exemplary mother to Lumir (Binoche), who has returned to Paris on a rare trip with TV actor husband Hank (Ethan Hawke) and their little daughter Charlotte (natural first-time actress Clémentine Grenier). Fabienne writes that she loved picking Lumir up at school when she was a child; Lumir reminds her that not only did this never happen, but she used to lock her in the wine cellar and then forget about her for hours.
That revelation is a tonal mis-hit, neither funny nor chilling, in a film that is at its best when milking wry comedy out of Fabienne's catty, manipulative, hard-shell attitude to all around her, including family. Her endless cups of tea, made either by long-serving personal assistant Luc (Alain Libolt) or, after the latter's departure in disgust at not being mentioned in the book, by a Lumir who despises her own fascination with her mother almost more than she hates her mother, are always either too hot or too cold. Fabienne treats Hank with barely disguised contempt, calling his style of acting "imitation" during a turbulent dinner scene, and warms to her gamine granddaughter only when she begins to see the actress in her.
That conviction will generate, at the end, the finest of a barrage of scenes in which acting and real life beome mixed up. Some of these revolve around the film Fabienne is currently shooting – a sci-fi melodrama featuring a young actress (promising newcomer Manon Clavel) who evokes, for the older diva and her daughter, the spirit of a talented former rival of Fabienne who stirs deep emotions in both women, for very different reasons.
Some of this "what in life is real and what is scripted?" stuff is engaging – for example, when Lumir offers to write some dialogue that her mother can use to apologise to Luc for being so self-centred. But much of it feels like it's whirring around in a kind of meta-cinematic centrifuge, generating references to Hitchcock and the Wizard Of Oz (yes, there's even a dog called Toto) without really saying much that moves or intrigues us about truth and lies.
Binoche is a worthy foil to the scene-stealing Deneuve in a film that riffs on themes in two of the the younger actress's best films of the last decade, Certified Copy and Clouds of Sils Maria. Hawke is largely wasted as the affable Hank, largely because his character's inability to speak French, unlike his wife and daughter, makes him little more than a bemused spectator of the Fabienne and Lumir sparring match. There's a laziness in the way his character has been scripted that comes out too in Kore-eda's editing, which features some bizarrely random cuts and fades to black, and in a twinkly soundtrack that appears out of nowhere only to disappear again – though perhaps that's a blessing. It's in small details, in the end, that the Kore-eda of Shoplifting can be glimpsed here and there through the fog, such as the way he uses the motif of hair brushing and hair wore down or up to chart the shifting tensions and alliances between grandmother, daughter and grand-daughter.
Production companies: 3B Productions, Bunbuku, M.I. Movies, France 3 Cinéma
International sales: Wild Bunch, info@wildbunch.biz
Producer: Muriel Merlin
Production design: Riton Dupire-Clément
Editing: Hirokazu Kore-Eda
Cinematography: Eric Gautier
Music: Alexeï Aïgui
Main cast: Catherine Deneuve, Juliette Binoche, Ethan Hawke, Clémentine Grenier, Manon Clavel, Alain Libolt, Christian Crahay, Roger Van Hool, Ludivine Sagnier