The latest version of Henry James' haunted house classic fails to raise a scare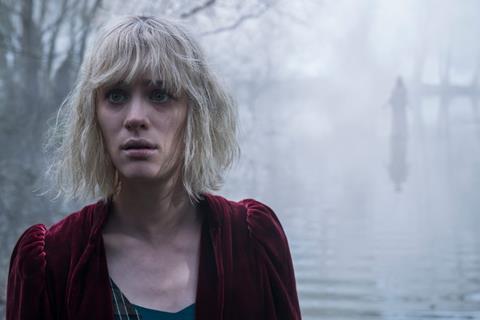 Dir: Floria Sigismondi. US. 2020. 94mins
Based on Henry James' monstrous 1898 masterpiece 'The Turn Of The Screw', The Turning fails to make the most of its source material. James' chilling story – with its remote estate, new governess, and two odd little children – gave discriminating Gothic fans everything except a definitive answer. Were there really ghosts walking the halls? Or was the neurotic nanny simply coming unwound? The real meaning was as hard to pin down as a wisp of ectoplasm. But instead of intriguing ambiguity, this updated version – which had a long and bumpy development – offers only maddening confusion.
The best special-effect here is the house and its furnishings, which add enormous production value.
With false endings within false endings, it's the sort of movie whose final fade-out will leave audiences groaning in frustration. While the involvement of Stranger Things star Finn Wolfhard could garner some interest when it opens in the US and UK on January 24, expect smart horror fans to avoid it — and and smarter ones to seek out the definitive version of the tale, Jack Clayton's old, elegantly elusive The Innocents (1961).
With The Turning, Carey Hayes and Chad W. Hayes' script arbitrarily pulls James' Victorian chiller kicking and screaming into the grungy '90s. The film stars Mackenzie Davis as Kate, a punky schoolteacher who's just taken the job as live-in tutor to a couple of rich orphans. Oddly, although Kate seems to live in New England, her charges reside in what looks like a Royal palace; an extraordinary old estate complete with watchful griffins, dusty oil paintings of 18th-century relatives, and a forbidding hedge maze. It's strange, alright – but not quite as strange as the watery apparitions who keep showing up in bathroom mirrors, or the disembodied hand intent on giving Kate an over-friendly hello.
Actually, the best special-effect here is the house and its furnishings – the film was shot at Killruddery House, in Ireland's County Wicklow – which add enormous production value. Although it's hardly likely that there would be any home quite like this in the United States, that adds to the fairy-tale fantasy (and does get a sort of half-hearted explanation at the end).
There are a few sharp supporting performances here, too, including Barbara Marten as a thin-lipped scold of a housekeeper, and Brooklynn Prince (The Florida Project) as a refreshingly far-from-adorable moppet.
But Floria Sigismondi, a mostly music-video director whose last feature was 2010's The Runaways, seems more interested in dropping in Kurt Cobain references and snatches of moody rock than going deep into the material and building a real sense of suspense. Davis, who begins the film on a note of near hysteria, really has nowhere to take her performance once the shocks begin to build. And when they do come, it's without much variety. Just how many times can some soggy corpse appear at the bottom of a pool of water? Or a blue-skinned wraith emerge from the shadows? After the third spooky closeup of antique mannequins and porcelain dolls the effect really begins to wear thin.
Oh, the spirits are willing, all right. But this film is weak.
Production companies: Amblin Entertainment, Vertigo Entertainment
Worldwide distribution: Universal Pictures, Entertainment One
Producers: Scott Bernstein, Roy Lee
Screenplay: Carey W. Hayes, Chad Hayes based on "The Turn of the Screw" by Henry James
Production design: Paki Smith
Editing: Duwayne Dunham, Glenn Garland
Cinematography: David Ungaro
Music: Nathan Barr
Main cast: Mackenzie Davis, Barbara Marten, Brooklynn Prince, Finn Wolfhard