A Buddhist monk who incites riots against Burma's Muslim minority completes Barbet Schroeder's 'Axis of Evil' trilogy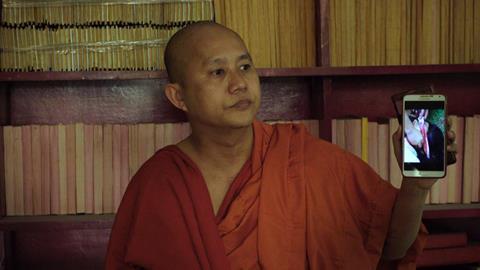 Dir Barbet Schroeder. France. Switzerland. 2017. 100mins.
Everyone knows that Buddhism is the religion of peace, love and understanding. So there's something deeply wrong about a Buddhist monk who calmly spouts anti-Muslim hate speech and incites ethnic riots. The monk in question, an influential Burmese figure known as the Venerable Wirathu, is the subject of the powerful third and final installment of Swiss director Barbet Schroeder's 'Axis of Evil' documentary trilogy, which began in 1974 with General Idi Amin Dada: A Self Portrait, and continued in 2007 with Terror's Advocate, a portrait of controversial lawyer Jacques Vergès.
Shot on the hoof, under the noses of a repressive regime, The Venerable W is a fine, stirring documentary about ethnic cleansing in action
It's the shocking disjunct between his religion and the rabid nationalism of his sermons, writings and declarations that powers Schroeder's conventional but nevertheless effective long hard stare into the eyes of intolerance.
However, this is also a chilling corrective to accounts of Burma that paint its recent history simply as a fight between courageous pro-democracy forces led by Aung San Suu Kyi (by no means a heroine in this particular story) and a repressive military regime. In the era of Trump (Wirathu is a fan), Farage and Le Pen, it also shines timely light on the mechanisms of nationalistic rhetoric. That should be enough to guarantee The Venerable W some sort of foothold in mature, doc-friendly markets despite its potentially niche subject matter, and it appears ripe for VOD distribution.
Draped in saffron robes, his face rarely betraying any emotion, Wirathu is presented partly through outtakes from an interview Schroeder filmed with him in the library of the Mandalay monastery which he heads. The 'venerable' monk talks openly about what he sees to be the Muslim threat to Buddhist purity, calmly spouting racial slurs about their breeding capacity, the rape of 'our women', animalistic nature and accumulation of wealth that carry terrifying echoes of Nazi anti-Semitic slurs. He repeats the same message to the young monks he teaches and to the crowds of followers who turn out to watch him preach on tacky makeshift stages amidst garlands of flowers and gilt Buddhas.
Schroeder's method at first is simply to dwell on the awful fascination of the 'Fascist Buddhist' paradox, with passages promoting the brotherhood of man from the religion's sacred texts, voiced by veteran French actress Bulle Ogier, underlining the contradiction. Wirathu's rise from provincial obscurity to ethnic rabble-rouser is then charted, mixing his own account with testimony from a mix of interviewees – who will include two Burmese Buddhist masters who have served prison time, like 'W', but for far more noble causes. Wirathu's nine-year stretch for inciting ethnic hatred came after a spate of 2003 riots in his hometown of Kyaukse and elsewhere which involved lynchings and burnings of Muslim mosques, shops and houses.
The mood of the film turns darker in its second half, when Wirathu returns with even greater vitriol to the campaign trail after his release in 2012. News and mobile phone footage captures some of the pogroms launched against Burma's persecuted Rohingya Muslim minority, mostly in Rakhine state: a scene in which a Buddhist monk beats a Musilm to a pulp with a makeshift club is difficult to erase.
By now we've worked out what the monk really is. Forget the robes: he's a classic extremist politician, fanning tensions through the crudest of rhetoric (including a DVD restaging of the rape of a Buddhist girl produced under the aegis of his Ma Ba Tha nationalist movement), then visiting the affected regions to 'restore order' and guarantee security. Shot on the hoof, under the noses of a repressive regime, The Venerable W is a fine, stirring documentary about ethnic cleansing in action.
Production companies: Les Films du Losange, Bande à Part
International sales: Les Films di Losange, b.vincent@filmsdulosange.fr
Producers: Margaret Menegoz, Lionel Baier
Cinematography: Victoria Clay Mendoza
Editor: Nelly Quettier
Music: Jorge Arriagada
Narration: Bulle Ogier