Dir. Sergio Machado. Brazil. 2015. 100 mins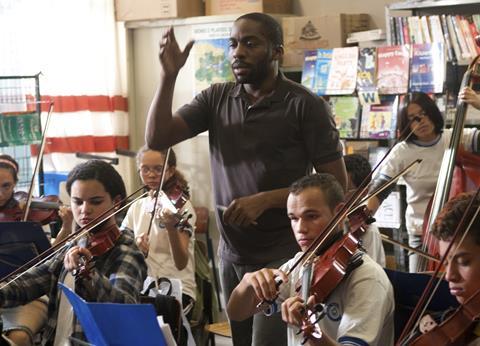 Tales of inspirational teachers have been a cinematic staple across the dramatic spectrum from the sentimentality of Goodbye Mr Chips to the rap on the knuckles of Whiplash. The Violin Teacher (Heliopolis) treads a well-worn path but does so with enough polish and sincerity to make its redemptive tale hard to resist. The story of a talented violin player reluctantly employed as a teacher in one of Brazil's biggest slums is a slow-burning charmer fuelled by an attractive performance from lead actor Lazaro Ramos and a rich soundtrack that ranges from rap to Paganini.
The Violin Teacher carefully sidesteps the easy option of overt melodrama and tearjerking sentimentality in favour of honest emotion and well-crafted, quietly engaging storytelling
A potential crowd-pleaser with a refreshingly different perspective on the problems of modern Brazil, The Violin Teacher should make a mark on international markets and create another success story for Gullane, the production company behind Sundance prize-winner The Second Mother (Que Horas Ela Volta?).
Inspired by the true story of the Baccarelli Institute and the play Acorda Brasil by Antonio Ermirio de Moraes, The Violin Teacher finds its focus in Laerte (Ramos), a child prodigy of immense promise that he has not entirely fulfilled. After failing an important audition for the OSESP (Symphonic Orchestra of São Paulo), Laerte is struggling to pay his bills and maintain confidence in his ability.
He reluctantly accepts an offer to teach children in Heliopolis, one of the biggest slums in Latin America. Inevitably, he is shocked by a group of unruly, ill-disciplined teenagers who cannot even read music and fall far short of his standards when it comes to discipline and commitment. There is, of course, raw potential in some of the students, especially the gifted Samuel, and we suspect that the clash of cultures between teacher and pupils will enrich both of them all.
The Violin Teacher is very much a film of contrasts as Laerte exchanges the world of concert halls and privilege for a territory rife with crime and poverty. His daily journey to the school crosses the two worlds of Sao Paulo that rarely meet and cinematographer Marcelo Durst captures some sleekly attractive images of the city. Laerte's first classes take place outdoors in a basketball court and the children's commitment to the music is compromised by family demands, the lure of local gangs and a range of problems from teenage pregnancy to drugs.
There is no sugar coating the social issues in Heliopolis or the way death lurks in every shadow of the favelas but the film's underlying message is a positive one. It champions the power of music and culture to change individual lives. Laerte is initially dubbed " Obama Jr" by his pupils and does nothing to disguise his quick judgement of them but he becomes a warmer, more sympathetic character as the teenagers reawaken his humanity.
The gravely handsome Lazaro Ramos captures a sense of the weariness and exasperation that have come to define Laerte's moods and also is very much someone who comes alive when asked to pick up his violin and play (even at gunpoint as happens in one scene). The solid, matter-of-fact conviction he brings to the performance is very much in keeping with the spirit of a film that carefully sidesteps the easy option of overt melodrama and tearjerking sentimentality in favour of honest emotion and well-crafted, quietly engaging storytelling.
Production Companies: Gullane, Fox International Productions
International sales: Films Boutique info@filmsboutique.com
Producers Fabiano Gullane, Caio Gullane, Debora Ivanov, Gabriel Lacerda
Screenplay Sergio Machado, Maria Adelaide Amaral, Marcelo Gomes, Marta Nehring
Cinematography Marcelo Durst
Editor Marcio Hashimoto
Production design Valdy Lopes Jr
Music Alexandre Guerra, Felipe de Souza
Main cast Lazaro Ramos, Elzio Vieira, Kaique Jesus, Sandra Corveloni