Dir. Robert Zemeckis. US, 2015, 123 minutes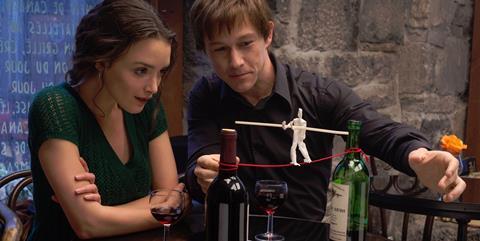 Gravity with skyscrapers: taking a page out of the Alfonso Cuaron playbook, Robert Zemeckis aims for blockbuster success by reaching for, and in fact delivering, a big-screen experience that cinemagoers have never previously sampled. Telling the story of French wirewalker Philippe Petit's daring exploits a quarter of a mile up in the air between the World Trade Center's twin towers in August 1974, The Walk is never better than when it is bringing amply evident creative and technical skill to make us woozy with vertigo – further amplified in IMAX 3D.
Zemeckis reminds us that it's in the service of reality, rather than fantasy, that digital technology is often most potent.
Premiering as opening night of the New York Film Festival and inevitably drawing on the emotional connection between audiences and the iconic focal point of the modern age's most notorious terrorist attack, Zemeckis offers a love letter to the buildings by celebrating a magical moment near the start of their too-brief life.
The filmmaker says he was inspired originally by Mordicai Gerstein's 2003 picture book The Man Who Walked Between The Towers, rather than James Marsh's 2008 documentary Man on Wire. And the upscale cinemagoers that saw the latter are certainly not the audience targeted here: producer, director and co-writer Zemeckis aims bold and broad, with a genre melder that begins as an antic caper, mutates into a heist thriller, and then finally delivers the visceral and poetic spectacle that is the film's real USP. Casting choices that nimbly swerve past A-list options feel nicely apt in a film where the towers, after all, are the stars.
The Walk gets off to a bumpy start. Audiences must first adjust to a heavily French-accented, English-speaking Joseph Gordon-Levitt, who in his black polo-neck jersey and elfin crop is only a beret and a dangling Gauloise away from parodic stereotype. An early black-and-white segment features Petit as a unicycle-riding, juggling mime-artist street performer, before a flashback introduces his early intoxication with circus acrobatics at the age of eight. In the early running, the film feels mostly like a whimsical fable – a corny Hollywood attempt at Jean-Pierre Jeunet, perhaps – and it's not really helped by a characteristically committed turn by Ben Kingsley as Petit's early circus mentor, Papa Rudi.
The first act also ushers in Charlotte Le Bon as pretty street busker Annie, whose initial vexation at having her Paris Left Bank pitch invaded by Petit soon yields to his persuasive romantic interest. The pair acquires a third wheel when a young man called Jean-Louis (Clemont Sibony) agrees to accompany them to New York to photograph the high-rise exploits. Much of the dialogue here is in English – a fact which the screenplay clumsily draws attention to by having Petit regularly remind everyone that they need to practise the language ahead of their American adventure.
Still, It's around this point that The Walk begins to find its stride, as the trio relocates to Manhattan and then recruits further accomplices, creating a team of seven, plus inside man Barry (Steve Valentine), who works in an office on the 82nd floor of the North tower. Petit and his men prove creatively adept imposters as they negotiate security checks to bring their equipment to the summit, and the wirewalker shrugs off the bloody damage caused when he steps on a plank of wood and plunges an exposed nail into the sole of his foot.
All of these sequences provide a lengthy hors d'hoeuvre before the main meal, which is Petit's self-termed "coup". And it's here that the film most benefits from the audience's special relationship with the towers, and their traumatic erasure. Zemeckis pulls out all the stops, including a dramatic burst of Beethoven's rolling piano composition Fur Elise, as Petit traverses the distance several times between the North and South skyscrapers, pausing to kneel, straddle and perform for the swelling crowd below. Gordon-Levitt's voiceover finally finds its true calling in this magical segment, which gives the appearance of faithfully reproducing every step of the way, but is compressed from a high-wire event that in fact lasted 45 minutes. Jeopardy – from wind, an incorrectly mounted support cable, the cops who arrive at the scene, and Petit's own nerves as he returns from the wire to the observatory deck – feels impactfully real, even though the outcome is never in doubt.
Tech contributions are impressive in all departments, but none more so than in the field of visual effects, credited primarily to Rodeo FX and Atomic Fiction. By seamlessly blending Gordon-Levitt on his high wire, shot on a Montreal sound stage, with buildings that no longer exist, and the familiar Manhattan skyline, Zemeckis reminds us that it's in the service of reality, rather than fantasy, that digital technology is often most potent.
Production company: ImageMovers
Contact: Sony Pictures
Producers: Robert Zemeckis, Jack Rapke, Tom Rothman, Steve Starkey
Screenplay: Robert Zemeckis, Christopher Browne
Cinematography: Dariusz Wolski
Editor: Jeremiah O'Driscoll
Production design: Naomi Shohan
Music: Alan Silvestri
Main cast: Joseph Gordon-Levitt, Charlotte Le Bon, Ben Kingsley, Clémont Sibony, César Domboy, James Badge Dale, Ben Schwartz, Benedict Samuel, Steve Valentine