Frant Gwo's hotly anticipated science fiction sequel builds on the scale of the smash hit original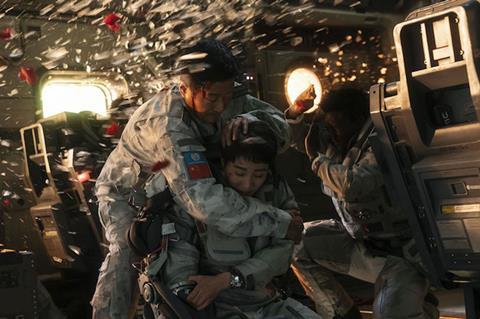 Dir: Frant Gwo. China. 2023. 170mins
Lunar New Year 2019 saw Chinese science fiction cinema achieve lift off when Frant Gwo's adaptation of Liu Cixin's novella The Wandering Earth became a box office phenomenon. Four years on, this eagerly anticipated prequel reunites the key creative team and star Wu Jing for an expansion of the original's prologue, which explained how the Earth embarked on an interstellar journey to avoid being snuffed out by a rapidly expanding sun. There is certainly much to admire about this ambitious homegrown sci-fi saga, even if it feels rather protracted with the running time clocking in 45 minutes longer than its predecessor.
Technically exceptional, with space station and moon-based sequences to rival Gravity or Ad Astra
While the original was a box office dark horse, The Wandering Earth II is this year's frontrunner — and China's biggest local release in months due to industry uncertainty surrounding the disruptive 'Zero Covid' policy, which was suddenly dismantled in December. Meanwhile, Liu Cixin's fanbase continues to grow with recent animated and live-action television adaptations of his landmark novel The Three-Body Problem being enthusiastically received. It's uncertain whether this prequel can reach the stratosphere of its predecessor, which is the fifth most successful film of all time domestically with a gross of $691 million. Covid-19 is now rife around China and those unconvinced by the government's messaging pivot will be skittish about visiting a crowded multiplex. A better comparison may be 2022's local sci-fi smash Moon Man, which tallied $460 million following a lockdown period.
Internationally, the prequel is rolling out in multiple territories, including 30 IMAX screens across the US and Canada. Bolstered by its status as China's first sci-fi blockbuster, The Wandering Earth delivered decent numbers in limited overseas release before being acquired by Netflix. If it has less novelty value as a big screen experience, this prequel should still attract plenty of eyeballs on streaming.
Facing the challenge of building towards a largely foregone conclusion, Gwo has taken scale to the next level while doubling down on the significance of land in Chinese culture and the necessity of global collective action (with China at its centre). The first half mostly takes place in 2044 when the United Earth Government has selected the Moving Mountain Project to solve the solar crisis: 10,000 engines will propel the Earth on a 2,500-year journey into the Alpha Centauri system. But the public favours the Digital Life Project, which would enable mankind to 'live on' through technology.
Frustration peaks with terrorist attacks on the UEG headquarters and the Space Elevator, where Liu Peiqiang (Wu) is undergoing astronaut training. Digitised existence is also a matter of debate between engineers Tu Hengyu (Andy Lau) and Ma Zhao (Li Ning), who are conducting tests to determine whether engines can move the moon sufficiently for the Earth to get free of its orbit. Although the project eventually wins popular support, it is jeopardised by plummeting moon debris on the eve of the Earth's migration in 2058. Liu joins a mission to destroy the moon, while Tu's efforts to fix technical issues in Beijing are hindered by severe flooding caused by the lunar crisis.
Throughout its decades-spanning narrative, The Wandering Earth II goes through shifts in tone and pace which reflect how initial enthusiasm for the project amongst its participants is tested by setbacks and unfortunate personal circumstances. However, this also makes the film a bit of a slog regardless of its urgency. It's most dynamic in the initial half hour, which focuses on Liu's rigorous orientation and sees Gwo vigorously channelling James Cameron by way of Neill Blomkamp with an emphasis on cutting-edge machinery. (Wu also gets the chance to demonstrate his physical prowess in a brilliantly executed zero gravity combat sequence.)
Evidently keen on the humanistic aspects of sci-fi, Gwo expands the character of Liu through a romance with equally capable fellow trainee Han Duoduo (Wang Zhi) while emphasising the sacrifices that have made the astronaut such a stoic figure on first encounter. Ample time is also devoted to Tu, who lost his family in a car accident and seeks solace in two minutes of digital back-up of his daughter; Lau presents a finely composed portrait of grief as Tu becomes obsessed with the possibility of a family reunion in the digital realm. Sadly, Gwo is less invested in female characters, with Han and UEG member Hao Xiaoxi (Zhu Yanmanzi) often sidelined when the time comes for action or diplomatic grandstanding.
A downside of this being a prequel is that the images of a deteriorating Earth are now too familiar to have the same impact despite superior rendering, while an increasingly grey palette means none of the special effects can top the swirling colours of Jupiter which were the highlight of the original. Nonetheless, The Wandering Earth II is technically exceptional, with space station and moon-based sequences to rival Gravity (2013) or Ad Astra (2019) in their seamless blend of practical and digital elements. If the awe factor of the drawn-out conclusion is lessened by enough unabashed sentiment to power a rocket, the genuine sense of vastness will ensure that anyone who comes this far will stay the course for the planned third instalment.
Production companies: G!Film [Beijing] Studio Co. China Film Co., Beijing Dengfeng International Culture, CFC Pictures
International sales (excluding SEA, AUS/NZ, Middle East and Africa): Blossoms Entertainment, vickyd@blossoms-ent.com
Producers: Peng Mingyu, Gong Geer, Wu Xian, Li Kailuo, Jerry Li
Screenplay: Yang Zhixue, Frant Gwo, Gong Geer, Ye Ruchang
Cinematography: Michael Liu
Production designer: Hanrui Wang
Editing: Ye Ruchang, Yan Tingting, Ye Xiang
Music: Roc Chen
Main cast: Wu Jing, Li Xuejian, Ning Li, Andy Lau, Sha Yi, Wang Zhi, Wang Hongwei, Andy Friend