Brendan Fraser brings a big heart to Darren Aronofsky's faltering adaptation of a stage play about a man eating himself to death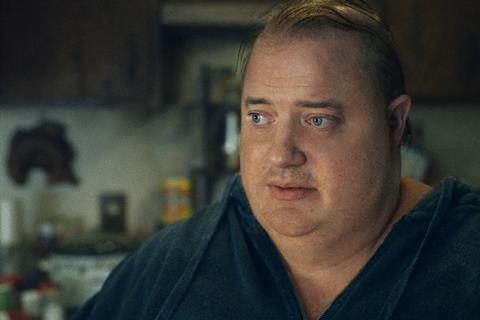 Dir: Darren Aronofsky. US. 2022. 117mins.
It's an account of a man committing suicide in slow motion. And, at the same time, it's a portrait of an eternal optimist who still cherishes hope for humanity. "Do you ever get the feeling that people are incapable of not caring?" asks Charlie (a remarkable Brendan Fraser). But since the chronically obese online English teacher is a shut-in who rarely leaves his sofa, let alone his apartment, his actual first-hand experiences of "people" is limited. Charlie, it becomes clear, is a mess of contradictions. The major achievement of Darren Aronofsky's somewhat uneven latest picture – and of Fraser's performance – is the fact that Charlie's complex personality, with its flaws and regrets, wit and wild enthusiasms, registers just as decisively on screen as his imposing physical heft. Not everything works. This is a picture which doesn't even attempt to escape its theatrical origins (it was adapted by Samuel D Hunter from his own 2012 play), nor does it hold back in the soupy melodrama of the third act. But Fraser is courageous and fully committed in his first major leading feature film role for around a decade.
There's a magnetism to Charlie and his big, overburdened heart which draws others – and us, as an audience – to him
Fraser, an actor who brings with him considerable audience goodwill and who arguably delivers a career-best performance, will be a major selling point for this picture. And fans of the more spiritual end of Aronofsky's career spectrum will be gratified to discover that the film is closer in tone to The Fountain than it is to Mother! Others might find the the last minute redemption storyline, in which Charlie belatedly reconnects with the estranged teenage daughter he abandoned as an eight-year-old, rather contrived and mawkish. Following on from its premiere in competition in Venice and a slot in TIFF, the film is likely to be a talking point release and, with word of mouth support, could achieve some degree of theatrical momentum.
Charlie's obesity – the elephant in the murkily-lit and malodorous-looking room – was triggered, we learn, by eating as a coping mechanism for grief following the death of his boyfriend, Alan. Food, for Charlie, is as much an addiction as alcohol is for a drunk or heroin for a junkie. But there's an extra element of shame and taboo attached to compulsive eating; something that Aronofsky confronts with the unflinching and forthright manner in which he uses the character's (prosthetic-enhanced) body. Smeared in the remnants of past meals, slicked with an oily layer of sweat, Aronofsky stresses the grotesque quality and the indignity of Charlie's miserable life. But then he also shows us the beauty in the man, in his deep, melted chocolate voice, his capacity for love, his friendship with Liz (Hong Chau).
Liz is a nurse but also a lifeline for Charlie, and a connection to the happiest period in his life. She wafts away his blizzard of apologies and tells him, starkly, that unless he goes to hospital, he will die. But Charlie has other priorities. He seeks out his daughter Ellie (Stranger Things' Sadie Sink), and tries to make amends for the rage and hurt that filled the hole in her life when he left nine years before. Then there's Thomas (Ty Simpkins), a missionary barely out of his teens, whose visits to Charlie's home are as much about his own personal crisis as they are about Charlie's.
For all his shame, and the shuttered windows and disconnected webcams that block out the world outside, there's a magnetism to Charlie and his big, overburdened heart which draws others – and us, as an audience – to him.
Production companies: Protozoa Pictures
International sales: A24 sales@a24films.com
Producers: Darren Aronofsky, Ari Handel, Jeremy Dawson
Screenplay: Samuel D. Hunter
Cinematography: Matthew Libatique
Production design: Mark Friedberg
Editing: Andrew Weisblum
Music: Rob Simonsen
Main cast: Brendan Fraser, Sadie Sink, Ty Simpkins, Hong Chau, Samantha Morton