A gifted teenage girl is pursued by figures from a past she can't remember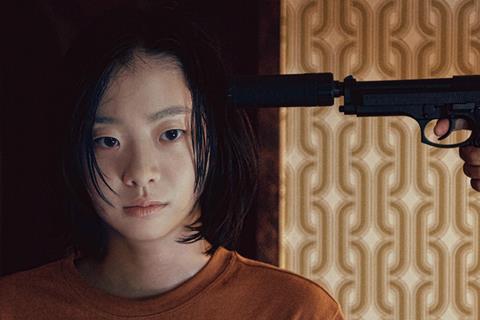 Dir Park Hoon-jung. South Korea. 2018. 126mins
When Ja-yoon (Kim Da-Mi) escaped from a top secret government facility as an eight-year-old, she left behind a trail of bodies, an ankle-deep river of blood and all of her memories of the life which came before. Ten years later, she's living as a normal, if unusually gifted teenager in a rural backwater. But when she appears on a televised talent show, it's not just her perfect pitch which attracts attention. And soon, Ja-yoon finds herself pursued by figures from a past she no longer recalls. This YA spin on a Korean revenge movie suffers from a few pacing issues, and leans a little too heavily on exposition, but the action sequences are as thrilling as they are face-crunchingly visceral. And the deadly charisma of the key performers, notably newcomer Kim Da-mi as the teenage Ja-yoon, should ensure plenty of interest in further chapters in this story.
The brutalist corridors and clinical minimalism provides an ideal backdrop for the exuberantly gymnastic violence
As the title suggests, this is the first instalment of a proposed trilogy, and it would seem that Warner Bros, Korea have a potentially lucrative property on their hands; certainly within the East Asian region. Whether it can cross over to Western audiences, however, remains to be seen. This picture shares some narrative beats with dystopian adolescent series like Maze Runner, but is frequently more interested in cleavering chunks out of its peripheral characters than it is in developing them into fully rounded support. That said the film, with its female protagonist who can combine acts of extreme violence with a demeanour of adorable cuteness, could connect with a modern arthouse audience.
The film is written and directed by Park Hoon-jung, who started out as the screenwriter of films such as Kim Jee-woon's I Saw The Devil and Ryoo Seung-wan's The Unjust and whose directorial outings include the Korean box office success New World and the award-winning The Tiger. Park's gung-ho approach to action sequences is given plenty of scope in this film, which bears more than a passing resemblance to Joe Wright's Hanna.
It's a visually striking piece. The aesthetic of the second half of the picture is a kind of industrial futurism – concrete-lined bunkers feature heavily – which contrasts with the folksy simplicity of Ja-yoon's life with her elderly adoptive parents. The brutalist corridors and clinical minimalism, graded to accentuate a cyber-blue artificiality, provides an ideal backdrop for the exuberantly gymnastic violence which is the film's main selling point.
It's also an effective showcase for a star making central performance – unlike much of the rest of the film, which has a tendency to over-elucidate – Kim Da-mi maintains a mercurial unknowability. She's a teasing question mark in a film which occasionally trips over itself to deliver answers. Also great fun is Choi Woo-shik (previously seen in Okja), putting so much luxuriant cruelty into the role of Gong-ja, a contemporary from Ja-yoon's past, that the film's energy dips markedly every time he's off screen
Matching him in for lavish evil is Professor Baek (Cho Min-soon, a dual role), the genius creator and potential destroyer of Ja-Yoon and the children she grew up with for her turbulent first eight years. Baek is a twisted mother figure, who can't conceal a swell of pride in her little monsters, even as they turn upon her.
Production Company: Gold Moon Film Production
International Sales: Warner Bros. Korea
Producer: Park Hoon-jung, Yeon Young-sik
Screenplay: Park Hoon-jung
Editing: Kim Chang-ju
Cinematography: Kim Young-ho, Lee Teo
Music: Mowg
Cast: Kim Da-mi, Cho Min-soo, Choi Woo-shik, Park Hee-soon, Kim Byung-ok, Choi Jung-woo, Ko Min-shi, Oh Min-hee