Dir/scr: Yoon Ga-eun. South Korea. 2016. 95mins.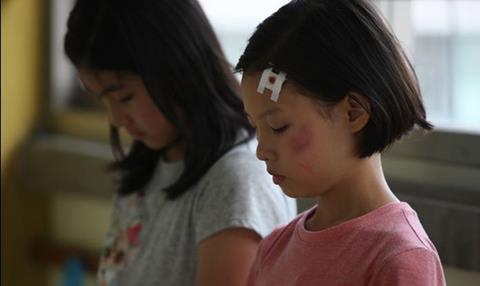 Yoon Ga-eun's captivating debut feture about the friendship between two ten year-old girls casts light on the social issues which affect children in Korea, both in and out of the classroom. Delicately paced and absorbing throughout, Yoon's film never takes things to an extreme, but it soon becomes clear that the pressures these children face are not limited to the school grounds.
Both young actresses do a terrific job, making up for their lack of experience with clear natural talent.
Returning to Berlin after she won the Crystal Bear for her delightful 2014 short film Sprout, Yoon is showing her first feature in Generation Kplus, where it should repeat the critical success of her short and attract further festival invitations.
The World Of Us follows Sun (Choi Soo-in) who is seen as an outcast at school despite trying her utmost to make friends – even duped in the process by a girl named Bora (Lee Seo-yeon).
During the summer holiday she meets Jia (Seol Hye-in) who has moved to the local area, and they soon form a close bond, spending time at each other's houses. Sun has a skill for braiding bracelets, which becomes a symbol of their friendship.
Before long, it becomes apparent that they are from different social classes, which begins to impede on their friendship as the new term starts. Sun is unable to get a smartphone, enrol at a private academy (at least initially), and spends much of her time looking after her younger brother while her mother works at the local food store she runs. Sun even goes out to pick her drunken father up from the street. He is struggling with alcoholism and has a difficult relationship with his own sick father.
Jia, however, is looked after by her affluent grandmother, yet has to deal with different issues that arise as their friendship develops.
When addressing these social problems, there is a tendency in independent Korean cinema to tackle too many issues at once since most are inter-related. In some respects, Yoon is guilty of this. She is evidently keen to highlight the overwhelming difficulties children encounter at school, but also beyond. She makes reference to the academic ranking of students that makes it so incredibly competitive for them, leading to jealously and then bullying, while social class also becomes a part of school life.
But much like Sprout, it's not so much what is being told, it's how, as Yoon grafts an endearing story told through the eyes of these two young girls. Largely avoiding conflict, she delicately and sensitively follows their friendship, thus providing the film with steadily effective pacing.
Both young actresses do a terrific job, making up for their lack of experience with clear natural talent. Choi Soo-in, in particular, resonates as the film's central character who is forced to take on a mother-like role. Credit goes to Yoon for getting strong performances out of a cast that is mostly so young.
Reflecting Yoon's overall approach, the film's production values appear relatively minimalistic, capturing a natural ambience that's also enhanced by the film's subtle score and effective lensing.
Production Company: ATO
International sales: Finecut, cineinfo@finecut.co.kr
Executive producer: Jeong Tae-sung
Producer: Kim Soon-mo
Cinematography: Min Jun-won, Kim Ji-hyun
Production Design: An Ji-hye
Editor: Park Se-young
Music: Yonrimog
Main Cast: Choi Soo-in, Seol Hye-in, Lee Seo-yeon