Dir: Alexandre Moors. US. 2016. 116mins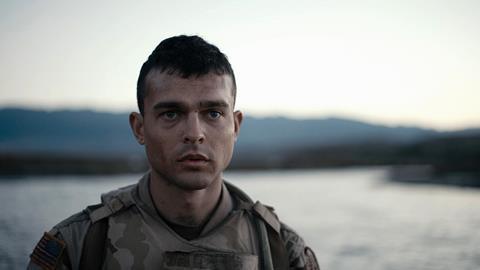 The Yellow Birds is a war movie whose outlines may be familiar — but its emotional clarity gives this drama an almost crushing sense of intimacy. In his follow-up to 2013's Blue Caprice, director Alexandre Moors looks at a handful of Americans impacted by the Iraq War, rejecting the need to come up with any grand conclusions or revelations but, rather, showing the minute-by-minute toll experienced by soldiers and their mothers. Led by Alden Ehrenreich, a wealth of strong performances brings immediacy to this still-timely material.
Moors and his cast make soldiers' and their families' sacrifices sting anew.
Screening as part of Sundance's US Dramatic Competition, The Yellow Birds faces commercial obstacles: between The Hurt Locker and American Sniper, audiences may decide they've tired of Iraq War movies. Still, The Yellow Birds boasts the presence of Ehrenreich, whose visibility has grown thanks to a scene-stealing turn in Hail, Caesar! and being cast as Han Solo in the forthcoming Star Wars standalone film, which can't hurt the film's commercial prospects, and the presence of Jennifer Aniston may also help draw attention.
Moving between time frames, The Yellow Birds focuses on Bartle (Ehrenreich), a young man from Virginia who enlists in the US Army, befriending another Virginian, Murphy (Tye Sheridan), just as they're both about to be shipped off to war. But once Murphy goes missing during combat, his devoted mother Maureen (Jennifer Aniston) will stop at nothing to uncover the truth — which may be difficult since Bartle, now returned home, is suffering from post-traumatic stress disorder and doesn't want to talk.
With Blue Caprice, which also premiered at Sundance, Moors took inspiration from the 2002 Washington, D.C. sniper attacks to study the psychology of a killer. Based on a novel by Kevin Powers, The Yellow Birds again finds Moors examining the mentality of men in extreme situations — as well as the women in their lives.
The Yellow Birds is built from familiar elements — we see Bartle and Murphy on the battlefield, Bartle trying to maintain his sanity once he's back in the States, and Maureen's inquiry into the mystery of Murphy's disappearance — but Moors doesn't approach any of these narrative threads from a straightforward perspective. Instead, he subverts our expectations. The battle scenes are kept to a bare minimum, and Bartle's struggles once he gets home are chronicled with such nonchalance that they eschew melodrama. The film's matter-of-fact quality adds heft to its characters' plight, suggesting that what we're seeing is actually not all that unique but, instead, a sad microcosm of so many shattered lives affected by the Iraq War.
Ehrenreich and Sheridan are superb as seemingly ordinary, very young guys who aren't prepared for the mental trauma that war creates. With Jack Huston excellent as their sergeant, the actors slowly reveal how their characters are unravelling — and in their own ways. If Bartle appears more composed and confident than Murphy, then his later descent into alcoholism and violence are all the more heartbreaking. Sheridan keeps us at a distance from Murphy's disintegration, but Ehrenreich lets us feel Bartle's every twitch of pain.
Toni Collette plays Bartle's coarse mother who cannot comprehend what has happened to her son — at the same time, she's trying to stave off an investigating officer (Jason Patric) who wants to question Bartle about Murphy's whereabouts. One of The Yellow Birds' dark ironies is that both mothers have, essentially, lost their sons, even though neither is dead. Along those lines, Aniston is a raw wound as Maureen, who just wants someone to tell her what she secretly fears: that Murphy has been killed.
As The Yellow Birds builds to the inevitable reveal of what became of Murphy — and why the secret haunts Bartle — Moors can't fully escape narrative conventionality in which expectations are raised for the tragic payoff. But even if this film covers terrain we've seen, Moors and his cast make soldiers' and their families' sacrifices sting anew.
Production companies: Cinelou Films, Story Mining & Supply Co., the Fyzz Facility, Tianmu Investment Hong Kong, Shenghua Entertainment, Mad Riot Entertainment, Sailor Bear
International sales: UTA, RonsonR@unitedtalent.com; WME, info@wmeentertainment.com; and CAA, filmsales@caa.com
Producers: Courtney Solomon, Jeffrey Sharp, Mark Canton
Executive producers: Jim Kohlberg, Jennifer Aniston, Kristin Hahn, Wayne Marc Godfrey, Robert Jones, Scott Karol, David Hopwood, Siegfried Harris, Evan Hayes, Mark Axelowitz, Lawrence Smith, Peter Sobiloff, David Lowery, James M. Johnston, Toby Halbrooks
Screenplay: David Lowers and R.F.I. Porto, based on the novel by Kevin Powers
Cinematography: Daniel Landin
Production design: Annie Beauchamp
Editor: Joe Klotz
Music: Adam Wiltzie
Main Cast: Tye Sheridan, Alden Ehrenreich, Toni Collette, Jason Patric, Olivia Crocicchia, Jack Huston, Jennifer Aniston