Fascinating documentary about estranged identical triplets reconnecting in 1980s New York City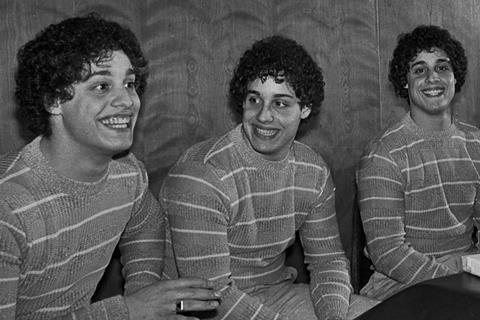 Dir. Tim Wardle. UK/US, 2017, 96 mins
A bizarre and fascinating debut feature doc from Britain's Tim Wardle, Three Identical Strangers details one of the odder stories to emerge from post-War society's obsession with social engineering – illustrating, as one interviewee puts it, how lessons were not learned by survivors of Nazi death camps who were behind the creepy and devastating decision to meddle in the lives of Jewish adoptees in New York in the 1950s and 60s.
Strangers is distinguished by its dogged approach to the investigative documentary
Wardle's dogged story about three identical twins separated at birth unravels at a headlong pace, adding more revelations where other docs might easily have dropped off, exhausted. Although it's heavily constructed around a late revelation of key information, that won't stop Strangers becoming a water-cooler doc when it airs. A Raw production backed by CNN Films and Channel 4 in the UK, it's a natural for terrestrial and cable but may also secure further doc fest slots due to its strong storytelling and investigative chops although, visually, Strangers is a small-screen prospect.
Starting out slowly and deliberately with one talking head before expanding to revive New York City in the early 1980s, Strangers shuffles out its surprises from a full deck. Through archive picks, raw home video footage and (less satisfactorily), TV's beloved period recreations we follow three complete strangers as they find each other in New York, discover that they are identical triplets, and become close friends. Identical triplets are extremely rare – one in a million is a fair enough figure – but that they were adopted separately and miraculously found each other was astonishing enough for them to become tabloid media celebrities as a result.
Bobby Shafran, Eddy Galland and David Kellman were 19 years-old when they encountered each other. Yet that's just the start of this disturbing story. Where some see coincidence, Wardle finds a true-life conspiracy, and pursues it all the way to conclusion after gripping conclusion. Threading through the events is the insistent question of nature versus nurture, one that rings louder and louder as the film progresses.
Entertainingly – although this is ultimately a tragic story – Wardle brings us back to 1980 Manhattan, the time of Studio 54, Limelight and Desperately Seeking Susan (the handsome triplets had a cameo). United by many things, not least a frat-boy desire for a good time, the good-natured, high-spirited boys move into an alcohol-soaked bachelor pad together and even open a restaurant, called Triplets, which raises the roof every night. Such exuberance will inevitably be followed by a crashing fall, however, and it becomes increasingly clear that one of the triplets is not on camera telling his story.
While this is standard talking-head TV, Strangers is distinguished by its persistent approach to the investigative documentary, framing a story but not content to leave it in an easy box. Technically it's competent, with a distinguishing feature being the archival footage of the triplets, bringing their sweet smiles easily back to life, and a probing soundtrack from Paul Saunderson helping distract from the artificiality of the reconstructions. That such life-destroying social-engineering should come to boys from a Jewish adoption agency at the insistence of a Holocaust survivor gives this story a devastating kick.
Production company: Raw
International sales: Raw, threeidenticalstrangers@raw.co.uk
Producer: Becky Read, Grace Hughes-Hallett
Executive producers: Dimitri Doganis, Amy Entelis, Sara Ramsden, Adam Hawkins, Courtney Sexton, Tom Barry
Cinematography: Tim Cragg
Editor: Michael Harte
Music: Paul Saunderson