A provocative look at the links between Israel and American evangelical Christian groups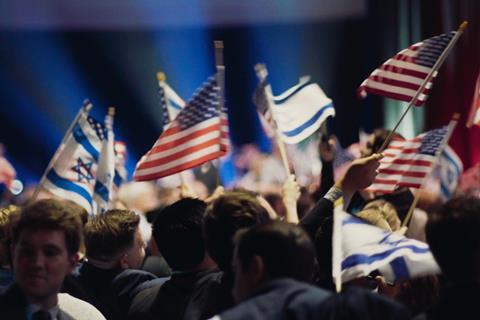 Dir. Maya Zinshtein. UK/Israel/Norway. 2020. 76 mins.
A toxic mix of fundamentalist religion and real world politics is examined soberly but startlingly by Israeli documentarist Maya Zinstein in 'Til Kingdom Come. An informative investigation into improbable and dangerous links between Israel and American evangelical Christian groups, the film arrives at IDFA following slots in DocAviv, Chicago and DOC NYC and should continue to provoke and illuminate at festivals and docu-friendly platforms.
A well-researched, sharply organised exposition of a strange and disturbing set of alliances
Zinshtein – director of 2016's Emmy-winning Forever Pure – examines the phenomenon of evangelical Christian organisations in the US that are committed to supporting Israel. At first, their aid seems entirely benign – as suggested by footage of an elderly Israeli lady overwhelmed at receiving a care package. However, it soon emerges that a more disturbing agenda is at work – because the American churches involved believe in the coming of the Messiah and in prophecies of the Rapture and the End Times, in which Israel will supposedly play a divinely ordained part. In other words, they appear to be supporting Israel in order to bring about their vision of the Apocalypse.
Some of the people who Zinshtein introduces us to come across as altogether sane and indeed likeable – and it is part of her quality as a documentarist that, together with producer and cameraman Abie Troen, she has been able to get close to them. A central figure is Boyd Bingham IV, a young evangelical pastor in Middlesboro, Kentucky. He's first seen in baseball cap and battle gear, toting a machine gun as he talks with self-awareness about being part of Trump's natural constituency; soon after, he's seen crisply turned out in suit and tie, performing his duties as a pastor, alongside his somewhat more fire-and-brimstone father, charismatic preacher William Bingham III.
We also meet Yael Eckstein, president of the International Fellowship of Christians and Jews, who passionately pursues fundraising efforts through the organisation founded by her father, the late Rabbi Yechiel Eckstein. It's an organisation that has proved controversial in Israel, where some have objected to the nation receiving aid from 'warmongers'. Clearly a canny PR woman, Eckstein is seen visiting the Binghams' church and addressing their congregation in terms that seem altogether tailored to their evangelical worldview, invoking the battle of Good vs Evil.
The hard political meaning of all this becomes apparent when we realise the part played by the powerful evangelical lobby in Washington – many of whose leading figures are present at the 2018 opening of the new US embassy in Israel, moved from Tel Aviv to Jerusalem by President Trump. This move twas seen as a provocation by Palestinians, and – according to Israeli political journalist Barak Ravid – "takes on the dimension of a religious war." Ravid sees the US evangelicals' influence on Israeli affairs as "political Christianity, in which politics is a continuation of a prophetic vision." We also see a delegation from Christians United for Israel, which successfully lobbied against the US supporting United Nations relief organisation UNWRA, and therefore against US aid for Palestinian refugees.
Along with Ravid, other warning voices include Lara Friedman, president of the Foundation for Middle East Peace, who sees Israeli settlers and US evangelicals as alike in their ideological pursuit of what they consider a holy agenda; and Palestinian pastor Rev Dr Munther Isaac, who warns that the evangelicals not only misunderstand the situation faced by the Palestinians, but have no interest in peace and "see the future as a horror movie." He tries to engage Boyd Bingham in a discussion of the situation, but meets some resistance: "There's no such thing as a Palestinian," says Bingham. "That's a fact."
What emerges from the film is not only a disturbing picture of how extremist political and religious agendas are connected, but also a sense of the contradictions involved, including – as Friedman points out - the dubious question for Jews of getting into bed with the far right. There is also the fact that fundamentalist Christianity can only tenuously be considered pro-Jewish – as Yael Eckstein admits, the insistence on Jesus is a problem. Indeed, it emerges that believers in the Rapture predict that, come Doomsday, two thirds of Jews will die and the other third convert to Christianity; the film also ends with Bingham senior addressing Zinstein in a half-jokingly aggressive way that fails to conceal some clear anti-semitic sentiments.
Zinshtein intermittently asks off-screen questions, and while it could be argued that the film might have benefited from more hard interviewing on her part, nevertheless, the eloquence and in some cases extremity of her subjects speak for themselves. Her film comes across as a well-researched, sharply organised exposition of a strange and disturbing set of alliances. And, although the Trump presidency is nearing its end, you fear that some of the factions that have had his ear nevertheless intend to pursue their causes 'til kingdom come – with all the apocalyptic possibilities that might imply.
Production companies: Ventureland, Passion Pictures, Piraya Film
International sales: MetFilm Sales, sales@metfilm.co.uk
Producers: Abraham (Abie) Troen, John Battsek
Screenplay: Mark Monroe
Cinematography: Abraham (Abie) Troen
Editor: Elan Golod
Music: Miriam Cutler
Featuring: Pastor Boyd Bingham IV, Pastor William Bingham III, Yael Eckstein, Rabbi Yechiel Eckstein