Dir. Kyoko Miyake. UK/Canada. 2017. 88 mins.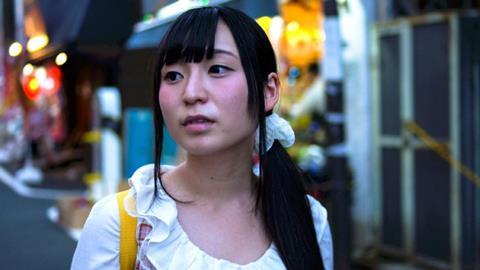 Currently, there are approximately 10,000 teenage girls in Japan who market themselves as 'idols'. This eye-opening documentary looks at the idol industry – with its seemingly endless supply of squeaky, cutesy, Manga-styled schoolgirl pop stars – and its principle consumers, predominantly adult males.
What seems innocent for the teenage girls carries a subtly illicit sexual charge for many of the older male fans
The film opens with a series of shots of crowds of middle-aged men, kitted out in matching t-shirts, performing synchronised dance moves and brandishing glowsticks. There is something cult-like in the fervour with which they mouth the lyrics to songs which chirp about 'saving my innocence'. "It's not a fad, it's a religion," says one 'otaku', the term for the obsessive fans of these idols.
With its wry approach and attempt to contextualise the idol phenomenon within broader Japanese culture, this is clearly a film which is aimed at audiences outside Japan rather than within. Further festival berths should follow the film's world premiere in the World Documentary strand of Sundance. And while this is perhaps an incomplete picture of the world of the Japanese teen idol which leaves unanswered several key questions, it's sufficiently revealing to merit interest from specialist distributors.
At 19, Rio is nudging the upper age limit for an idol. She is all too aware of the 'best before date' which looms for every idol, and harbours ambitions to rebrand herself as a J-pop singer. An old hand on the idol circuit, she has weathered the innumerable popularity contests – the scene is set up a bit like a sporting league table – and accrued a dedicated band of fans.
The Rio Rio brothers – trademark cheer: "We are RIOting!" – are unified by their 'fatherly' support for Rio, and by the fact that there is not very much else going on in their lives. Koji Yoshida (43) was engaged to be married but when his fiancee dumped him, he frittered his savings on idols. He estimates that he watched in the region of 700 idol shows in the past year.
In addition to merchandise – a one-girl cottage industry, Rio packs and mails her personally branded plushtoys herself – devoted fans can attend 'handshake events'. These are not as innocuous as they sound to Western audiences. In Japanese culture, the handshake is a intimate gesture that has only become socially acceptable in the last two decades. What seems innocent for the teenage girls carries a subtly illicit sexual charge for many of the older male fans.
Director Miyake introduces us to other idols, each younger than the last. And with each, she unpeels the onion skin to reveal a queasier realm of fandom. A supporter of Amu (14) reveals that he harbours something "close to a romantic feeling for her", while another man says of Yuzu and her ten-year-old contemporaries, "their selling point is they are not fully developed. If they were older, they wouldn't interest me." But while it's tempting to assume a dubious sexual motivation in the fans' obsession, this is not always the case. Commentators point to the pressure of Japan's long-running recession and a culture which finds infantilisation comforting and freeing. The fans' 'relationship' with the object of their adoration is viewed as a low stress alternative to the hard work of a real girlfriend.
What's missing from the film is an interview with a woman who has been through the idol industry and come out the other side. We can only speculate about the impact on girls who have been encouraged to view themselves as a commodity once the audience no longer wants what they are selling.
Production company: Brakeless Ltd, EyeSteelFilm Classics Inc
Contact: kyoko@brakeless.net; kyoko.miyake@me.com
Producers: Felix Matschke, Bob Moore, Kyoko Miyake
Cinematography: Van Royko
Editor: Anna Price
Sound Designer: Tyler Fitzmaurice
Score: David Drury
Featuring: Rio Hiiragi, Koji Yoshida, Koichiro Mitsui, Mitacchi, Rio Rio Brothers