Feelgood comedy reunites 'The Sapphires' director Wayne Blair with actor/writer Miranda Tapsell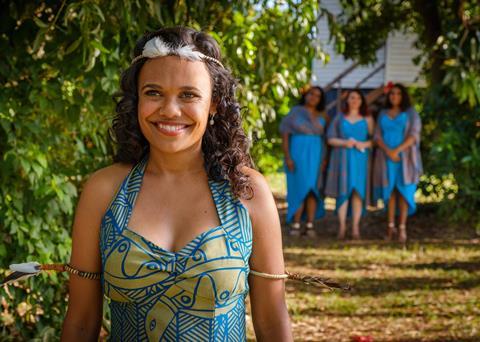 Dir. Wayne Blair. Australia. 2018. 103 mins.
A bright and breezy rom-com set against the lush foliage and red earth of Australia's Northern Territory, Top End Wedding proves as palatable as the landscape, but also as formulaic as its tale of whirlwind nuptials, family dysfunction and finding one's place in the world. Reuniting The Sapphires director Wayne Blair with actor-turned-writer Miranda Tapsell, this crowd-pleaser fits the wedding film mould, largely compiled from recognisable parts and adhering to a familiar template. Yet It does, however, build charmingly and convincingly towards a well-earned emotional payoff.
While the film's end point never in doubt, its energy never flags either
Launching at Sundance and marking Blair's third major festival premiere in as many titles (The Sapphires bowed at Cannes and Septembers of Shiraz in Toronto), Top End Wedding has all the makings of a hit on home soil — as well as its feel-good vibe, it boasts a radiant performance from Australian star Tapsell that will attract audiences and deserves ample attention. Elsewhere, the film's status as an Australian rom-com with an Indigenous lead actor places it among the growing global push for diversity on screen, and Tapsell and Joshua Tyler's script plays broad and universal with its scenario and humour. But the movie's innately local flavour, phrases and mannerisms might not translate as successfully on the world stage, as The Dressmaker recently discovered.
After a 1976-set flashback featuring a runaway bride fleeing on a dinghy from the Tiwi Islands (located north of the mainland, they include Australia's largest island after Tasmania), Top End Wedding finds its central couple facing professional milestones. Peppy lawyer Lauren (Tapsell) is poised to wow her stern boss (Kerry Fox) to win a promotion; however her prosecutor boyfriend Ned (Gwilym Lee, worlds away from playing Brian May in Bohemian Rhapsody) is struggling to enjoy his work. Celebrating the former while ignoring the latter, Ned pops the question, but Lauren is given just ten days to tie the knot before taking on her new role. Complicating matters, she has always dreamed of returning home to Darwin for her big day — and having her mother Daffy (Ursula Yovich) and father Trevor (Huw Higginson) by her side.
Flying across the country is simple enough, even in such a rush. As a growing list of missed calls on Lauren's mobile phone hint, including her parents in the wedding is much more complicated. Daffy has run off suddenly, and Trevor keeps crying in the pantry to Chicago's 'If You Leave Me Now'. Lensed with a warm glow by feature first-timer Eric Murray Lui, and accompanied by an array of other expensive soundtrack cues, the movie's central couple is soon trekking along rural roads and through remote tourist attractions such as Kakadu National Park.
It's with the verve of Bran Nue Dae rather than the by-the-numbers air of Three Summers that Top End Wedding connects its obvious dots, the film's end point never in doubt but its energy never flagging either. Alongside the charismatic pairing of Tapsell and Lee, the supporting cast helps enliven the material, with more depth evident in Fox's workaholic legal eagle, Yovich and Higginson's separated couple, and Shari Sebbens, Elaine Crombie and Dalara Williams' comic trio of bridesmaids, than might initially appear.
Perhaps for local viewers more than international audiences, the feature's other firm highlight springs from its ultimate destination. The Tiwi Islands and its Indigenous community are rare sights in the Australian cinema landscape — and it doesn't escape attention that Top End Wedding's climatic moments in the region, shot amongst its colourfully costumed inhabitants and scored by traditional Tiwi songs, prove its most touching and authentic.
Production company: Goalpost Pictures
Sales: Films Boutique, contact@filmsboutique.com
Producers: Rosemary Blight, Kylie du Fresne, Kate Croser
Screenplay: Miranda Tapsell, Joshua Tyler
Cinematography: Eric Murray Lui
Editing: Chris Plummer
Music: Antony Partos
Production design: Amy Baker
Main cast: Miranda Tapsell, Gwilym Lee, Kerry Fox, Huw Higginson, Ursula Yovich, Shari Sebbens