The Dardenne brothers' moving exposé on migrants arriving in Europe is up with their finest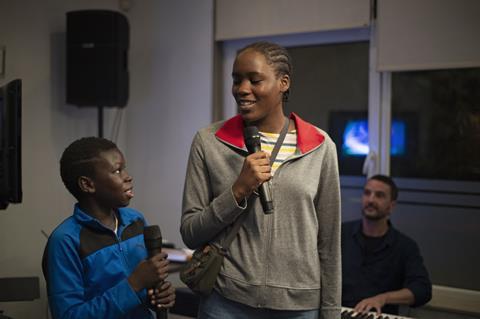 Dir/scr: Jean-Pierre and Luc Dardenne. France/Belgium. 2022. 89 mins
Until their usual stamping ground, the Belgian industrial town of Seraing, is torn down, it's unlikely that the films of the Dardenne brothers will ever look and feel radically different. But over the years, they have shown brilliance in sustaining their approach to cinema and to the world. And while some of their recent films have fallen a little short of the freshness of their best work, Tori And Lokita shows their cinema notably reinvigorated. Moving, politically committed and with an absolute ring of hard-researched reality, this is at the very least their finest since 2011's The Kid With The Bike, and arguably one of their very best. Characteristically taut storytelling and affecting performances from its young non-professional leads seem set to make this story of African migrant siblings, which won the special 75th anniversary prize at Cannes, the duo's most visible success in a while.
Like all Dardenne films, there's never a hint of facile emotional rhetoric
Shot as usual around the region of Liège – Seraing locations included – the film tells the story of Lokita (Joely Mbundu), a teenager from Benin living in a Belgian home for immigrant children with her younger brother Tori (Pablo Schils). They've been through hell together on their journeys from Africa, and their troubles aren't letting up. Lokita is desperate to get her residence papers, and in order to do so, has to prove that Tori – endangered in his home country because he was accused of being a sorcerer – is really her brother. In fact, he is not, but they have forged a tender sibling bond of mutual care. In harsh financial straits, they make money selling drugs at night for crook and restaurant chef Betim (a taciturn, quietly menacing Alban Ukaj), but are also in debt to African people smugglers Justine (Nadège Ouedraogo) and Firmin (Marc Zinga), while Lokita is desperate to send money to her mother back home.
When Lokita's hopes of a better life seem to come undone, she makes a desperate deal with Betim, and agrees to work for him tending a remote fortress of a cannabis farm, where she will toil for three months in bleak conditions and without the possibility of contacting Tori. The boy, meanwhile, makes an audacious and determined attempt to locate her – which eventually puts the two of them in yet deeper trouble.
With Benoît Dervaux handling camerawork again after the brothers' last film Young Ahmed, the execution is par for the course, if perhaps less deliberately kinetic and unsettling than in earlier works like Rosetta and The Son. There's a characteristic spareness and criterion of relevance to the storytelling, and a quiet but noticeable respect for the characters: when we discover that Betim is paying Lokita for sexual services, the editing, by Dardenne regular Marie-Hélène Dozo, cuts away at exactly the right moment, showing discretion and respect for her dignity. The film starts magnificently, with an extended close-up on Lokita, interviewed for her papers: a sequence that not only sets up her and Tori's narrative but also establishes the fragility of this brutalised young woman, whose anxiety attacks will play a key role in the story.
Without reading a full account of the film's making, it's hard to know exactly what its sources are. The brothers are, however, well known for their research methods and meticulous way of creating an authentic setting, and Tori And Lokita absolutely comes across as a fact-grounded and substantial exposé of what migrants are subject to when they arrive in what might appear safe havens in Europe; indeed, the Dardennes previously mapped out this territory in their 1996 breakthrough film The Promise.
With his husky voice and ever-serious demeanour, Pablo Schils gives a muted, introverted but absolutely diamond-hard depiction of Tori's resilience and tenacity, while Joely Mbundu, limning Lokita's mounting desperation, hits some emotional notes that won't fail to tug the heartstrings – although like all Dardenne films, there's never a hint of facile emotional rhetoric. An Italian song performed by the siblings – Mbundu displaying a light, joyous pop voice – brings a tone of exuberance that you'll want to grab onto before things get dark.
Production companies: Les Films du Fleuve, Archipel 35, Savage Film
International sales: Wild Bunch International, feripret@wbinter.eu
Producers: Jean-Pierre and Luc Dardenne, Delphine Tomson, Denis Freyd
Production design: Igor Gabriel
Cinematography: Benoît Dervaux
Editor: Marie-Hélène Dozo
Main cast: Pablo Schils, Joely Mbundu, Alban Ukaj, Tijmen Govaerts