Two teen girls strive for serial killer superstardom in this glossy chiller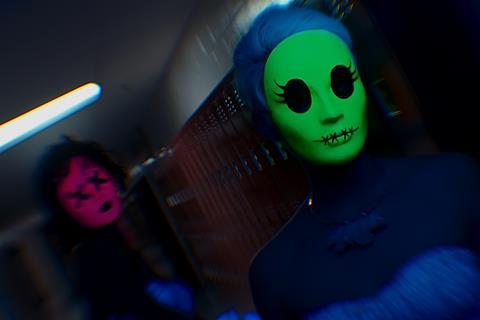 Dir Tyler MacIntyre. US. 2017. 93 mins.
Brianna Hildebrand and Alexandra Shipp are currently best known for spandex-clad roles in the X-Men franchise; Hildebrand as Negasonic Teenage Warhead in Deadpool, Shipp as Storm in X-Men Apocalypse. Here, they are teamed as deadly high school divas in a cynical, colourful exercise in satirical slasherdom, which harks back to such tart confections as Heathers, Scream and Election.
Bright and entertaining, the film has a certain chill centre
Scripted by director Tyler MacIntyre and Chris Lee Hill (and 'based on an original screenplay by Justin Olson', suggesting much reworking in the development process), this isn't quite as sharply-written as those exercises in callous teen horrendousness. Yet it does tap into all manner of up-to-the-moment concerns about social media, peer pressure, internet-era fame and media exploitation of true crime.
It also has a nice line in cool fashion choices for its heroines and music selections to match, so there's a likelihood that, for all their evil doings, Sadie Cunningham (Hildebrand) and McKayla Hooper (Shipp) - named after the auteurs of Friday the 13th and The Texas Chain Saw Massacre – will emerge as perverse heroines for many horror fans. The young stars will also get certifiable career boosts out of their work here, with Shipp in particular exuding a princessy glamour and comic chops that will raise her profile considerably.
High school seniors in the small community of Rosedale, BFFs Sadie and McKayla maintain the 'Tragedy Girls' website devoted to gruesome true crimes, specifically those of serial killer Lowell Lehmann (Kevin Durand). To increase their social media profile, the girls entrap Lehmann and keep him captive in the hope he will tutor them in becoming celebrity murderers.
The misogynist psychopath isn't initially much help, so the girls drift into picking off local rivals who get more 'likes' on their Tweets, or threaten to shift the focus away from the Tragedy Girls onto the search for the killer. Josh Hutcherson (The Hunger Games) and Craig Robinson (This is the End) have amusing cameos as a high school hero and the Rosedale fire marshal respectively, and get set-piece deaths which (in a running joke) pan out to look like accidents when the girls want to be recognised for homicidal ingenuity.
Bright and entertaining, the film has a certain chill centre. The Tragedy Girls are fun to watch, but are generally horrible people and everyone else in the film, good or bad, has to be such a broad caricature that empathy is impossible. Sadie's adoring would-be boyfriend Jordan (Jack Quaid) and his sheriff Dad (Timothy V. Murphy), for example, are blind to the girls' sins because if they weren't terminally unsuspicious the plot would collapse.
A third act contrivance has the girls break up over petty jealousies and get back together at – naturally – the prom, which is also the scene for a massacre that seems surplus to story requirements and a few idyllic flashbacks to the girls' first murder.
MacIntyre's previous horror film Patchwork was an ingenious Frankenstein variant, and also involved unusual female monsters. He is undoubtedly establishing a genre personality, though his next monster could do with a heart to go with its undeniable attitude.
Production companies: It's the Comeback Kids, New Artist Pictures, Ardor Pictures, Dawn's Light
International sales: The Exchange info@theexchange.ws
Producer: Armen Aghaeian, Tara Ansley, Anthony Holt, Edward Mokhtarian, Craig Robinson, Cameron Van Hoy
Executive producers: Ray Bouderau, Alexander Ferguson, Eric Fischer, Tyler W. Konney, Kerry Rhodes, Traceigh Scottel, Richard Switzer, Gregory Thomas, Anthony Horne, Viviana Zarragoitia
Screenplay: Tyler MacIntyre, Chris Lee Hill
Cinematography: Pawel Pogorzelski
Production Design: Mars Feehery
Editor: Martin Pensa
Music: Russ Howard III
Main Cast: Brianna Hildebrand, Alexandra Shipp, Kevin Durand, Jack Quaid, Josh Hutcherson, Craig Robinson, Timothy V. Welch