Laura Citarella's two linked features search for a missing woman in the pampa who might not want to be found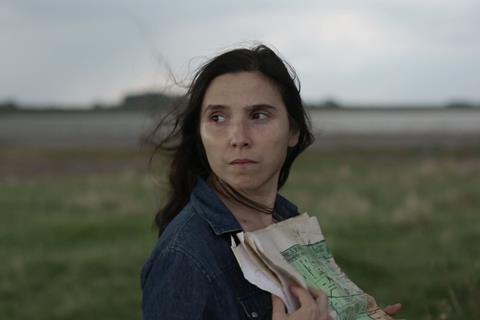 Dir: Laura Citarella. Argentina/Germany. 2022. 250 mins.
A slow-burning, indeed sometimes static, blend of romance and thriller told over two separate parts totalling just over four hours, Argentinian director Laura Citarella's third and fourth features recount, from two points of view, the search for a woman who has vanished. But quite early on we cease to care much about whether she's found or not, as the journey to the truth is where all the fun lies. Lengthy it may be, but this is light-of-touch fare, provocative and satisfyingly enigmatic, and though it feels like a four-hour MacGuffin, it remains an accomplished, literary and self-referential exercise in narrative deferral.
The attentive viewer will succumb to these new, slow rhythms without feeling that they are participants in some indulgent auteur experiment
This follow-up of Ostende, Citarella's 2011 debut, has screened at Venice and will close the Zabaltegi-Tabakalera section at San Sebastian before heading for the New York Film Festival. Such exposure will hopefully generate a wider fan base for the alternative charms of the output of both its independent production collective, El Pampero—Trenque Lauquen shares many of the stylistic and thematic concerns of the collective's other films, and of Citarella specifically.
Near Trenque Lauquen, a rural town in the middle of the Argentinian pampa, Laura (Laura Paredes), a local government worker whose job is classifying the region's flowers and who moonlights as a radio presenter, has gone missing. Garrulous academic Rafael (Rafael Spregelburd), her partner, and largely silent council delivery man Ezequiel (the bearded, bearlike Ezequiel Pierri), who we will see was her lover as the flashbacks mount up, set off to find Laura, following the slightest of clues—for example, that she had only one last orchid to classify before her job was done.
As Rafael knocks uselessly on doors, an intriguing backstory builds up in flashback as Laura and Ezequiel go off in a parallel search of the truth—a big concept in this film, in which there are always multiple versions of it—about a 1960s love affair that satisfyingly plays out in letters now hidden in the pages of books in the local library, and which Ezequiel and Laura read out to one another. Inevitably Ezequiel, who starts to imagine himself in the role of the lover, falls in love with the largely indifferent Laura. When Ezequiel kisses her, after about 100 minutes, it's about as close as Part 1 comes to anything resembling a conclusive event.
Part 2 continues in the same stylistic vein, but feels very different, adding a science-fiction angle with the appearance of a mysterious, ghost-like woman (Juliana Muras), who introduces a note of danger largely absent from Part 1. But the issues now are different: as one female character asks, "What makes you think that Laura wants to be found?" This is something that the men, of course, have failed to consider, and so in Part 2 they are discarded: the truth about what has happened to her will now come from the point of view of Laura herself, aided by various women.
There is forbidding slow, and there is audience-friendly slow, and Trenque Lauquen is very much the latter. (For the purposes of comparison, Mariano Llinas' Citarella-produced La Flor (2018), another Pampero multi-parter, shook the scales at a cool 808 minutes.) Standard lengths of scene and sequence are among the conventions that Citarella is challenging: one two-minute scene in Part 2, shot by the side of a lake in the early morning following a strange discovery, for example, seems to be reminding the viewer how to slow down and look carefully: and to think.
But we also spend a long time watching multiple real-time conversations unfold between the characters in this very verbal film - tedium is rarely an issue. Partly because the characters are so open, engaging and committed to their pursuit of the truth, and partly because the conversations are so delicately nuanced and entertainingly quirky, the attentive viewer will succumb to these new, slow rhythms without feeling that they are participants in some indulgent auteur experiment. Crucially, Trenque Lauquen is all about real people being excited by ideas, rather than about the ideas themselves.
Fittingly for a film whose aim is to do things differently, the characters' various investigations do lead them into some fascinating side alleys of alternative history—Lady Godiva plays a part, for example, as does Alexandra Kollontai, a revolutionary nineteenth-century Marxist feminist: the supposed appearance of the strange being in the lake is described by one character as "a trick to keep people entertained and scared while the politicians push through a privatisation project". This notion feels very 2021, and comes more to the fore in Part 2, where the narrative weight falls almost exclusively on the shoulders of Laura.
The often quirky events of rural Argentinian life are also explored with affection by the director, whose family hails from the town: the local radio station sequences, for example, with their amusingly surreal phone-ins and internal rivalries, mean there is room for a more broad humour too. Music also is key to the mood of Trenque Lauquen, with Chopin's Etudes underscoring the trembling delicacy of things.
Production companies: El Pampero Cine, Grandfilm
International sales: Luxbox jennyfer@luxboxfilms.com
Producers: Laura Citarella, Ingrid Pokropek, Ezequiel Pierri, Stefan Butzmuehlen
Screenplay: Laura Citarella, Laura Paredes
Cinematography: Agustín Mendilaharzu, Ines Duacastella, Yarara Rodriguez
Production design: Laura Caligiuri
Editing: Miguel De Zuviría, Alejo Moguillansky
Music: Gabriel Chwojnik
Main cast: Laura Paredes, Ezequiel Pierri, Rafael Spregelburd, Juliana Muras, Elisa Carricajo y Veronica Llinas