Martial arts stars Tony Jaa, Iko Uwais and Tiger Chen team up as soldiers of fortune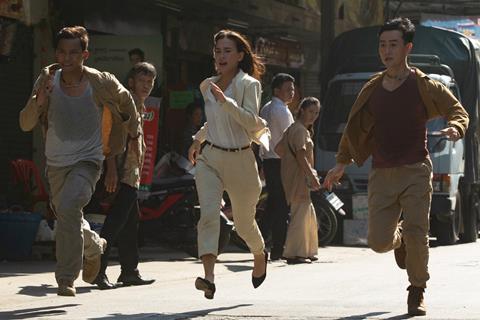 Dir: Jesse V. Johnson. China/Thailand/USA. 2019. 96mins
In a casting coup that is sure to get any fully-fledged action junkie's blood pumping, Triple Threat unites the jaw-dropping martial arts talents of Thailand's Tony Jaa, Indonesia's Iko Uwais and China's Tiger Chen as soldiers of fortune who come to the aid of an heiress targeted by a freelance hit squad. Jesse V. Johnson's adventure echoes The Expendables (2010) with its packed ensemble, intermittently humorous male camaraderie, and knowing use of star identities, turning what could have been an interchangeable 'B'-movie into a must-see for genre enthusiasts. But in dynamic contrast to the pensionable mercenaries of Sylvester Stallone's series, the performers here are very much in their prime.
Johnson is an action specialist who plies his trade in the VOD arena yet shoots with a widescreen sensibility
In fan circles, anticipation has been building around this title ever since a trailer dropped back in 2017, but it has remained in limbo since financing conditions required a China release to be secured before it could be exhibited elsewhere. Although decent box office returns in the Middle Kingdom are possible when it opens on March 29, expectations should be kept in check based on a busy local slate. In the US, Triple Threat receives a one-night, 150-screen theatrical release on March 19 before hitting VOD on March 22, where the core audience for practically executed action fare is guaranteed to lap it up.
It kicks off in a remote part of South East Asia, where guns-for-hire Devereaux (Michael Jai White) and Joey (Michael Bispeng) spring their remorseless leader Collins (Scott Adkins) from captivity. This results in a massacre, with the wife of villager Jaka (Uwais) being caught in the crossfire. Seeking vengeance, Jaka tracks down Payu (Jaa) and Long Fei (Chen), the guides who led the assassins through the jungle. A truce is called when Jaka learns the pair had been duped into believing they were on a humanitarian mission, and then left for dead once they had served their purpose.
Meanwhile, Collins has accepted a contract to take out heiress Xiao Xian (Celina Jade), who is using the fortune bequeathed by her real estate mogul father to wage an anti-corruption campaign in the fictional territory of Maha Jaya, which is caught in the vice-like grip of a shadowy crime syndicate. After the assassins wipe out most of Xiao Xian's security team, Jaka, Payu and Long Fei rush to assist her with Jaka serving as an 'inside man' by embedding himself in Collins' team.
Johnson, whose recent credits include such solidly entertaining Adkins vehicles as Savage Dog (2017) and The Debt Collector (2018), is an action specialist who plies his trade in the VOD arena yet shoots with a widescreen sensibility. Taking full advantage of a range of locations, he stages some cracking set pieces in tandem with ace fight choreographer Tim Man — one of which turns a police station into a veritable war zone without sacrificing spatial continuity. The production is further bolstered by Jonathan Hall's brightly robust cinematography, which gives the energetic proceedings a sense of scale especially during the chases through the city streets and the final showdown at an abandoned social club.
Joey O'Bryan and Paul Staheli's screenplay is full of familiar elements (tragic back stories, an underground fight club, an arming-up sequence) but they play more like genre nods than stock devices. Savvy use is also made of the stars' screen personas, whether playful (Jaa), intense (Iwais) or sincere (Chen). Jade (Wolf Warrior 2) gets her share of gutsy moments, while Adkins relishes playing a very British bad guy who swigs beer in-between skirmishes. The chief pleasure is, however, seeing how the 'triple threat' complement one another, rather than vying for supremacy.
Production companies: Aurora Alliance Films, Hamilton Entertainment, Kungfuman Culture Media, SC Films Thailand Co
US Distributor: Well Go USA Entertainment
International sales: Arclight Films, ryan@arclightfilms.com
Producers: Mike Selby, Ying Ye, Gary Hamilton, Mike Gabrawy
Screenplay: Joey O'Bryan, Paul Staheli
Production design: Ryan Kaercher, Siranat Ratchusanti
Editing: Matthew Lorentz
Cinematography: Jonathan Hall
Music: Joel J. Richard
Cast: Tony Jaa, Iko Uwais, Tiger Chen, Celina Jade, Michael Bisping, Michael Jai White, Scott Adkins