Dir: Yuen Woo-ping. China-US. 2010. 116mins.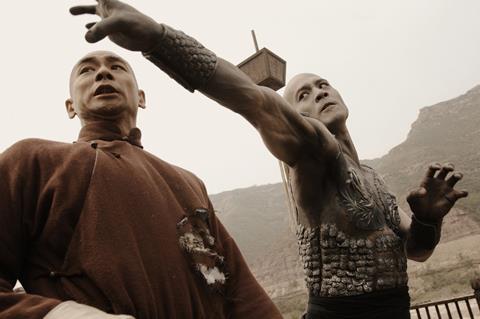 Set in 1961 China – "a turbulent time," according to the opening title - True Legend quickly dispenses with history lessons to deliver dark intensity and kung fu fighting sequences from the master of wuxia himself, Yuen Woo-ping. Touching on a famous Chinese legend for the third time in his career - his 1978 film Drunken Master launched Jackie Chan in Hong Kong, while Heroes Among Heroes was also a hit in 1993 – Yuen has again chosen a lead (Vincent Zhao) for his fighting skills above all else.
True Legend successfully blends the straight-faced, bone-crushing action of golden-age Hong Kong martial arts movies with the lush romance and landscapes of Crouching Tiger, Hidden Dragon
Streamlined to four classic kung fu battles and one long classic 'mountain training' sequence, True Legend opened in China on February 14, aiming at the lucrative Lunar New Year market. Darker and lacking the antics normally associated with the kung fu master who fights best while drunk, True Legend features top class choreography and wire work which could well make a strong impact in the international marketplace.
Shot partly in 3D, it takes the novel approach of flashing little icons up on the screen to tell viewers when to put on their 3D specs, a device which allows the costume drama and the rural landscapes of the bridging scenes to be filmed in lush traditional widescreen, while the 3D fireworks are reserved for action sequences.
Su Can (Zhao) is a noble general and war hero who gives up a military career to return to his young wife Ying (Xun) and have a son. But Ying's evil foster brother Yuang (On) has never forgiven Su's father for killing his own biological father. Yuang has been coaching himself in the dark art of 'the five deadly venom fists', which he uses to kill Su's father and take his sister and Su's young son hostage.
The scene is set for Su's two battles with Yuang. Poisoned by his nemesis after the first, Su is saved by Ying, and the two end up in the mountain refuge of a herbal healer played by Michelle Yeoh. Here, his fighting spirit broken, Su takes to the bottle – but is soon back in training again, helped by a mysterious whitebeard with long flowing eyebrows (veteran martial arts actor Gordon Liu) and The God of Wushu (Asian pop idol Jay Chou) – though Ying soon discovers that these masters exist only in Su's alcohol-soaked imagination.
Su will soon prove his worth though – only to lose what he holds most dear. This tragedy sets the scene for the film's final half hour, which can feel a little tacked on given that True Legend appears to already have completed its dramatic arc. But the showstopping last fight, in which the down-and-out, drink-addled Su takes on a group of huge Russian wrestlers – managed by a gambling den owner played by David Carradine in one of his very last roles – makes it all worthwhile
True Legend successfully blends the straight-faced, bone-crushing action of golden-age Hong Kong martial arts movies with the lush romance and landscapes of a Crouching Tiger, Hidden Dragon, playing to a core male audiences with fight sequences and that are so well staged they don't need flashy editing to work. It doesn't confuse us with dynasties but taps into legend, fairy tale and nightmare to stand up a strong dramatic structure. And it looks ravishing.
To sign up for Screen's weekly Reviews Newsletter with all the week's new releases, international openings and full festival reviews delivered free to your mailbox every Friday, please click HERE
Production companies
Focus Features International
Grand Plentiful Holdings Group
Shanghai Film Group
Beijing New Times Film Culture Development
International sales
Asia: Edko
(852) 2529 3898
Focus Features International
(44) 20 7307 1330
Producers
Bill Kong
Cary Cheng
Wang Tianyun
Xu Jianhai
Screenplay
Christine To
Cinematography
Zhao Xiaoding
Production design
Huo Tingxiao
Editor
Wenders Li
Music
Shigeru Umebayashi
Main cast
Vincent Zhao
Zhou Xun
Andy On
Guo Xiaodong
Jay Chou
Michelle Yeoh
Gordon Liu
David Carradine
Cung Le