Doc about two giants of US letters delivers 'enough material to fill a Ryan Murphy' TV mini-series'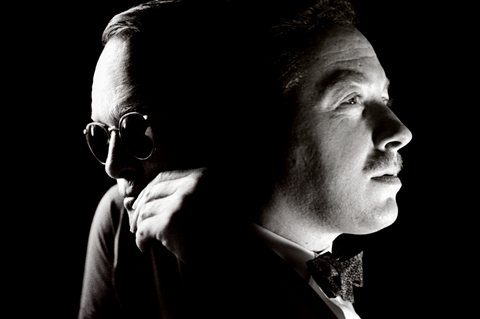 Dir: Lisa Immordino Vreeland. US. 2020. 86 mins
Literary giants Truman Capote and Tennessee Williams were friends for the best part of forty years. Lisa Immordino Vreeland's poignant documentary captures the complexity of a relationship that flipflopped between fond regard and bitchy disdain. Truman & Tennessee: An Intimate Conversation also salutes an era in when their talents were a vital part of America's cultural life. It should readily attract the same audience as The Capote Tapes (2019) or I Am Not Your Negro (2016) and seems a perfect fit for further festival exposure and arts channel sales.
It is a story told in their own words and serves as a reminder of what eloquent, witty, self-aware and sensitive individuals they were.
Truman & Tennessee makes no assumptions about the viewer's knowledge of either man but is equally accessible to the uninitiated and to devoted admirers. Titles provide bare bones information on their success as writers and a lifelong friendship in which staunch support and mutual admiration was curdled by jealousy and bitterness.
Vreeland has diligently raided the archives to assemble a visually appealing mosaic of iconic photographs (by Richard Avedon, Cecil Beaton etc), television interviews, magazine articles, clippings and comments that combine to fully immerse us in the lives and loves of both men. Television skirmishes with the likes of David Frost and Dick Cavett provide frank, revealing conversations that feel more intimate and cut more deeply than anything likely to emerge from the 21st Century media circus.
The film provides a vivid sense of how the two men saw themselves. It is a story told in their own words and serves as a reminder of what eloquent, witty, self-aware and sensitive individuals they were. The legacy of words now only available in old magazine interviews, letters and notebooks is brought to life by Jim Parsons and Zachary Quinto. Parsons captures the sometimes shrill, sometimes chummy birdlike twitter of Capote whilst Quinto is equally effective in hitting the gentlemanly, mint julep drawl of Williams.
One of the most striking aspect of the documentary is the many similarities between the two men. They often seemed to be living parallel lives. Capote and the older Williams were both from the American South, gay, felt they had disappointed their fathers and sought to exorcise private demons through their writing. They were both, in some way, wounded by their celebrity, at the mercy of addictions (drink and drugs) and trying to find a way to navigate the world in the afterglow of their greatest works. Williams talks candidly of spending the last twenty years of his life writing plays that were invariably met by hostile critics and public indifference. Capote burnt all his high society boats in the creation of his poisonous, self-destructive roman a clef 'Answered Prayers'.
Vreeland allows you to understand why the two men were destined to feel like soulmates but also how they retained an ability to needle and hurt each other. In one television interview, Capote cattily remarks that: "Tennessee is not intelligent". Williams wounds by not attending Capote's lavish Black And White Ball in 1966. There is probably enough material here for a Ryan Murphy mini-series.
Truman & Tennessee does celebrate the landmark works of both writers and is liberally seasoned with generous clips of the starry screen adaptations of Williams plays that attracted Brando, Elizabeth Taylor, Paul Newman and Katharine Hepburn. Capote is lauded for 'Breakfast At Tiffany's' and 'In Cold Blood.
Truman & Tennessee leaves the viewer with a sense of what towering figure they were, what they achieved and what it may have cost them. It also creates a desire to visit or revisit their endurings achievements.
Production companies: Fischio Films, Peacable Assembly, Gigantic Studios
International sales: Dogwoof sales@dogwoof.com
Producers: Lisa Immordino Vreeland, Mark Lee, Jonathan Gray, John Northrup
Editing: Bernadine Colish
Cinematography: Shane Sigler
Music: Madi
Main voice cast: Zachary Quinto, Jim Parsons