Samantha Morton plays a mother who is slipping into depression after the death of her husband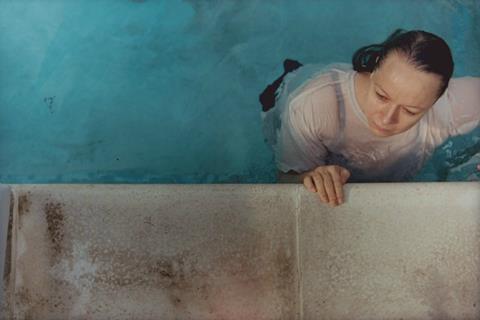 Dir: Tom Beard. UK. 2018. 86mins
There are few actors as skilled at capturing the physicality of suffering as Samantha Morton. Making a welcome appearance in this downbeat British drama about a family in crisis, Morton is almost painful to watch, her every movement a dull throb of anguish, as a woman who has descended into a cycle of debilitating depression and anxiety following the death of her husband.
The lack of noise and distraction means that we are better placed to see the lovely, subtle work by Morton
Shot on film, Two For Joy presents a bleak and unflinching account of marginalised lives and, as such, may struggle to assert itself outside of the festival circuit. The quality of performances will be a key selling point as, alongside Morton, Billie Piper and child actor Bella Ramsey also impress.
As Aisha (Morton) descends into depression, her 15-year-old daughter Violet (Emilia Jones) finds herself in the role of carer. Aisha's son Troy (Badger Skelton) is excluded from school and increasingly cut off from the rest of the family. At Violet's insistence, the three take a trip to the coast, revisiting the caravan where they holidayed in happier times. But there, an unexpected tragedy will either make or break this already fractured family.
The title refers to the to a pair of caged magpies which become a recurring motif in the film, but don't quite deliver the symbolic resonance which is evidently intended. Elsewhere, other wild creatures are captured: Troy is a keen angler who feels a sympathetic kinship with the fish he hooks. And he is attracted to the feral quality in Miranda (Ramsay), the wild-eyed niece of the kindly owner of the caravan park. It's an extraordinary performance from Ramsey, all skittering malice and jagged anger. She's genuinely scary to watch. Bruises on her shoulder and a mother (Piper) so sad and drunk she seems to be blurred around the edges give a hint of the root causes of Miranda's savagery.
There's something of the outsider kids dynamic of Clio Barnard's Selfish Giant and, in common with that film, there's a sense of building threat here which is telegraphed perhaps a little too obviously. Doom for at least one of the characters seems inevitable, which rather undermines any shock value of the tragic event which shakes Aisha out of her sickness.
The film's largely muted approach is appropriate, given its theme of depression, and occasionally feverish, heightened visual moments tap into the fears that often lurk in the corners of traumatised minds. Similarly, sound design, while never intrusive, is creatively used to capture the disorientation of mental illness.
An intense dramatic climax at the end of the second act does mean that the final third of the film seems a little underpowered by comparison. But the lack of noise and distraction means that we are better placed to see the lovely, subtle work by Morton. She slightly raises her chin when driving her family home from the coast. It's a tiny gesture but it speaks volumes about a woman who realises she needs to haul herself back from the brink for the sake of her children.
Production company: Blonde To Black Productions
Contact: Blonde To Black Productions, emma@blondetoblackpictures.com
Producers: Emma Comley, Sadie Frost
Screenplay: Tom Beard
Production Design: Laura Ellis Cricks
Editing: Izzy Curry
Cinematography: Tim Sidell
Music: Rodaidh McDonald
Cast: Samantha Morton, Billie Piper, Emilia Jones, Daniel Mays, Bella Ramsey, Badger Skelton