Dir. Louis Garrel. Fr. 2015. 100mins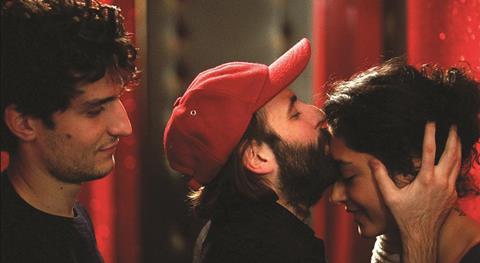 The formula once described by Jerry Lewis as "a handsome man and a monkey" - describing his double act with Dean Martin - is played out in Gallic hipster style in Two Friends (Les Deux Amis). The monkey is hirsute, gently manic Vincent Macaigne and the handsome man is the film's director and co-star Louis Garrel, here making his first feature after two shorts and 2011's medium-length La Règle de Trois. Caught between them is Golshifteh Farahani in a ménage à trois comedy-drama that's a little bit Jules et Jim and a fraction Les Valseuses, but never convincingly becomes its own film as it slips awkwardly between comedy, love story, bromance and wordy psychodrama. Despite Garrel's profile as an actor, it's hard to imagine this travelling far beyond Francophile festivals.
It has become a cliché to say that Garrel's performances are narcissistic - but it's the unavoidable truth here,
Farahani plays Mona, a young woman serving prison time and getting day release to work at Paris's Gare du Nord. She's clicked with Clément (Macaigne), an inept movie extra, but now she's decided to give him the brush-off. Stricken, Clément turns to best friend Abel (Garrel), a would-be scribe and full-time roué.
The two men confront Mona in a rather unpleasant showdown, but for reasons the film never makes plausible, she continues hanging out with them, eventually joining them as extras on a film about Paris 1968 that looks suspiciously like Regular Lovers, by the director's father Philippe Garrel (in which Louis starred). But Mona has fallen for Abel, causing Clément to attempt suicide - leading to a slapstick escape from hospital, with more hand-wringing and misunderstandings to follow.
Ostensibly based on Musset's play The Caprices of Marianne, the script - by Garrel and writer-director Christophe Honoré - keeps veering between registers, rarely letting us get a firm lock on any of the characters. Mona never quite escapes being the third corner of the triangle, although the sometimes electric Farahani is the film's most vivid presence. The usually compelling Macaigne can't manage here to overcome the problem of Clément's excessive neediness. As for Garrel, it has become a cliché to say that his performances are narcissistic - but it's the unavoidable truth here, especially given the number of remarks about Abel's good looks, and some frankly adoring close-ups.
Elegantly shot, the whole thing nevertheless seems at once thin and over-cooked: Philippe Sarde's lush orchestral score feels excess to requirements, given the intimate, ultimately claustrophobic scale of the drama.
Production companies: Les Films des Tournelles
International sales: Indie Sales, info@indiesales.eu
Producer: Anne-Dominique Toussaint
Screenplay: Louis Garrel, Christophe Honoré
Cinematography: Claire Mathon
Editor: Joëlle Hache
Production design: Jean Rabasse
Music: Philippe Sarde
Main cast: Golshifteh Farahani, Vincent Macaigne, Louis Garrel