Isabel Coixet returns to Spain for this dark adaptation of Sara Mesa's best-selling novel starring Laia Costa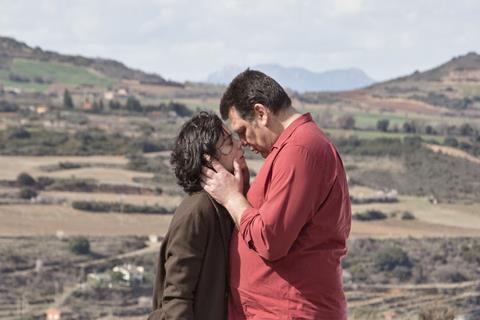 Dir: Isabel Coixet. Spain. 2023. 93 mins.
Having set her stories about unusual relationships across a variety of international locations down the years, Isabel Coixet brings it back to Spain for Un Amor, her adaptation of Sara Mesa's 2020 novel – a bestseller at home which is shortly to be published in English translation. The story of a fragile young translator (Laia Costa) working with refugees who relocates to a tiny rural hamlet, this is a penetrating, disquieting film from Coixet, whose work since 2014's Learning To Drive has tended to disappoint. The rawness and no-frills air of Un amor signal it as an attempt by Coixet to get back to emotional basics, which it does well.
Coixet has a history of exploring unusual, extreme relationships in order to uncover hidden truths, and in this regard Un Amor does not disappoint
There's a rock-solid emotional structure to the novel which Un Amor follows. Nat's relocation to La Escapa – for reasons temporarily left unexplained and not completely convincing when we do learn them – sees her arrive in a far-from paradisical rural village in the shadow of huge spike of rock and permanently under cloud. Already fragile, what she finds when she gets there does not help – the house she has rented is practically uninhabitable, and the landlord (Luis Bermejo) is a bad-tempered sexist specialising in microaggressions: some viewers might find it as hard as Nat does to believe that such people still exist, but in some places they do. His exchanges Nat are terrifying to behold, establishing the generally threatening aura that permeates the rest of the film.
Supposedly in order to help protect her, the landlord gifts Nat a stray dog that she futilely tries to train. Other members of the local community include Piter (Hugo Silva), a suspiciously over-helpful would-be artist who refers to himself as a "craftsman of glass and light" and the shiny, happy young married couple, Lara (Ingrid Garcia-Jonsson) and Carlos (Francesco) who, as so many Spaniards do, travel up from the city at weekends to hold barbecues and show off the kids.
Local labourer Andreas (Hovik Keuchkerian), known to the locals as "The German", and so an outsider like Nat, shows up with a indecent proposal: in a faultlessly played and directed scene which could easily have been risible, but actually comes over as moving and tender, Andreas politely declares, like a nervous overgrown schoolboy, that he would "very much like to enter" Nat in exchange for carrying out repairs on her house. Shocked, she refuses and Andreas tips his forehead and goes on his way. But then suddenly, probably driven by sheer loneliness, she shows up at his front door.
Things will move forward in an intriguing, uncomfortable manner, with Nat forced into a thorough rethink about her assumptions as the relationship plays out under virtual surveillance from the basically antagonistic locals, from whom she becomes more and more estranged.
Coixet has a history of exploring unusual, extreme relationships in order to uncover hidden truths, and in this regard Un Amor does not disappoint. Nat has unwittingly got herself into a situation where it becomes clear that our supposedly civilised values may be mere veneer for some basic truths about male/female relationships that she is forced to confront for the first time. All of this is distilled into a splendidly drawn relationship between two outsiders who are also apparently two opposites: she physically slight, urban, nervous and dislocated; he pragmatic and bearlike, with a looming, tragic past that seems to govern his every action. Their relationship is one of few words, and of eloquent silences, and it takes Nat into some very dark emotional territory.
Un Amor is told pretty straightforwardly, with none of the stylistic frills that Coixet has sometimes been criticised for – only the occasional memory shot of Nat's past translating for an African refugee breaks the forward momentum. Costa, acclaimed for her performance in last year's Lullaby and most recently seen playing a curiously similar outsider role in The Enchanted, does terrific work here, quietly carrying the viewer with her through several emotionally tricky and self-destructive moves.
Keuchkerian has a magnificent screen presence and is her equal, but it is the chemistry between them that matters, and which Coixet captures in darkly lit, beautifully modulated scenes of trembling, pin-drop intensity. So that although at times Un Amor looks like any number of movies about urban outsiders caught out by the cruelty of the countryside, at others, is is redolent of Coixet's very best work, rippling outwards to touch upon some fundamental, and eternally gripping, human questions about what love is.
Production companies: Buenapinta Media, Perdicion Films, Monte Glauco
International sales: Film Constellation, sales@filmconstellation.com
Producers: Belen Atienza, Marisa Fernandez Armenteros, Sandra Hermida, Cristina Lera Gracia
Screenplay: Isabel Coixet, Laura Ferrero
Cinematography: Bet Rourich
Production design: Uxua Castello
Editing: Jordi Azategui
Main cast: Laia Costa, Hovik Keuchkerian, Luis Bermejo, Hugo Silva, Ingrid Garcia Jonsson, Francisco Carril